Defense major, Lockheed Martin Corp.'s LMT business segment, Rotary and Mission Systems, recently clinched a modification contract to supply fiscal 2017 AEGIS modernization production requirements. Work related to this deal is scheduled to be over by Dec 2020.
Details of the Deal
The contract, worth $76.6 million, was awarded by the Naval Sea Systems Command, Washington, D.C. Moreover, the value of the deal can increase up to $192.3 million, if the options included in the modification are exercised.
The company will utilize fiscal 2017 defense-wide procurement; 2015, 2016 and 2017 other procurement, 2012 shipbuilding and conversion, and foreign military sales funding to complete the work. Majority of the modification work will be carried out in Moorestown, NJ. The remaining tasks will be executed in Clearwater, FL and Owego, NY.
What's AEGIS?
AEGIS or Advanced Electronic Guidance and Instrumentation System is an integrated missile-guidance system. With Lockheed Martin as its primary manufacturer, the AEGIS Weapons system is used by the U.S. Navy and allied ships to protect the battle group.
Another company working on AEGIS is Raytheon Company RTN. At the heart of the system is the AN/SPY-1, an advanced, automatic detect and track, multi-function phased-array radar. Raytheon is the manufacturer of this high-powered radar transmitter that tracks and guides missile functions.
Over time, AEGIS has become an integral part of the U.S. Navy by evolving with new capabilities to counter emerging threats and leverage new technologies. Its latest configuration, Baseline 9, offers an open architecture framework to allow extreme flexibility.
Our View
Lockheed Martin's Rotary and Mission Systems business carries out some of the company's high-profile programs. These include the Aegis Combat System, Littoral Combat Ship, MH-60 helicopter avionics, along with military and commercial orders. It generated revenues of $3.4 billion in the second quarter of 2017, reflecting almost 27% of its total revenue.
Coming to order growth for this segment, the Sikorsky business line of the segment secured a $3.8 billion worth five-year contract for supplying 257 Black Hawk helicopters to the U.S. Army, as well as to the Saudi Arabian National Guard, in the second quarter.
Currently, Lockheed Martin's Aegis is the maritime weapon system of choice for six powerful nations. As of Jan 2017, 84 U.S. Navy ships were in service with the AEGIS Weapons System installed. This number will definitely rise given the strong demand for AEGIS prevalent across the globe. Considering this, we expect Lockheed Martin to bag more contracts like the latest one, in days ahead, which, in turn, will boost its profitability.
Price Movement
Lockheed Martin's stock has returned 14% in the last one year, underperforming the 28.7% rally of the industry it belongs to. This could have been caused by the company's F-35 program, which, despite being a prime project of the U.S. government, has been repeatedly criticised for being overtly expensive. Moreover, Lockheed Martin faces stiff competition from other defense majors like The Boeing Company BA and Northrop Grumman Corp. NOC.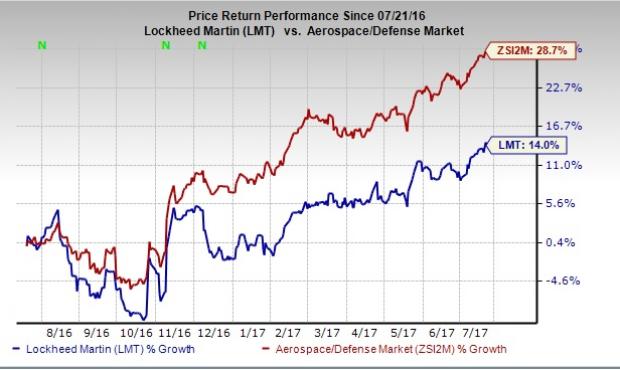 Zacks Rank
Lockheed Martin currently carries a Zacks Rank #3 (Hold). You can see the complete list of today's Zacks #1 Rank (Strong Buy) stocks here.
Will You Make a Fortune on the Shift to Electric Cars?
Here's another stock idea to consider. Much like petroleum 150 years ago, lithium power may soon shake the world, creating millionaires and reshaping geo-politics. Soon electric vehicles (EVs) may be cheaper than gas guzzlers. Some are already reaching 265 miles on a single charge.
With battery prices plummeting and charging stations set to multiply, one company stands out as the #1 stock to buy according to Zacks research.
It's not the one you think.
Want the latest recommendations from Zacks Investment Research? Today, you can download 7 Best Stocks for the Next 30 Days.
Click to get this free report
Northrop Grumman Corporation (NOC): Free Stock Analysis Report
Boeing Company (The) (BA): Free Stock Analysis Report
Lockheed Martin Corporation (LMT): Free Stock Analysis Report
Raytheon Company (RTN): Free Stock Analysis Report
To read this article on Zacks.com click here.
Zacks Investment Research