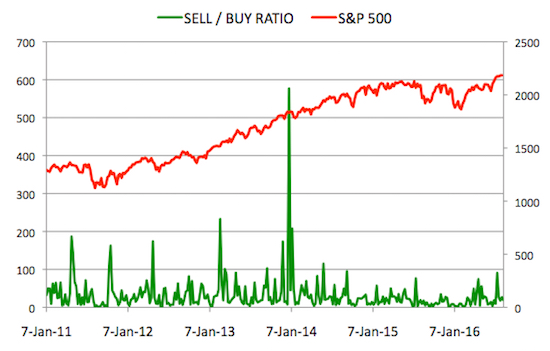 Insider selling is on the rise.
The rate of net insider selling reached the highest level since June 2015. That surge preceded a previous market high when the Dow was pushing over 18,000 for the first time ever, according to Richard Cuneo, senior vice president of operations at Argus Research.  InsiderTrade reports that, in the week ending Aug 12th, $1.9Bn worth of insider shares were sold compared to just $100M of buys – a 19:1 ratio! 
That kind of stuff should at least bother you a little if you are on the side of the 1 that is buying while 19 are selling, right?  This is just one of dozens of things that don't smell right as the market keeps testing those new highs on record-low volumes.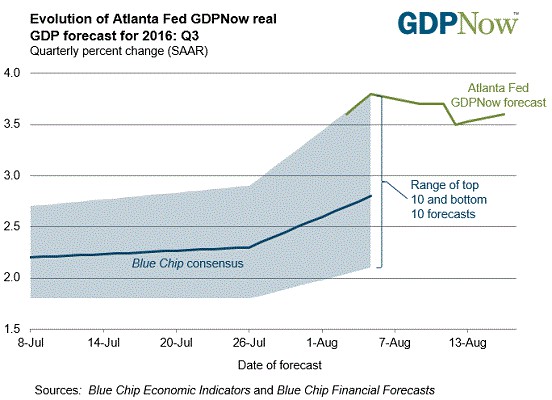 This morning we noted that Hotel Room Rates fell 2.7% in July (the worst in 8 years) and Air Fares fell 6.6% while the Atlanta Fed's GDP Now Forecasts 3.6% growth in Q3.  Wherever that growth is coming from – it's certainly not from businesss travel…
Actually it's housing that's driving the forecast with Residential Investment growth projected to be up 2.4% from 0.4% in the previous reading.  So we'll be keeping an eye on reports from home builders to see if there's more signs of a turn-around there but Retail Continues to be weak with TGT's guidance well below expectations and costing that stock 4% today.  WMT reports tomorrow.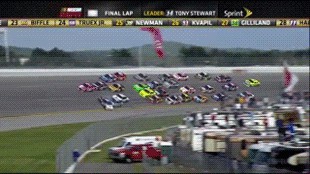 They keep throwing red flags and we keep racing around the track at 200 miles an hour – something's gotta give at some point and we can only hope it's just a fender-bender and not a nasty multi-car crash.
Staples (SPLS) was disappointing, LOW and HD were dissppointing, CSCO is laying off 14,000 workers – what could there possibly be to be concerned about?  Surely I do not know because I listen to the MSM and they don't even mention these things – it's all about "record highs" and "can we set a new record" and "when will the…
Provided courtesy of Phil's Stock World.