Shares of Mylan (MYL) are in a sharp slide and may continue to do into September. 

Epipen Dive:
- The drug maker came under fire after raising the price of a life-saving allergy medicine before a generic version is on the market. 
- Our friend Market Holder here at whotrades believes we should "Fade Any Rally", which I agree with - maybe not ANY, but basically the outlook is the same.
- The 4H chart shows that price has retreated sharply from 50.00. 
- Let's take a look at some technical levels to prepare for this fade-the-rally strategy. 
MYL 4H Chart 8/26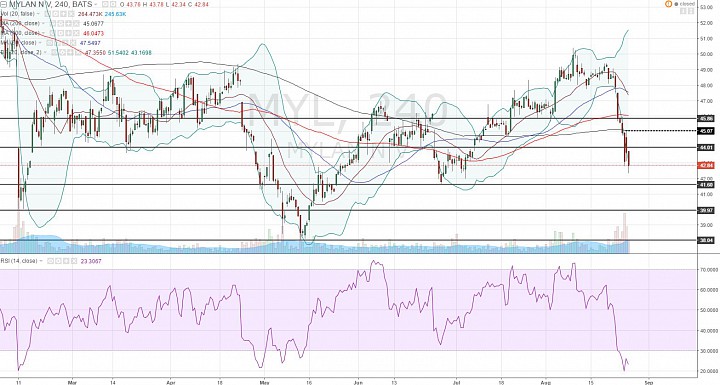 (click to enlarge)

Resistance levels:
- R1: We can expect selling if price returns to 44.00. It is a psychological level and a previous support/resistance pivot. 
- R2: If price pushes above 44.00 on the other hand, there is a pivot around 45. 
- R3: Above that I think 45.85 should be the most aggressive bullish outlook at the moment. 

Support levels:
- S1 (Target 1): The 41.60-42 area is the near-term target. We might see some support here but I think it is vulnerable.
- S2 (T2): Below 41.60, there is a support pivot around 40.00. We might start seeing more buying starting here.
- S3 (T3): If price is going to slide back to the low of the year, 38.05 is in sight. The 38 area is a 2-year support and thus should provide some relatively strong buying. 

The bearish bias:
- It should be noted that price action has been sideways in 2016, part of a consolidation that started mid-2015.
- We can see on the daily chart that this consolidation itself has some bearish bias, and that the prevailing trend has been bearish.
- Therefore, the bearish outlook is in-line with the bias that already exists.

MYL Daily Chart 8/26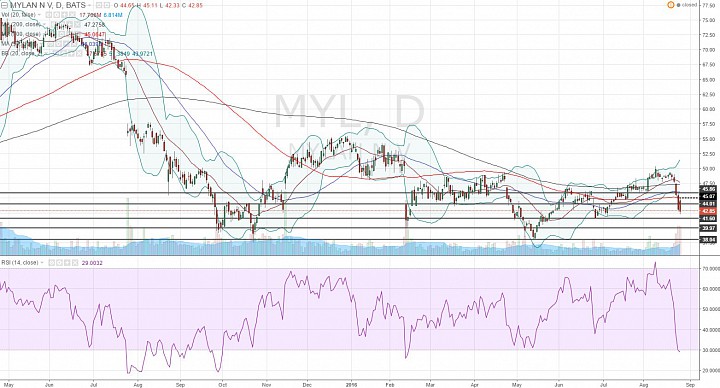 (click to enlarge)