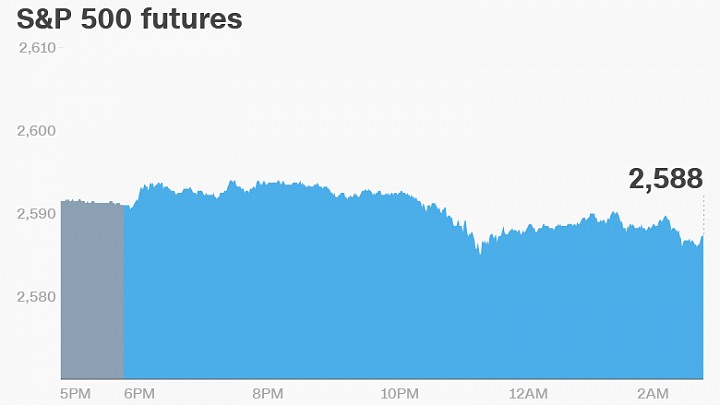 The department stores are likely to paint a gloomy picture about their busiest and most critical time of the year.
Morgan Stanley recently warned that sales will outright decline during the holiday quarter at both companies.
2. Trump deals in China: U.S. and Chinese officials are touting more than $250 billion in deals signed during President Trump's visit to China.
The agreements span energy, aviation and technology. However, a number of the deals signed were only framework agreements, meaning the details are still up for negotiations.
Negotiations between the companies and the U.S. Department of Justice have turned so contentious that now both sides are arguing publicly over what the dispute is even about.
Both sides agree that there was a pivotal meeting on Monday between AT&T (T, Tech30) CEO Randall Stephenson and DOJ's antitrust chief Makan Delrahim.
The two men discussed asset sales that might satisfy the government's concerns, but sources offer differing accounts of that conversation.
CNN, which is owned by Time Warner, is one of the assets that has been mentioned in multiple reports.
"Throughout this process, I have never offered to sell CNN and have no intention of doing so," AT&T CEO Randall Stephenson said in a statement on Wednesday.
4. Burberry falls: Shares in Burberry (BBRYF) fell more than 10% in London after the company said it does not expect sales to increase until fiscal 2021.
CEO Marco Gobbetti also said that he wants to shift the fashion brand upmarket — a change analysts say could be costly.
"The transition is bound to be painful," said Luca Solca, head of luxury goods at Exane BNP Paribas.
Burberry announced in late October that long-time creative director Christopher Bailey would be leaving the company.
5. Global market overview: U.S. stock futures were in negative territory.
European markets were mixed, following a similar session in Asia.
The Dow Jones industrial average closed at a new record high for a fifth day in a row on Wednesday. The S&P 500 and the Nasdaq also hit all-time highs.
China inflation data came out slightly above expectations on Thursday, with prices rising 1.9% over the previous year in October.
7. Coming this week:
More