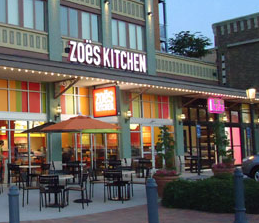 Zoe's Kitchen (ZOES) is down big after hours following weak revenue numbers for Q2. Briefing.com listed these key stats for the quarter and guidance:
Reports Q2 (Jun) earnings of $0.06 per share, in-line with the Capital IQ Consensus of $0.06; revenues rose 21.7% year/year to $66.3 mln vs the $67.19 mln Capital IQ Consensus.
Comparable restaurant sales increased 4.0%, consisting of a 0.9% increase in transactions and product mix, combined with a 3.1% increase in price.
Restaurant contribution margin increased 40 basis points to 21.7% as the Company continued to benefit from lower commodity prices, which were partially offset by an increase in labor and store operating expenses.
Co issues downside guidance for FY16, lowers FY16 revs to $277-280 mln from $277-281 mln vs. $280.64 mln Capital IQ Consensus; comps +4-5% from +4.5-6.0%; margins to 20.5-20.8% from 20.5-21.0%.
My previous research focused on waiting for a dip below $35 to buy the restaurant concept. Now the chart below suggests the gap at $30 will close in early trading tomorrow.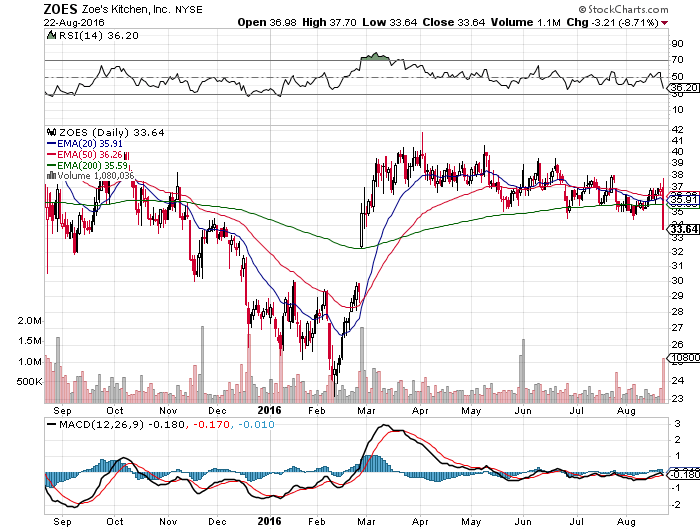 The market appears to be over reacting to some market timing issues as the comp sales growth and contribution margins were solid. Look for a dip buying opportunity. 
Disclosure: Long ZOES