​Shares of Constellation Brands will reach $120 by 05.03.2015

3 april 2015
Constellation Brands, a leading producer of wine, beer and spirits with a wide variety of premium brands. The company is one of the industry leaders. Constellation Brands continues to deliver good financial results due organic growth and new acquisitions. According to the report for Q3 2015, revenue increased by 6.8% y-o-y, outstripping expectations by 1.7%. Adjusted EPS rose 11.8% y-o-y, outperforming the consensus by 8.0%. Adjusted operating margin climbed 0.9 pp y-o-y, a sign that the company's operating efficiency has improved. Financial performance improved both due to the consolidation of recently acquired brewery company Grupo Modelo and organic growth. The deal significantly strengthened the position of Constellation Brands in the beer segment. We expect that the synergies from this acquisition will continue to positively affect the company's financial results in the near future. The company continues to invest heavily, mostly in the beer segment, in particular, in the Nava Brewery brewery in Mexico and acquisition of a glass factory. The new glass factory will cover 50% of the needs of Constellation Brands for bottles at its North American division.
We believe that synergies from new purchases will allow Constellation Brands to improve its financial performance. Constellation Brands updated its guidance for adjusted EPS in FY15. Adjusted EPS may reach USD 4.25-4.35 (up from 31% to 34%) in FY15.
We leave our mid-term fundamental valuation of Constellation Brands shares (STZ) unchanged at USD 124 and rate the stock as a Buy. The short-term technical target is USD 120. 
<!== INSTRUMENT %% %1440% ==!>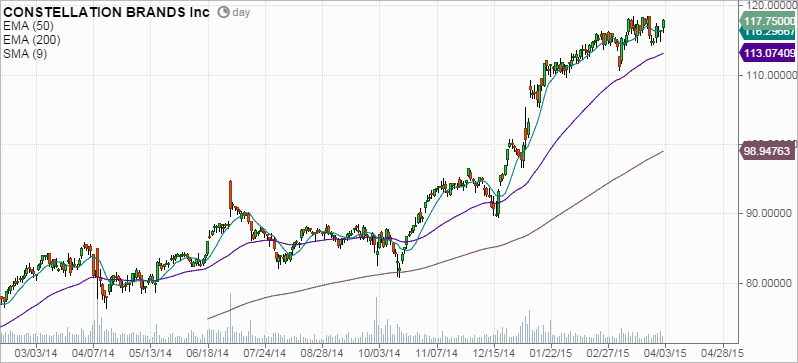 Voting is over
Waiting for


the right answer