California-based ResMed, Inc. RMD has been on a healthy growth trajectory of late. The company is a leading global manufacturer and distributor of generators, masks and related accessories for the treatment of sleep-disordered breathing (SDB) and other respiratory disorders.
Over the last month, the company's share price has outperformed the Zacks categorized Medical - Products sub-industry. The stock has rallied 11.7% over this period, outshining the sub-industry's gain of 9.40%. ResMed has also been performing better than the S&P 500 market over the same period. The stock has outperformed a mere 4.4% gain of the broader market.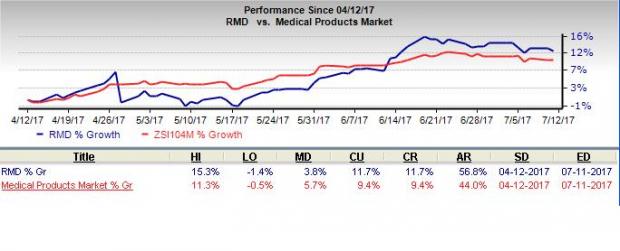 Based on the solid performance and a Zacks Rank #2 (Buy), the stock seems to be a lucrative pick for now. However, we would like to look into a few other factors to decide whether this growth trend is sustainable?
ResMed operates in a highly underpenetrated SDB market. Per a report by MarketandMarket, the SDB market is projected to grow to a value of around $6.70 billion by 2021, witnessing a CAGR of 7.8%. To cash in on the opportunities, the company has been continually involved in product innovation and launches.
In this regard, ResMed has introduced AirTouch F20 full face mask with UltraSoft memory foam recently, which keeps patients on continuous positive airway pressure (CPAP) therapy comfortable throughout the night. The company also launched AirMini, the world's smallest CPAP machine. In addition, an AirMini app has been introduced which can be used on iOS or Android smartphones.
The market is upbeat about ResMed's growth strategies. The company continues to invest and expand its presence in high-growth markets like China, South Korea, India, Brazil and many countries in Eastern Europe. Interestingly, per a report by Grand View Research, the sleep apnea devices market in Asia Pacific is likely to these the fastest growth at a CAGR of around 8.5% over the 2014–2022 period.
Moreover, rising incidence of sleep and respiratory disorders, and unavailability of proper treatment procedures in the emerging economies of India, China, Brazil and others are expected to boost demand for the company's products in this space.
Apart from these, the company's progress in the three-horizon growth strategy is impressive. Under the first horizon, which focuses on core sleep apnea, the company launched AirFit F20 full size masks and new AirFit N20 nasal masks in the U.S., Europe and other major markets around the world. ResMed also launched the ResMed AirMini product recently which truly compliments its popular AirSense 10 platform.
The second horizon focuses on growth in adjacent product and geographic markets, including homecare ventilation for Chronic Obstructive Pulmonary Disease (COPD), Amyotrophic Lateral Sclerosis (ALS) and other respiratory disorders in the emerging markets of China, India and Brazil. Thus, with over 200 million patients suffering from Chronic Obstructive Pulmonary Disease (COPD), the company is focused on testing models that lower cost and improve outcomes for COPD, neuromuscular disease, Duchenne muscular dystrophy and others. In this regard, we note that ResMed recently sponsored a clinical trial named Home Oxygen Therapy - Home Mechanical Ventilation (HOT-HMV) which works on non-invasive ventilation (NIV) at home. Moreover, the integration of the Inova acquisition has highlighted quality improvement in the current Activox POC platform.
ResMed's third horizon of growth comprises a portfolio of untapped new markets, sleep health and wellness, chronic disease management as well as clinical adjacencies, including heart failure with preserved ejection fraction. In this regard, the CAT-HF Study was published in the Journal of American College of Cardiology, in the third quarter of fiscal 2017. This is the first study to demonstrate that treating sleep apnea with ResMed's ASV therapy may enhance cardiovascular outcomes for people with preserved ejection fraction heart failure.
Other Key Picks
A few other top-ranked medical stocks are Mesa Laboratories, Inc. MLAB, Edwards Lifesciences Corporation EW and Align Technology, Inc. ALGN. Notably, Mesa Laboratories and Edwards Lifesciences sport a Zacks Rank #1 (Strong Buy), while Align Technology carries a Zacks Rank #2. You can see the complete list of today's Zacks #1 Rank stocks here.
Mesa Laboratories has a positive earnings surprise of 2.84% for the last four quarters. The stock has added roughly 12.5% over the last three months.
Edwards Lifesciences has a long-term expected earnings growth rate of 15.2%. The stock has gained around 24.7% over the last three months.
Align Technology has an expected long-term adjusted earnings growth of almost 24.1%. The stock has added roughly 33.3% over the last three months.
More Stock News: 8 Companies Verge on Apple-Like Run
Did you miss Apple's 9X stock explosion after they launched their iPhone in 2007? Now 2017 looks to be a pivotal year to get in on another emerging technology expected to rock the market. Demand could soar from almost nothing to $42 billion by 2025. Reports suggest it could save 10 million lives per decade which could in turn save $200 billion in U.S. healthcare costs.

A bonus Zacks Special Report names this breakthrough and the 8 best stocks to exploit it. Like Apple in 2007, these companies are already strong and coiling for potential mega-gains.
Click to see them right now >>
Want the latest recommendations from Zacks Investment Research? Today, you can download 7 Best Stocks for the Next 30 Days.
Click to get this free report
Mesa Laboratories, Inc. (MLAB): Free Stock Analysis Report
ResMed Inc. (RMD): Free Stock Analysis Report
Edwards Lifesciences Corporation (EW): Free Stock Analysis Report
Align Technology, Inc. (ALGN): Free Stock Analysis Report
To read this article on Zacks.com click here.