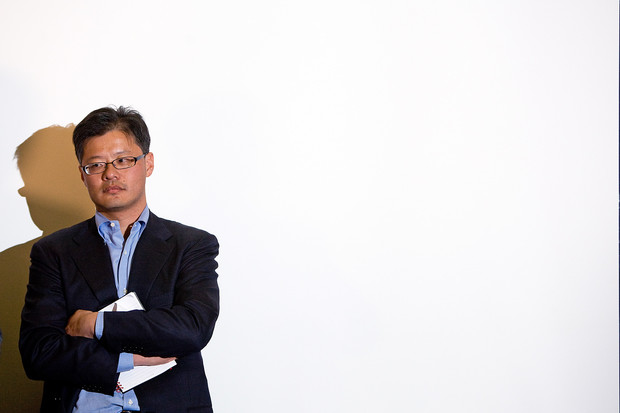 Photographer: Paul J. Richards/AFP via Getty Images
Jerry Yang, co-founder and CEO of Yahoo! Inc., in Washington, DC.
Executives at messaging startup TangoMe Inc. were brainstorming expansion plans last year when one of their investors, Jerry Yang, made a suggestion: Talk to Alibaba Group Holding Ltd.
Yang, a co-founder of Yahoo! Inc. (YHOO), quickly introduced TangoMe to an Alibaba executive. That led to a meeting with Yang, Alibaba Vice Chairman Joe Tsai and the young company at its Space Odyssey room inMountain View, California, in late 2013, according to a person with knowledge of the matter. By March, Alibaba had agreed to invest $215 million in TangoMe as part of a round that valued the startup at more than $1 billion.
"We have been extremely fortunate to have Jerry Yang as an investor and as an adviser," TangoMe co-founder Eric Setton said in an e-mail. "He is always available to discuss strategy and help with his extensive network."
Yang, 45, the onetime hotshot entrepreneur who co-founded Yahoo while at Stanford Universitywith David Filo in 1994, is now putting his deep ties to China's largest e-commerce provider and his considerable Silicon Valley Rolodex to work as Alibaba prepares to go public this month. The moves underscore Yang's re-emergence after he stepped back from Internet pioneer Yahoo in 2012. The comeback is set to be cemented by Alibaba's initial public offering, with the Hangzhou, China-based company saying in June that Yang will rejoin its board after the public-market debut.
Boardroom Voice
"He is a strong, clear, and insightful voice in the boardroom," Lenovo Group Ltd. Chief Executive OfficerYang Yuanqing said of Jerry Yang, who joined the Chinese computer maker's board as an observer last year. Lenovo's CEO, who isn't related to the Yahoo co-founder, declined to comment on the new Alibaba board position, adding that Yang "has helped to build meaningful bridges between Lenovo and the Silicon Valley community."
Related: Alibaba's Post-IPO Wish List May Start Here
Alibaba's IPO is the most closely watched in technology this year. The e-commerce giant's roadshow began this week and it is scheduled to price its IPO on Sept. 18, according to data compiled by Bloomberg. The company, which plans to list on the New York Stock Exchange, is seeking a valuation of as much as $162.7 billion, larger than 95 percent of the Standard & Poor's 500 Index.
The shares of Yahoo rose less than 1 percent to $41.26 at the close in New York, and have advanced 2 percent this year.
Previous Stint
Yang, who was born in Taiwan and speaks Mandarin, previously served on Alibaba's board for six years before stepping down in 2012. He will join a board that is expanding to nine after the IPO. Directors include Alibaba founder Jack Ma, Softbank Corp.'s CEO Masayoshi Son, as well as six new incoming members. Those new appointees include Yang, J. Michael Evans, the former vice chairman of Goldman Sachs Group Inc., and Tung Chee-Hwa, the former chief executive of Hong Kong.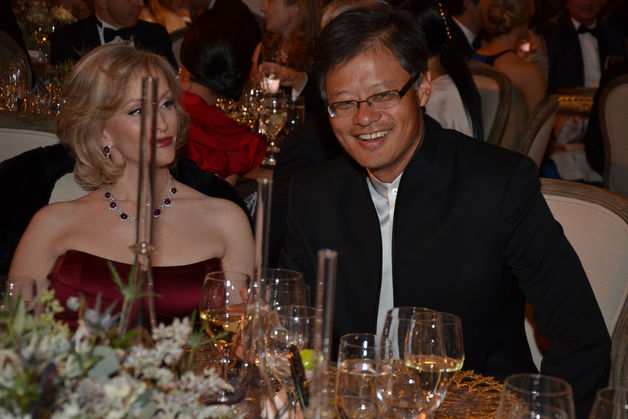 "Jerry Yang is one of the great innovators of our time and he brings important expertise and experience to our company," Jim Wilkinson, an Alibaba senior vice president, said in a statement.
Yang declined to comment for this story.
Yang is raising his profile again in the technology industry in other ways apart from Alibaba and Lenovo. In November, he joined the board of Pleasanton, California-based Workday Inc., a provider of human resources and finance software. He's also a founding partner of AME Cloud Ventures, which was started in 2012, and has invested in startups such as Scanadu Inc., a personalized health electronics company.
Jerry, Jack
Yang's ties with Alibaba go back to 1997 when he visited China and met Alibaba's Ma. At the time, Ma was briefly employed by China's Ministry of Commerce, according to a person familiar with the matter. The two men became friends during hikes on the Great Wall of China, Yang said during a presentation at an Internet conference in Hangzhou in 2005.
The two technology leaders' lives became more closely entwined in 2005 when Yahoo poured $1 billion into Alibaba, a hefty sum at a time when Yahoo's gross annual revenue was $5.3 billion.
"I have confidence in Jack," Yang said a month after the investment. The investment also put Yang onto Alibaba's board for the first time.
In the ensuing years, Yahoo lost ground to rivals including Google Inc., particularly with search and advertising revenue. Yang became CEO of the Sunnyvale, California-based company in June 2007. During his tenure in that role, Yang spurned an acquisition offer from Microsoft Corp. for Yahoo, a decision that triggered criticism of his leadership. In early 2009, he stepped down as CEO to make room for Carol Bartz.
Tensions Rise
Yang remained influential as a director at Yahoo and Alibaba during Bartz's tenure, even as tensions rose between the two companies.
In 2010, the companies couldn't come to an agreement that would enable Alibaba to buy back shares held by Yahoo. In 2011, the companies also clashed over how a spinoff of the Chinese company's Alipay business was managed. Yang's ties to Ma helped keep the relationship from fraying further, according to people familiar with the matter.
In early 2012, Yang left the boards of Yahoo and Alibaba. In a letter to then-Yahoo chairman Roy Bostock, Yang wrote that "the time has come for me to pursue other interests." The move followed months of investor frustration with Yahoo, as activist fund Third Point LLC demanded two board seats and asked for Yang to depart as a director.
Investor Flurry
Since then, Yang has receded from view. While he has been less visible publicly, he has been busy behind the scenes investing around Silicon Valley. That includes his efforts with AME Cloud Ventures, which focuses on investing in closely held technology companies. He's also been seen at technology gatherings with Silicon Valley executives, including the Allen & Co. event in Sun Valley, Idaho, last year.
Wences Casares, CEO of bitcoin-focused startup Xapo Ltd., took an investment from Yang earlier this year. He said Yang has earned a reputation in Silicon Valley as a smart investor who works well with entrepreneurs. He also appreciated Yang's connections in Asia.
"It's almost like a seal of approval to have him invest in us," Casares, whose Palo Alto, California-based company provides secure online storage for bitcoins, said in an interview. "We jumped at that opportunity."
Yahoo's Reward
Yahoo is also set to benefit from Yang's investor acumen. Since Yang championed Yahoo's investment in Alibaba nine years ago, the stake has pushed up the Web portal's value. When Alibaba goes public, Yahoo will sell as much as 140 million shares of the Chinese company, or about a quarter of its holdings, potentially reaping $8 billion or more.
Yahoo has said it plans to return at least half the cash to investors. CEOMarissa Mayer, who is trying to turn around the Web portal, also can use some of the proceeds for acquisitions.
During a call with investors in July, Mayer, who joined Yahoo in 2012, thanked Alibaba's Ma and Tsai, saying she appreciated the relationship with the company and the value that's delivered to Yahoo.
Mayer also gave credit to Yang, saying she wanted to "take a moment and offer a word of thanks" to "our founder, Jerry Yang, who identified Alibaba as an investment opportunity and really championed it here at Yahoo."
Article