No lesser liquidity-providing high-frequency-trading never-a-losing-trade shop than Virtu financial has been 'allowed' to trade Chinese capital markets. Coming just days after Citadel's ban, one can only assume that Chinese regulators made a deal with the devil CEO Doug Cifu to levitate markets at any and every cost in order to pick up pennies in front of de-leveraging, over-margined army of farmers and grandmas now seeking exits. Sure enough for the second day in a row margin debt is on the rise again. The retail-dominated Chinese stock market will be ripe picking for the HFTs, as long as not to many are allowed and a tail-chasing flash-crash ensues... but for now its appears yesterday afternoon's selling pressure continues with CSI-300 down almost 2% at the open.
Each bounce yesterday saw immediate selling pressure..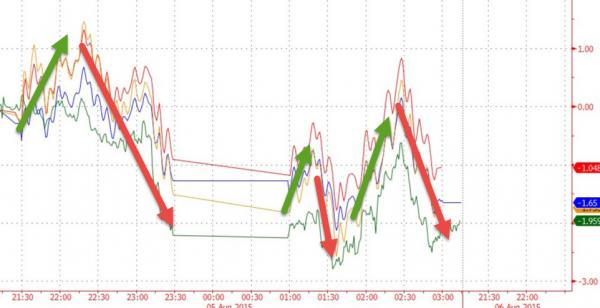 All that matters for now is keeping Shanghai Composite above the 200-day moving average...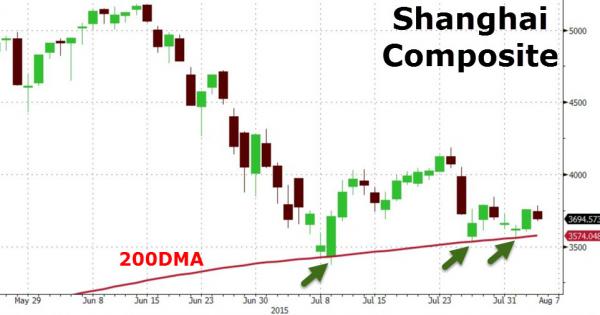 So today's key level will be what happens when SHCOMP hits 3574?
And it appears the 200DMA will be tested again...
*CHINA'S CSI 300 INDEX SET TO OPEN DOWN 1.7% TO 3,802.93
*CHINA SHANGHAI COMPOSITE SET TO OPEN DOWN 1.9% TO 3,625.50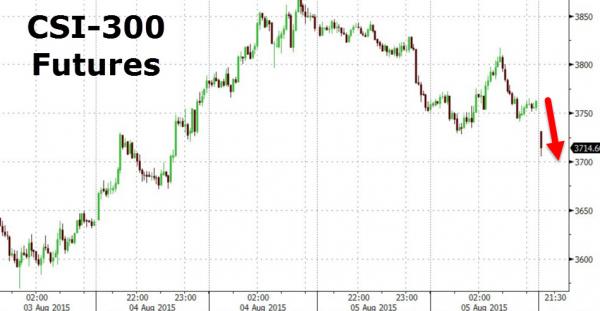 As Bloomberg reports, Virtu Financial Inc., one of the world's biggest high-speed trading firms, has started trading in its 35th country: China.
The company reached an agreement during the second quarter with a Chinese brokerage house to provide liquidity on "a very limited basis," according to Virtu Chief Executive Officer Doug Cifu. Virtu is using automated market-making strategies to buy and sell commodities listed in mainland China. In other markets, it trades other assets including stocks and currencies.

 

"This agreement is the first step in what we view as a very long process," Cifu said in a conference call on Wednesday. He did not identify the firm's Chinese partner.

 

...

 

Mainland exchanges have frozen 38 accounts, including one owned by Citadel Securities, as the local authorities investigate algorithmic traders.

 

"We are certainly cognizant of the recent market volatility in China, and the regulatory scrutiny being placed on electronic trading by the local regulator," Cifu said. "Long term, we view China as an established capital market with volumes comparable to the largest markets in which we operate."

 

Virtu will confine its presence to Chinese data centers. It won't be opening offices or "putting boots on the ground," he said.
What does it take for famers to learn?
*SHANGHAI EXCHANGE MARGIN DEBT RISES FOR SECOND DAY
Another crash it would appear...
*  *  *
Having tried (and failed) with everything so far, it seems China is willing to unleash HFT hell on their retail citizens... we suspect Virtu's agreement will be torn up if stocks drop any more..