Despite the biggest intervention surge in offshore Yuan on record ("predatoring" any excess speculative fervor on PBOC actions in the spot market), a 'PBOC Advisor' noted that "long-term FX intervention was not their target." The Hong Kong Dollar is pressuring the strong-end of its range against the USD, trapped between the USD peg and weak economy (like so many others). Chinese stocks continue to tread water as China's Premier Li rules out QE (perhaps because pork prices are already at record high prices and are rising at a record pace), exclaiming that there "well be no hard landing," but BofAML expected 50-100bps more RRR cuts this year. PBOC strengthened the Yuan Fix tonight (just modestly).
Despite this...
*PBOC ADVISER SAYS LONG-TERM FOREX INTERVENTION NOT TARGET: NEWS
Offshore Yuan surged by the most on record overnight (removing all the devaluation premium)...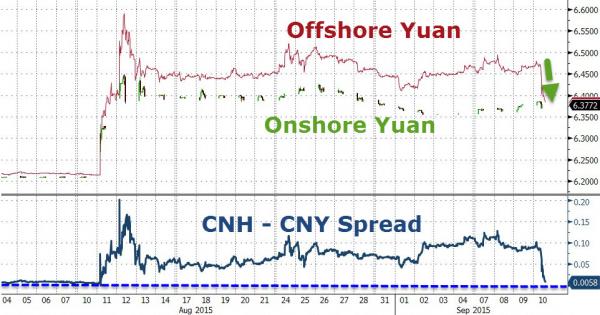 After last night's major devaluation, PBOC strengthens Yuan:
*CHINA SETS YUAN REFERENCE RATE AT 6.3719 AGAINST U.S. DOLLAR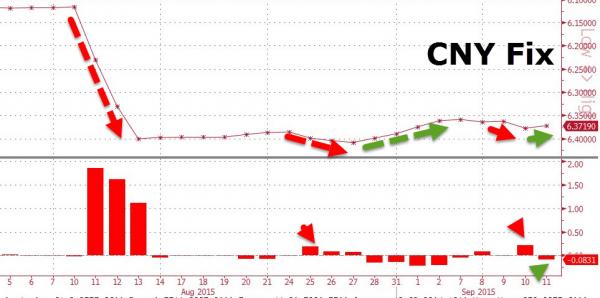 And officials proudly crowed that...
*AT LEAST 47 FOREIGN CENTRAL BANKS HAVE YUAN RESERVES: FIN. NEWS
And in other FX news:
*HONG KONG DOLLAR TOUCHES STRONG END OF PERMITED RANGE TO USD
China's Premier ruled out Quantitative Easing since he implored thare will no hard landing.
He said during a speech at the World Economic Forum in Dalian on Thursday that quantitative easing alone could not solve structural problems in economic growth and that it would lead to negative and spillover effects.

 

*CHINA'S INDUSTRIAL SLOWDOWN MAY BOTTOM OUT SOON: ECO INFO DAILY
Perhaps this is why...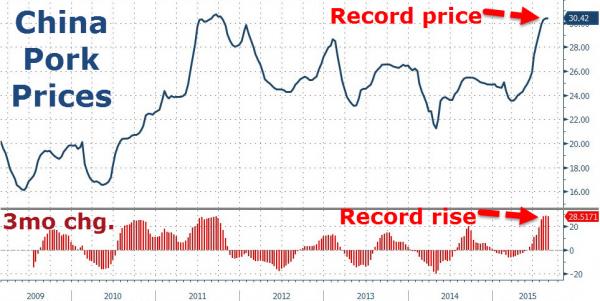 But BofAML says forget Pork.. we need moar... (via ForexLive)
There is still room for one to two interest rate cuts (25bp each) in the rest of the year
But we believe the chance for aggressive rate cuts is very small, given rising CPI inflation and capital outflow pressures
Domestic liquidity has become tighter partly due to capital outflows and PBoC ' s FX intervention
We expect at least 50 - 100bp in RRR cuts in coming months to offset the liquidity drain
The PBoC will also likely use multiple tools ... to flexibly manage domestic liquidity
Targeted credit support to key infrast ructure projects and SMEs are likely to expand
Two words - "Social Unrest"
*  *  *
Chinese stocks trod water overnight amid close-to-zero volume...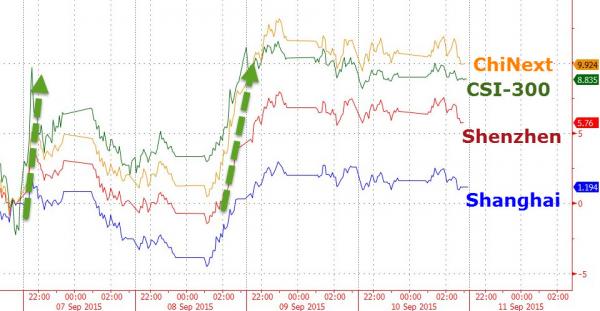 and are flat so far today:
*FTSE CHINA A50 INDEX FUTURES FALL 0.2% IN SINGAPORE
*CHINA'S CSI 300 STOCK-INDEX FUTURES RISE 0.3% TO 3,310
Charts: Bloomberg