Over the past several weeks, we've said on a number of occasions that even we have been surprised at how quickly the situation in Brazil has deteriorated. 
To be sure, there are plenty of things for Latin America's most important economy to worry about, including twin deficits on the fiscal and current accounts, persistently low commodity prices, FX pass-through inflation, rising unemployment, plunging consumer confidence, and a seemingly intractable political crisis. 
That said, recent movements in the BRL seem to be telegraphing something worse than a transient crisis. Here's a bit of historical context: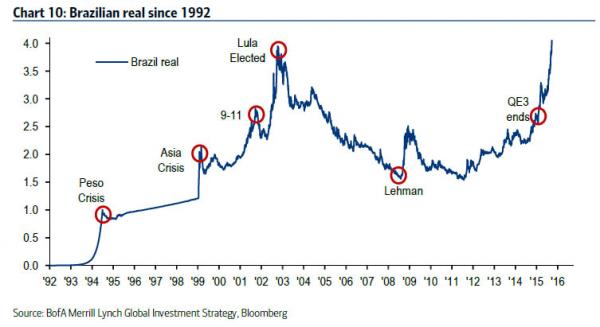 Indeed, the pace at which Brazil's flagging currency has weakened against the dollar over the past two weeks suggests the country may be headed for something like an outright economic cataclysm.
As it turns out, we aren't alone in terms of being surprised at the scope of the rout. Here's Bloomberg with some rather amusing color on the degree to which virtually everyone has been taken off guard:
As Brazilian markets went wild this week, trading desks fell silent.

 

Unlike previous scares that rocked Latin America's biggest economy -- a 50-minute selloff triggered by a blackout, for example, or fear a corruption scandal is getting ever closer to the presidency -- this time around there's no shouting as clients call to demand updates or computer screens explode with instant messages. Instead, panic has given way to a shocked silence as traders watch markets unravel, according to interviews with half a dozen brokerages.

 

"There's a saying that helps explain our mood around here," said Guilherme Esquelbek, a currency trader at Correparti Corretora de Cambio in Curitiba, Brazil. "When the sea is this turbulent, the only thing you can do is sit on the sand and watch. It's not time to get in a boat."
No, probably not, but anyone who got in the BRL boat as the currency hit new all-time lows on Thursday was swiftly rewarded when, apparently in response to central bank President Alexandre Tombini's suggestion that Brazil may use its FX reserves to support the currency, the BRL staged its biggest rally in seven years: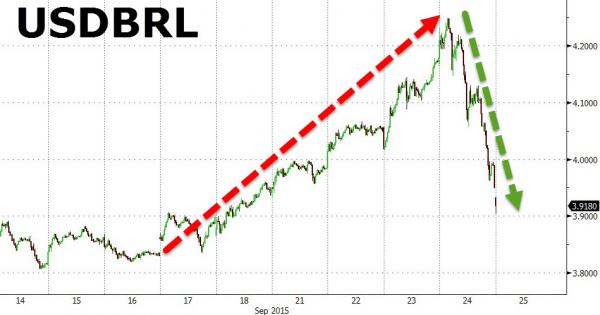 Here's FT:
The Brazilian real on Thursday enjoyed its biggest rally in seven years after the governor of the central bank said he was willing to use "all instruments" available to policymakers to stem the currency's recent slide.

 

After tumbling 1.7 per cent to a new low of R$4.2478 to the dollar earlier in the day, the real rallied by as much as 7 per cent intraday, ending a five-day losing streak. By late afternoon in New York the currency was 4.7 per cent higher, its biggest gain since November 2008 as it pared its loss against the dollar this year to 33 per cent.

 

On Wednesday the bank announced plans to auction $2bn worth of new currency swaps over two days — in effect restarting a programme that was scrapped earlier this year. Its president, Alexandre Tombini, on Thursday sought further to shore up investor confidence, hinting at deploying its $371bn of foreign currency reserves to buttress the real.

 

"In this process (to tame volatility), all instruments are available for the central bank. Foreign reserves are an insurance that could and should be used," Mr Tombini said.
There is of course, nothing good about burning through reserves to support the currency which is why this is nothing but a knee jerk reaction to the Brazilian equivalent of Mario Draghi's "whatever it takes" moment. As one of the economists who helped to create the real told WSJ, "I am disillusioned and upset with what's happening. All the work that we all did to create the real, to create stability, was destroyed by the government." 
And speaking of the government, Eurasia analyst Christopher Garman said on Thursday that if Rousseff is unable to push through all of the needed reforms (i.e. austerity), the resultant economic turmoil will likely lead to her impeachment. "The sustained market selloff is likely to push President Dilma Rousseff to double down on structural reforms that address govt's fiscal rigidities [but] if Congress doesn't give any ground, crisis is likely to precipitate an impeachment," Garman notes.
Here's a full rundown of political and other developments from Bloomberg:
PMDB congressmen, who had been promised two additional ministries, don't want to accept just Health Ministry: Folha de S.Paulo

PT wants Education Ministry: O Globo

Vice President Michel Temer told President Dilma Rousseff that PMDB didn't show that much support for govt in voting of vetoes this week: Folha

Senate president Renan Calheiros called for a new joint session of Congress to continue voting on vetoes on Wednesday, Sept. 30, 11:30am

Lower house president Eduardo Cunha says getting new ministries won't help govt

Cunha finds himself isolated within PMDB: Globo

Some PT members calling for exits of Finance Minister Joaquim Levy, Chief of Staff Aloizio Mercadante and Justice Minister Jose Eduardo Cardozo: Folha

Temer said in TV spot yday that country will prove to be trustworthy by correcting mistakes and uniting; Brazil is above any party interests: Valor Economico

Brazilians are tired of footing the bill, PMDB said in the TV spot

Lawmakers disagreed yday whether Rousseff can be impeached for misdeeds allegedly carried out in her previous term; PT congressman Wadih Damous said that would be unconstitutional

Brazil volatility to persist until impeachment definition: Citi

Brazil selloff is crucial moment for Rousseff survival: Eurasia

Brazil could use reserves to damp currency volatility, Levy says

Govt said to plan appeal if TCU rejects accounts: Estado de S.Paulo

Rejection of fiscal accounts would be the first in history

Member of the court suggested that govt appeals decision to delay possible start of impeachment process by Congress based on unfavorable ruling, newspaper says

Temer and former President Luiz Inacio Lula da Silva believe Rousseff will finish her term: Valor Economico

Former President Fernando Henrique Cardoso: Rousseff making "deal with the devil" by offering PMDB posts before doing reforms

Former Finance Minister Guido Mantega suggested cutting spending in March 2014, Valor columnist Claudia Safatle says

Rousseff refused saying she would lose the election, Valor says without identifying sources

Fitch met with DEM party leader to assess political risk
Ultimately, all of this will manifest itself in further BRL weakness unless commodity prices suddenly mark a dramatic reversal and/or the political situation stabilizes overnight. The only other option - and, incidentally, this is the case in Turkey as well - is for the central bank to hike, and quick. On that note, we close with the following from James Gulbrandsen, chief investment officer for Latin America at asset manager NCH Capital, who spoke to Bloomberg:
"The blood is in the water and the sharks are swarming. [Copom] can harpoon them with one swift interest-rate increase and this current crisis ends."