It's certainly not the sexiest of reports, and the info you get is a bit dated, but the Treasury International Capital (TIC) report is a useful look into the recent past and the appetites and attitudes of foreigners to US Treasuries.
With US bonds the talk of the town this week - thanks to a fairly sharp
sell-off - let's examine what we learned from Thursday's release of the TIC data from the June period - right around the time the Fed first started hinting at tapering its bond purchases.

First, a visual of this report and the development of both Japan's and China's holdings over the last 6 years.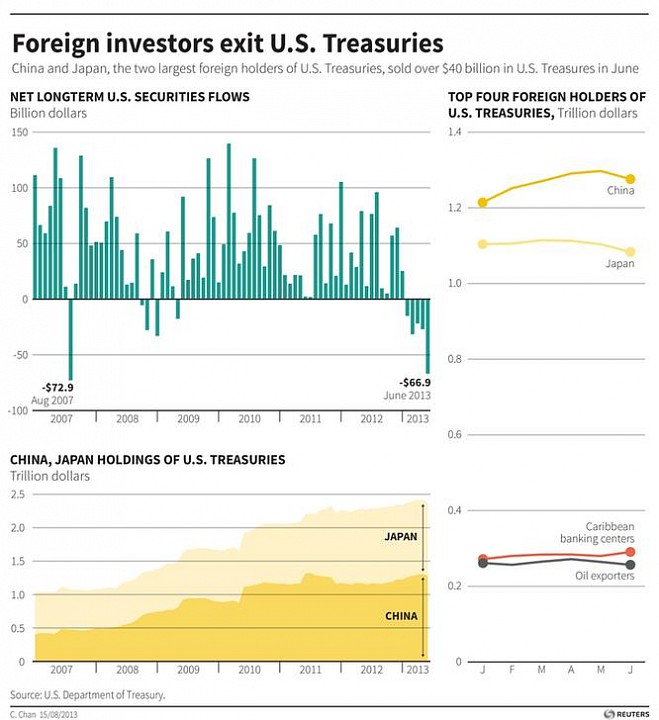 And now,
Reuters
' on the June's report:
"China and Japan led an exodus from U.S. Treasuries in June after the first signals the U.S. central bank was preparing to wind back its stimulus, with data showing they accounted for almost all of a record $40.8 billion (26.0 billion pounds) of net foreign selling of Treasuries.

The sales were part of $66.9 billion (42.8 billion pounds) of net sales by foreigners of long-term U.S. securities in June, a fifth straight month of outflows and the largest since August 2007, U.S. Treasury Department data showed on Thursday.

China, the largest foreign creditor, reduced its Treasury holdings to $1.2758 trillion, and Japan trimmed its holdings for a third straight month to $1.0834 trillion. Combined, they accounted for about $40 billion in net Treasury outflows."
What's it mean? Well, two of the biggest holders of US bonds seem to be losing appetite for them as the inherent support from Fed buying is beginning to wane.
Here's another look at the dumpage by China and Japan, courtesy of
ZeroHedge
: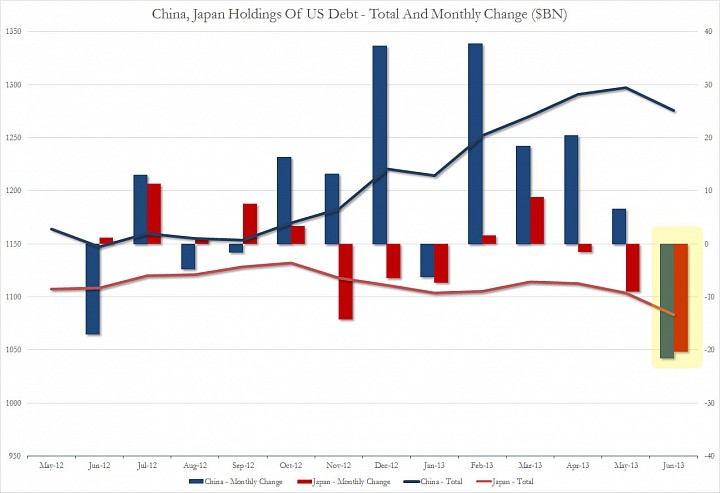 While this report is dated, the situation in the 10-year is certainly one in which prices have been weakening (and yields rising) which means there is some allocation shift out of bonds by foreign players. However, will higher yields actually create an incentive to buy US Treasuries later on? Or is this the start of a longer term disinterest in US Treasuries by the Japanese, Chinese, and other central authorities?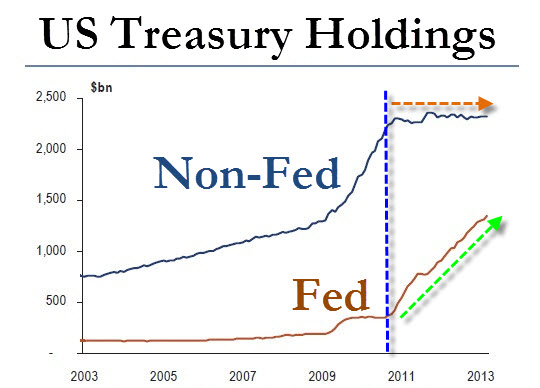 One problem of course is that the Fed has been the dominant buyer of Treasuries, and if it stops, and big foreign players are also scaling back, we may have a paradigm shift in the bond market on our hands (I'm not expert, so that's some hyperbole to get you interested in researching these issues for yourselves).
- Nick