Brent crude rebounded from a 16-month low after Russia and Ukraine agreed on steps toward a cease-fire in the five-month conflict.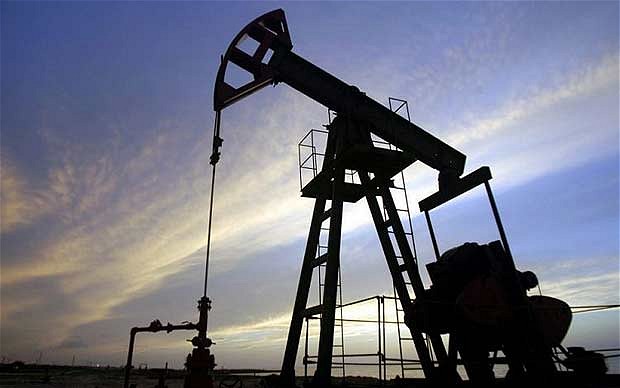 Brent rose as Russian President Vladimir Putin outlined a peace plan for Ukraine today with his Ukrainian counterpart Petro Poroshenko. West Texas Intermediate rose on expectations that supplies dropped last week. Oil tumbled yesterday on concern a weakening European economy will curb demand.
"Oil is recovering a lot of its losses yesterday based on news coming out of Ukraine about a potential path leading to a cease-fire," said Andy Lipow, president of Lipow Oil Associates LLC, an energy consulting firm in Houston.
Brent for October settlement gained $2.43, or 2.4 percent, to end at $102.77 a barrel on the London-based ICE Futures Europe exchange. The volume of all futures was 17 percent above the 100-day average. The contract fell 2.4 percent yesterday to its lowest close since May 1, 2013.
WTI for October delivery advanced $2.66, or 2.9 percent, to settle at $95.54 a barrel on the New York Mercantile Exchange. The contract fell 3.2 percent yesterday to its lowest close since Jan. 14. Volume was about 14 percent above the 100-day average. WTI traded at a premium of $7.23 to WTI on the ICE, compared with $7.46 yesterday.
Cease-Fire Talks
Prices pared gains after Bain Energy said the American Petroleum Institute reported U.S. inventories slid 500,000 barrels last week. Supply at Cushing, Oklahoma, the delivery point for WTI, fell 108,000. WTI rose 2.4 percent to $95.09 at 4:41 p.m. in electronic trading.
"The markets are very much being swayed by the events in Europe and Ukraine," said John Kilduff, a partner at Again Capital LLC, a New York-based hedge fund that focuses on energy. The cease-fire talks "will hopefully stop the downward spiral we are seeing in the euro-zone economy and the worry about more sanctions being applied."
Putin called for an end to the rebels' offensive in the country's easternmost regions and urged the withdrawal of the Ukrainian military from residential areas as part of a seven-point proposal he presented today in Ulaanbaatar, Mongolia. A final agreement may be reached at a Sept. 5 meeting, he said. Putin and Poroshenko agreed on a "cease-fire regime" and the steps toward peace, the Ukrainian president said.
Ukraine, the U.S. and Europe accuse Putin of backing pro-Russian rebels with troops and equipment.Russia, which faces further sanctions as early as this week over the unrest, has repeatedly denied involvement.
Brent Technicals
"There is a possible cease-fire, and it changes the dynamics of the market almost instantly," said Phil Flynn, senior market analyst at the Price Futures Group in Chicago. "Instead of more sanctions, there is the possibility of economic growth."
Brent reached an intraday low of $100.17 yesterday. Prices haven't fallen below $100 since June 24, 2013. The failure to break through that level is giving the market some support today, Flynn said.
"We oversold yesterday, and that's the key thing here today," said Carl Larry, president of Oil Outlooks & Opinions LLC in Houston. "A cease-fire would be very positive for the European market and their demand. That will also help the U.S."
Crude Inventories
U.S. crude inventories may have dropped 1 million barrels last week, according to a Bloomberg survey before tomorrow's Energy Information Administration report. It would be a third weekly decline. The weekly petroleum report, which normally is released every Wednesday, was delayed until tomorrow due to the Labor Day holiday.
Crude supply fell to 360.5 million barrels in the week ended Aug. 22, the lowest since Jan. 31, the Energy Department's statistical arm said last week. Four-week average oil demand reached 19.8 million barrels in the period ended Aug. 22, the highest level for this time of year since 2008.
"The U.S. economy continues to lead the global rebound, and we are seeing some very nice growth out of the U.S.," said Chad Mabry, an analyst at MLV & Co. in Houston.
Gasoline rallied after Energy News Today said Philadelphia Energy Solutions' Girard Point refinery will shut its 200,000-barrel-a-day crude unit in the second half of September. Futures gained 3 percent to settle at $2.62 a gallon on the Nymex. The October contract dropped 3.1 percent yesterday to $2.543, the lowest for front-month futures since November.