I'm looking at the GBP/JPY this morning in the 4-hour time-frame, as it is setting up in a nice consolidation/sideways range. The question for me is whether this almost 3-week sideways action is a period of re-accumulation following the 3-week rally in the prior prior, or is it a period of distribution, where the longs are getting out and we may be setting up for a slide through 157.50.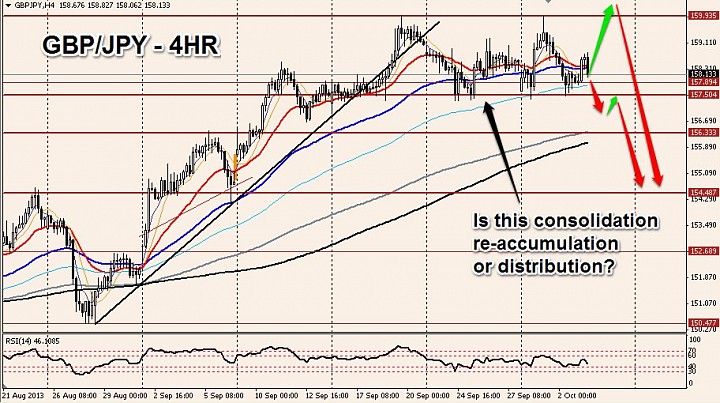 The longer the consolidation, the more energy is being built up for a potential breakout.
I have two main scenarios for the bearish outlook:
The first is that we have a move back to resistance at 159.95 (or slightly above) which flushes out any weak shorts and gives longs a final chance to cash out. From there we have a move downward that breaks out of the support level.
The second bearish scenario would skip the move back to resistance and make its move through support from these levels. In that scenario, we would like to see a clean break with increased price action volatility, which is followed by a retrace to the old level of support at 157.50 and that would give technical traders a "second-chance" entry to catch the breakout. 
For either scenario to happen, it would help to see risk sentiment weak - with equities falling to end the week (start next week if we continue to move sideways until then.

- Nick