'I will not be shorting low float stocks ever again'
D MA MB MC MD ME MG ZG ZQ ZR ZS ZT ZU
Joe Campbell, the trader who asked for help with a $106,000 debt due to a short bet that went wrong, has stopped requesting money on his GoFundMe page.
Campbell has ended his campaign on the fund-raising website after getting $5,310 in donations.
"I'm taking the GoFundMe posting off, over $5,000 is unbelievable and will go a long way towards this debt," the trader writes on the website. "It is far more than I ever thought I would get by doing this page."
The GoFundMe page currently shows the campaign had a goal of $5,000 and exceeded it by $310.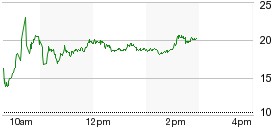 More