Shares of Halliburton Company HAL rose nearly 3% in pre-market trade, after the oilfield services behemoth reported better-than-expected second quarter profit thanks to improved utilization and pricing gains in North America.
Halliburton's adjusted income per share from continuing operation (excluding special items) came in at 23 cents, above the Zacks Consensus Estimate of 19 cents – the twelfth consecutive quarterly outperformance. Moreover, revenues of $4,957 million missed the Zacks Consensus Estimate of $4,844 million.
Oil services companies (like Halliburton) – providers of technical products and services to drillers of oil and gas wells – are generally the first of the U.S. energy firms to kick off an earnings season. While the world's biggest oilfield services company Schlumberger Ltd. SLB came out with Jun numbers on Friday, Jul 21, the remaining two of the so-called Big Four oilfield service and equipment providers – Baker Hughes, a GE company BHGE and Weatherford International plc WFT – report second quarter earnings over the next few days.
Halliburton Company Price, Consensus and EPS Surprise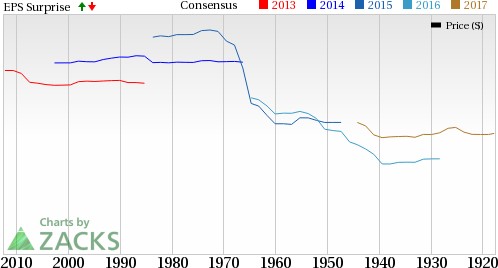 Halliburton Company Price, Consensus and EPS Surprise | Halliburton Company Quote
North American Market Continues to Gather Strength
Along the results, Halliburton also sounded optimistic in its view that the North American land market is improving rapidly, driven by increased utilization and pricing - particularly for pressure pimping. As it is, rig counts have generally been rising during the last one year since plunging to an all-time low of 404 in May 2016, with the addition of a flood of new units. As a proof of the recovery, Halliburton grew its domestic land revenue by nearly 25% sequentially, ahead of the U.S. land rig count growth of 21%
Additionally, the international market seems to have bottomed out, with regional sales rising 7% from the first quarter on heightened Latin American activity, together with increased well completion and drilling services in Europe and Africa. However, pricing pressure continued with the slowdown in Middle East stimulation services.
Segmental Performance
Operating income from the Completion and Production segment was $397 million, turning around from the year-ago loss of $32 million and the previous quarter's income of $147 million, helped by strong pressure pumping activity and improved pricing in the U.S. land market.
But Halliburton's Drilling and Evaluation unit profit dropped – from $154 million in the second quarter of 2016 to $125 million this year and was only marginally ahead of the $122 million earned in the Mar quarter. The setback was on account of pricing pressure, partly offset by higher drilling activity in Mexico, Venezuela, and Colombia, a seasonal rebound in the North Sea and Russia, plus increased fluid services in Asia Pacific.
Balance Sheet
Halliburton's capital expenditure in the second quarter was $327 million.
As of Jun 31, 2017, the Zacks Rank #3 (Hold) company had approximately $2,139 million in cash/cash equivalents and $10,816 million in long-term debt, representing a debt-to-capitalization ratio of 54.7%. You can see the complete list of today's Zacks #1 Rank (Strong Buy) stocks here.
Stock Performance
Halliburton has seen its shares fall 18.0% year to date after gaining more than 50% for 2016. Nevertheless, the company has managed to outperform the industry across the past six months- and 1-year periods.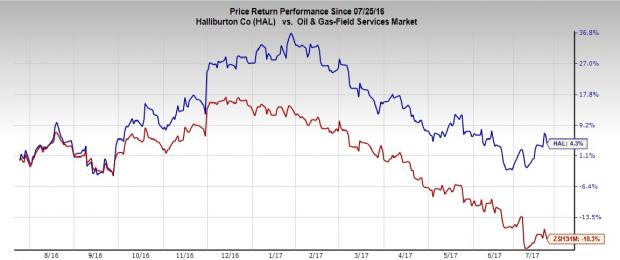 Let's wait and see if the latest earnings beat can help the stock break out of sluggishness.
More Stock News: This Is Bigger than the iPhone!
It could become the mother of all technological revolutions. Apple sold a mere 1 billion iPhones in 10 years but a new breakthrough is expected to generate more than 27 billion devices in just 3 years, creating a $1.7 trillion market. Zacks has just released a Special Report that spotlights this fast-emerging phenomenon and 6 tickers for taking advantage of it. If you don't buy now, you may kick yourself in 2020. Click here for the 6 trades >>
Want the latest recommendations from Zacks Investment Research? Today, you can download 7 Best Stocks for the Next 30 Days.
Click to get this free report
Weatherford International PLC (WFT): Free Stock Analysis Report
Schlumberger N.V. (SLB): Free Stock Analysis Report
Halliburton Company (HAL): Free Stock Analysis Report
Baker Hughes Incorporated (BHGE): Free Stock Analysis Report
To read this article on Zacks.com click here.