Shares of Tesla TSLA slipped nearly 4% in morning trading Thursday, marking an 18% decline from the company's recently-hit all-time high and underscoring concerns that the floor might finally be falling out from under this one-of-a-kind stock.
It's no secret that Tesla has traded under its own set of rules recently, but the company is now starting to feel the pressure of its disappointing fundamental results. In fact, over the past two days, analysts from several key firms—including Goldman Sachs, Bernstein, KeyBanc Capital, and Cowen—have expressed frustration with Tesla's second-quarter delivery figures.
What's worse, Tesla has also started to lose some of its key market advantages. Just yesterday, Volvo announced that it will begin to phase out combustion engine-based vehicles and plans to only sell new electric or hybrid models by 2019 (also read: Beginning in 2019, Volvo Will Sell Only Electric or Hybrid Models).
For Tesla, the presumed king of electric cars, Volvo's plan shows that the rest of the automotive industry is hot on its heels. That concern was exacerbated on Thursday, when the Insurance Institute for Highway Safety questioned Tesla's other proclaimed advantage.
"If you're looking for top-line safety, we believe there are other, better choices than the Model S," IIHS's Dave Zuby told CNBC, casting doubt on Tesla's own claim that the Model S is the safest car in history.
Heading into Thursday, Tesla shares were already down nearly 10% in the shortened trading week, and this latest news has sent the stock slumping even further. This recent trading activity represents a rare downturn for Tesla, which has gained more than 65% year-to-date.
So is this slump just a temporary blip? Is now actually the time to buy Tesla on the dip? Let's take a closer look: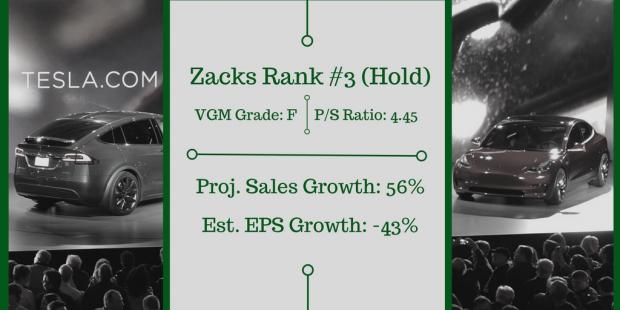 As we can see, Tesla has a pretty mixed fundamental picture right now. With an overall VGM grade of "F," we can assume that many of the company's key metrics are shaky, and that's certainly a talking point that traditional investors have been desperately pointing to for some time.
The fact that Tesla remains deeply in the red certainly doesn't help many of its valuation metrics, and it's likely that this continually-rising stock scared off any value-minded investors years ago. Even the P/S ratio, an important metric for growing, loss-making companies, is relatively unattractive.
And even growth-minded investors could raise questioning eyebrows at Tesla right now. Sure, revenues are skyrocketing, but EPS figures are slipping and profits seem like a distant hope.
But as we mentioned, Tesla plays by its own rules. These traditional valuation and growth metrics have been chucked out the window, replaced by rampant speculation and hype. That fact is sure to make passive investors cringe, and it could be one that exacerbates the stock's downside volatility, but it has been the simple reality as of late.
Of course, we should also mention that Tesla is currently a Zacks Rank #3 (Hold). The Zacks Rank is based heavily on earnings estimate revisions, and a complete lack of revisions over the past 60 days has kept TSLA stuck in the middle. Nevertheless, it's probably worthwhile to check out a smaller factor on the Zacks Rank, Tesla's recent earnings surprise history:
Tesla Inc. Price, Consensus and EPS Surprise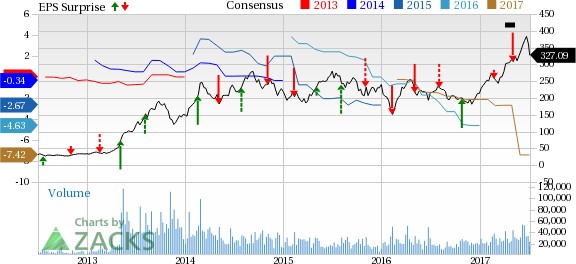 Tesla Inc. Price, Consensus and EPS Surprise | Tesla Inc. Quote
Again, these results paint a pretty shaky picture and provide more support for the thesis that TSLA is a one-of-a-kind stock. Over the years, Tesla has not been a consistent earnings performer, managing to muster just one streak of at least three beats in a row since 2013.
On the other hand, the company has posted some massively disappointing earnings results—especially recently—and yet the stock has continued to climb. Our Price, Consensus, and EPS Surprise chart is one of the most revealing snapshots of a company's earnings history and the subsequent reaction from investors. It is unlikely that we'd find another one quite like Tesla's.
We expect Tesla to report again on August 2, and although the company's disappointing vehicle delivery figures would usually be a huge warning flag for investors, nobody can really know exactly what good or bad news the markets will pick out of Tesla's report this time around. If recent activity is an indicator, expect any news about production of the Model 3 to drive share prices one way or the other.
In short, the latest news, as well as Tesla's questionable fundamental picture, create plenty of questions for the company, but the historical resilience of this stock seems to indicate that these things might not matter. Before we settle on an unsure shrug of our shoulders as answer to whether we should buy on the dip, let's take a look at some of Tesla's six-month charts to see if any interesting trends are revealed: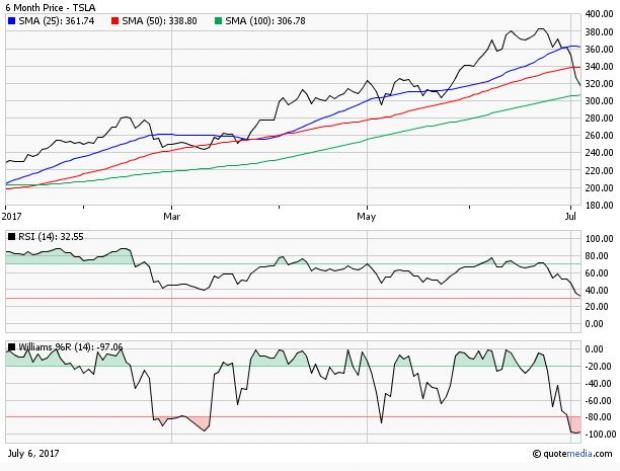 The price chart is perhaps the most important right now, because it reminds us of the rarity of TSLA's recent slump. The stock has only breached its 25-day moving average during a handful of brief moments during the last six months, but the latest dip has sent share prices tumbling below their 25-day and 50-day moving averages.
We can see a similar trend on the RSI and Williams %R charts, which are typically used to indicate "overbought" and "oversold" levels. TSLA has remained near the upper boundaries on both of these charts relatively consistently this year, but the recent dip has the stock in relatively unchartered territory.
Unfortunately, this means we have less trend history to work with. If these charts showed a consistent ability to rebound from oversold levels, perhaps we could feel more confident about buying on the dip right now, but at the moment, most would agree that these charts are displaying relatively bearish signals.
Today's Stocks from Zacks' Hottest Strategies
It's hard to believe, even for us at Zacks. But while the market gained +18.8% from 2016 - Q1 2017, our top stock-picking screens have returned +157.0%, +128.0%, +97.8%, +94.7%, and +90.2% respectively.
And this outperformance has not just been a recent phenomenon. Over the years it has been remarkably consistent. From 2000 - Q1 2017, the composite yearly average gain for these strategies has beaten the market more than 11X over. Maybe even more remarkable is the fact that we're willing to share their latest stocks with you without cost or obligation. See Them Free>>
Want the latest recommendations from Zacks Investment Research? Today, you can download 7 Best Stocks for the Next 30 Days.
Click to get this free report
Tesla Inc. (TSLA): Free Stock Analysis Report
To read this article on Zacks.com click here.
Zacks Investment Research