Insperity Inc NSP is set to release third-quarter 2017 results on Nov 1.

The Human Capital Management (HCM) platform provider beat the Zacks Consensus Estimate in each of the trailing four quarters, with an average positive surprise of 8.28%. Last quarter, the company delivered a positive earnings surprise of 20.59%.

For third-quarter 2017, Insperity projects adjusted earnings in the range of 94 cents to $1 per share. Adjusted EBITDA is projected in the range of $37.5-$39.5 million and average worksite employees (WSEs) are expected in the range of 187,500-188,300, representing growth of 11-11.5%.

Notably, the stock has returned 35.7% year to date, substantially outperforming the 18.7% rally of the industry.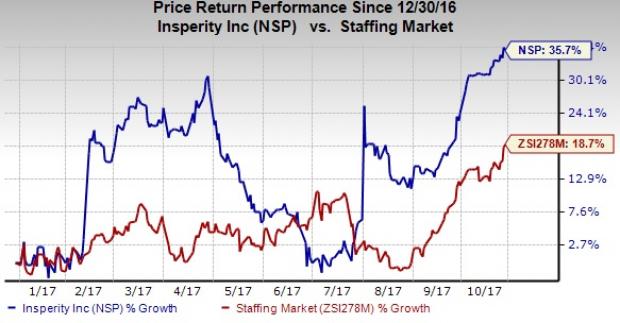 Let's see how things are shaping up for this announcement.

PEO industry Boom, Improved Client Retention Drives Growth

We believe that Insperity is well poised to benefit from the booming PEO industry. Moreover, the company's focus on small and mid-sized companies presents significant growth opportunity.

Additionally, improved client retention, diversified product portfolio, growth in worksite employees and strength in ancillary products are other positives.

However, a sluggish global macro environment increases the risk of headcount reduction at client companies. Furthermore, intense competition remains a concern.

Certified PEO Designation to Drive Gross profit

In June, Insperity received a Certified Professional Employer Organization (CPEO) from the United States Internal Revenue Service (IRS) under the Small Business Efficiency Act.

Per management, the certification "eliminates the potential for double taxation of FICA and FUTA when a business contracts with a CPEO during the year." This is expected to drive gross profit in the third quarter.

Unfavorable ESP

We believe that Insperity is unlikely to deliver a positive earnings surprise in the third-quarter due to an unfavorable combination of Zacks Rank #3 (Hold) and Earnings ESP of 0.00%. You can uncover the best stocks to buy or sell before they're reported with our Earnings ESP Filter.

We don't recommend Sell-rated stocks (Zacks Rank #4 or 5) going into the earnings announcement, especially when the company is seeing negative estimate revisions.

Stocks to Consider

Here are a few stocks which you may also consider, as our model shows that they have the right combination of elements to post an earnings beat this quarter.

Kemet Corporation KEM has an Earnings ESP of +7.46% and sports a Zacks Rank #1. You can see the complete list of today's Zacks #1 Rank (Strong Buy) stocks here.

NVIDIA Corporation NVDA has an Earnings ESP of +0.53% and flaunts a Zacks Rank #1.

HubSpot Inc HUBS has an Earnings ESP of +26.53% and carries a Zacks Rank #2 (Buy).
Zacks' Best Private Investment Ideas
While we are happy to share many articles like this on the website, our best recommendations and most in-depth research are not available to the public.
Starting today, for the next month, you can follow all Zacks' private buys and sells in real time. Our experts cover all kinds of trades… from value to momentum . . . from stocks under $10 to ETF and option moves . . . from stocks that corporate insiders are buying up to companies that are about to report positive earnings surprises. You can even look inside exclusive portfolios that are normally closed to new investors.
Click here for Zacks' private trades >>
Want the latest recommendations from Zacks Investment Research? Today, you can download 7 Best Stocks for the Next 30 Days.
Click to get this free report
HubSpot, Inc. (HUBS): Free Stock Analysis Report
Kemet Corporation (KEM): Free Stock Analysis Report
NVIDIA Corporation (NVDA): Free Stock Analysis Report
Insperity, Inc. (NSP): Free Stock Analysis Report
To read this article on Zacks.com click here.
Zacks Investment Research