Previously we reported that while the general investing public was naively following "price action" as an indicator of value for most of 2015 (when it was merely chasing HFT momentum ignition algos and the occasional central bank intervention) the "smart money" was quietly unwinding its equity positions. The divergence between smart money flows and the broader market came to a crashing climax on "Black Monday", when the S&P tumbled to the level where "smart" investors deemed fair.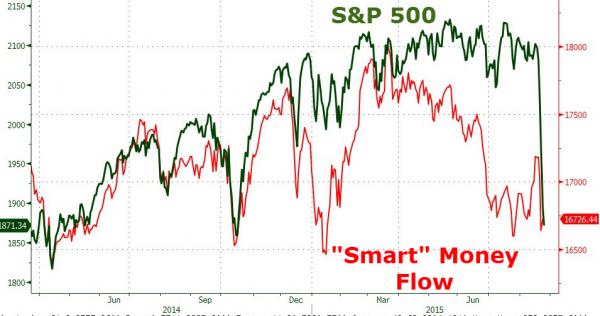 Perhaps not surprisingly, what happened next was precisely the opposite, and as Bank of America writes overnight, taking advantage of the oversold market, "last week, during which the S&P 500 was up 0.9% as the market rebounded off of Tuesday's lows, BofAML clients were net buyers of $5.6bn of US stocks—the biggest inflow in our data history (since '08) following five weeks of selling. The last time  flows were close to these levels was during the (less extreme) volatility in early January of this year, as well as following the Tech/Biotech sell-off in early 2014 (see chart below). Net buying last week was broad based—while no client group saw record flows relative to its own history, hedge funds, institutional clients and private clients were all big net buyers which led to record inflows when combined."
This also follows what we previously documented back in June, was the single biggest weekly outflow ever, as investors sensed that the market had peaked.
Which means that two months after the biggest BofA client outflow in history was followed just two months later by the biggest client inflows also in history.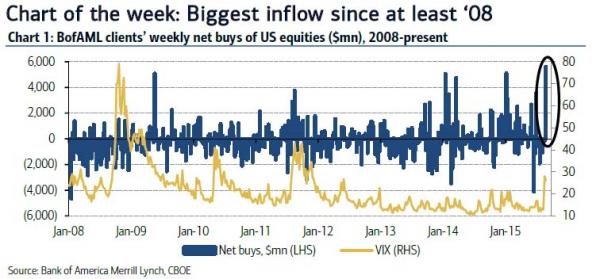 The breakdown by client type and net target buy:
What is more amusing, is that perhaps BofA's clients only rushed in because they knew they would have some help from the companies themselves: as the bank also writes, "the past week saw Record Discretionary buybacks: Corporate clients' purchases of this sector on a four-week average basis are currently the highest in our data history (since 2010)."
In other words, the bulk of the "money on the sidelines" dry powder has just been spent. The problem is that while everyone was expecting a market rebound, few were anticipating either yesterday's drop, or today's resumption of the broad market plunge.
And now we await next week's client flows data to learn if a week of record inflows was promptly followed by week of recorder outflows.