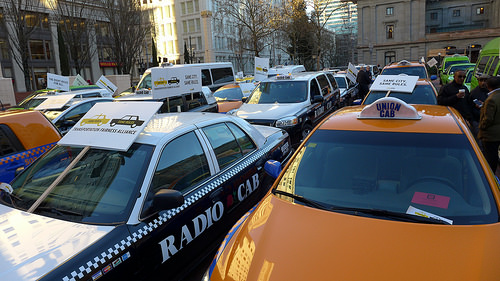 In the latest round of funding Uber technologies Inc raised another $1 billion, rounding its total funding to more than $5 billion. Some of the most recent investors are Microsoft (NASDAQ: MSFT) and India-based Bennett Coleman & Co's Times Internet.
According to The Huffington Post, Uber plans to expand further into India over the next nine months, as the country is now the second largest Uber market outside of the United States. Currently, the service is available in more than 50 countries and further reported it would invest more than $1 billion in India.
"We filed to authorize this new funding more than two months ago," Kristin Carvell, a spokeswoman for Uber said, according to HuffPost. "We aren't commenting on additional speculation."
Despite protests from workers, media scandals and government bans in some areas, Uber remains to be a hugely profitable company no matter the situation it's thrown into. In a recent report by The Wall Street Journal, the ride-sharing application is now worth a whopping $51 million.
Uber sees a large amount of users on a daily basis, in almost every corner of the world. It's proved to be oftentimes more convenient and cheaper than taking a traditional taxi, making it a top contender for travelers or commuters trying to get from here to there in a short amount of time.
However, specifically in this most recent round of funding, some critics have wondered what a technology company like Microsoft sees in Uber and would prompt them to invest. According to ABC News, claiming a stake in the ride-sharing company gives further insights into popular consumer trends, acting as an information gathering technique. 
"Microsoft's investment in Uber is important on a few fronts. First is that it gives Microsoft an inside look at one of the most interesting trends, 'humans as a service'" Patrick Moorhead, an analyst at Moor Insights & Strategy said, according to ABC News. "Whether its Home Advisor in home improvement or Favor in restaurant, HaaS is hot."
For more business and financial news, click here.
*This is editorial content and expresses the opinion of the author.