Pfizer Inc. PFE announced that its leukemia candidate, Besponsa, has been approved by the European Commission.
The drug is approved as a monotherapy for relapsed or refractory CD22-positive B-cell precursor acute lymphoblastic leukemia (ALL), including patients with either Philadelphia chromosome positive (Ph+) or Philadelphia chromosome negative (Ph-). Besponsa is the first and only approved therapy in the EU for ALL, which acts by binding anticancer agents to an antibody to target cancerous cells.
Shares of Pfizer have risen 3.4% since the beginning of this year, underperforming the Zacks classified Large Cap Pharmaceuticals industry, which increased 12% in the same period.

The approval is based on data from a pivotal study, INO-VATE ALL, which demonstrated that patients treated with Besponsa showed significant improvement in complete response and also significantly extended progression-free survival (PFS) compared to chemotherapy. Moreover, the overall survival (OS) rate over two years was almost double for the candidate versus chemotherapy.
The current standard of care of intensive chemotherapy is associated with poor long-term survival, high toxicities, lengthy inpatient stays and continuous infusions. Treatment with Besponsa was found to achieve complete remission without excessive toxicity. The company claims that this will help patients to proceed for additional therapeutic intervention to prolong patient survival
We remind investors that Besponsa enjoys breakthrough therapy designation in the U.S. with FDA granting priority review to its biologics license application (BLA) in Mar 2017. A decision is expected in Aug 2017.
Meanwhile, Kite Pharma, Inc. KITE is developing its lead candidate, axicabtagene ciloleucel for treatment of ALL patients. Amgen Inc. AMGN also submitted a supplemental biologics license application in Feb 2017 to expand Blincyto's label to include ALL patients with Ph+. Blicynto is already approved in Ph- patients.
Pfizer, Inc. Price and Consensus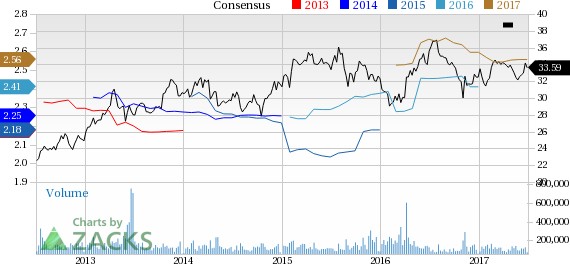 Zacks Rank & Stock to Consider
Pfizer currently carries a Zacks Rank #3 (Hold). A better-ranked stock in the healthcare industry is Sanofi SNY, which carries a Zacks Rank #2 (Buy). You can see the complete list of today's Zacks #1 Rank (Strong Buy) stocks here.
Sanofi's earnings estimates moved up from $3.00 to $3.18 for 2017 and from $3.25 to $3.30 for 2018, over the last 30 days. The company delivered positive earnings surprises in two of the last four quarters, with an average beat of 5.10%. The stock is up 22.98% so far this year.
5 Trades Could Profit "Big-League" from Trump Policies
If the stocks above spark your interest, wait until you look into companies primed to make substantial gains from Washington's changing course.
Today Zacks reveals 5 tickers that could benefit from new trends like streamlined drug approvals, tariffs, lower taxes, higher interest rates, and spending surges in defense and infrastructure. See these buy recommendations now >>
Want the latest recommendations from Zacks Investment Research? Today, you can download 7 Best Stocks for the Next 30 Days.
Click to get this free report
Sanofi (SNY): Free Stock Analysis Report
Pfizer, Inc. (PFE): Free Stock Analysis Report
Amgen Inc. (AMGN): Free Stock Analysis Report
Kite Pharma, Inc. (KITE): Free Stock Analysis Report
To read this article on Zacks.com click here.
Zacks Investment Research