Have you been eager to see how U.S. energy firm Apache Corp. APA performed in Q2 in comparison with the market expectations? Let's quickly scan through the key facts from this Houston, TX-based company's earnings release this morning:
About Apache: Apache is one of the world's leading independent energy companies engaged in the exploration, development and production of natural gas, crude oil and natural gas liquids. Approximately 72% of proved reserves and 60% of its production comes from North America. Internationally, Apache has core operations in Egypt and offshore U.K.
Zacks Rank & Surprise History: Currently, Apache has a Zacks Rank #5 (Strong Sell) but that could change following its second quarter 2017 earnings report which has just released. You can see the complete list of today's Zacks #1 Rank (Strong Buy) stocks here.
Coming to earnings surprise history, the company is on a bit of a slippery surface, having missed the Zacks Consensus Estimate in three of the last four reports resulting in an average negative surprise of 46.40%.
Apache Corporation Price and EPS Surprise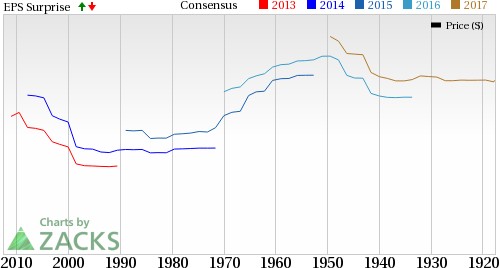 Apache Corporation Price and EPS Surprise | Apache Corporation Quote
Estimate Revision Trend: Investors should note that the earnings estimates for Apache was unmoved prior to the earnings release. The Zacks Consensus Estimate remained the same over the last 7 days.
We have highlighted some of the key details from the just-released announcement below:
A Reports Loss: Loss per share – excluding one-time items – came in at 21 cents, as against the Zacks Consensus Estimate for a profit of a penny.
Revenue Came in Lower than Expected: Revenues of $1,384 million were below the Zacks Consensus Estimate of $1,419 million.
Key Stats: The production of oil and natural gas (excluding divested assets and non-controlling interests) averaged 387,562 oil-equivalent barrels per day (BOE/d) (65% liquids), down 16% from last year. Apache's production for oil and natural gas liquids (NGLs) was 250,251 barrels per day (Bbl/d), while natural gas output came in at 823.9 million cubic feet per day (MMcf/d).
The average realized crude oil price during the second quarter was $46.89 per barrel, representing an increase of 9% from the year-ago realization of $43.14. Moreover, the average realized natural gas price during the Jun quarter of 2017 was $2.60 per thousand cubic feet (Mcf), up 27% from the year-ago period.
Apache's second quarter lease operating expenses totaled $372 million, up 4% from the year-ago quarter.
Share Performance: Apache has lost 24.5% of its value year to date versus the 26.6% decline of its industry.

Check back later for our full write up on this Apache earnings report later!
More Stock News: Tech Opportunity Worth $386 Billion in 2017
From driverless cars to artificial intelligence, we've seen an unsurpassed growth of high-tech products in recent months. Yesterday's science-fiction is becoming today's reality. Despite all the innovation, there is a single component no tech company can survive without. Demand for this critical device will reach $387 billion this year alone, and it's likely to grow even faster in the future. Zacks has released a brand-new Special Report to help you take advantage of this exciting investment opportunity. Most importantly, it reveals 4 stocks with massive profit potential. See these stocks now>>
Want the latest recommendations from Zacks Investment Research? Today, you can download 7 Best Stocks for the Next 30 Days.
Click to get this free report
Apache Corporation (APA): Free Stock Analysis Report
To read this article on Zacks.com click here.
Zacks Investment Research