On Jan 3, we issued an updated research report on business services provider, Verisk Analytics, Inc. VRSK.

Verisk continues to extend its footprint in new markets through targeted international expansion. The company recently inked an agreement to acquire PowerAdvocate for $200 million to augment its presence in the energy sector. Catering primarily to the global energy firms, PowerAdvocate provides cost intelligence and supply chain solutions that mitigate risks and optimize total cost of production. It also offers key insights into customer's cost-saving opportunities by analyzing spend and cost data obtained from millions of transactions across thousands of services, materials and equipment categories in the energy industry. With its wide range of proprietary data, it enables various companies to bring transparency in the market and ensure that capital is utilized efficiently.

As Verisk draws on unique data sets to provide predictive analytics and decision support solutions to customers, it is expected to benefit immensely from this acquisition. The company, with its decision support solutions, has facilitated its customers to take informed decisions with greater precision, efficiency and discipline about various risks involved in business. This buyout will bring more enterprises in the energy sector within Verisk's reach by incorporating PowerAdvocate's spend data and cost models.

The deal will add to Verisk's existing pool of customers, giving it greater access to the global markets. Verisk, with PowerAdvocate's proprietary data set encompassing $2.7 trillion of spending data and machine-learned methods, will provide customers unique insight to increase profitability. Verisk's revenues are likely to increase significantly as a result of this acquisition, providing greater market strength.

In order to create long-term value for its clients, Verisk has extended its scalable data and analytic solutions by steadily putting resources into overseas markets. The scalability of its products has further led to highly cash-generative businesses characterized by high net margins and relatively low capital intensity. Verisk has outperformed the industry in the last three months with an average return of 14.3% compared with a gain of 4.6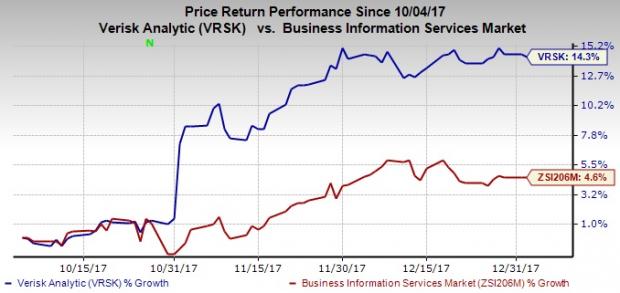 % for the latter.


Moreover, Verisk aims at creating long-term value through organic growth and better returns on invested capital. The company continuously seeks to expand its portfolio by leveraging its deep knowledge and embedded position to develop new, proprietary data sets and predictive analytics by working with its customers to understand their evolving needs. Verisk recorded an average organic revenue growth of about 8% over the past 10 years.

However, Verisk is susceptible to operational risks related to security breaches in its facilities, computer networks and databases, resulting in a loss of its credibility and/or customers. Data theft and misuse by third-party contractors could also lead to loss of businesses and pose a significant threat. The company is also vulnerable to high volatility related to continued end-market headwinds affecting its environmental health and safety solutions.

Nevertheless, we expect Verisk to witness higher revenues in the future and remain impressed by its focused growth initiatives. Verisk currently has a Zacks Rank #2 (Buy). Other noteworthy stocks in the industry include IHS Markit Ltd. INFO, FTI Consulting, Inc. FCN and NV5 Global, Inc. NVEE, each carrying a Zacks Rank #2. You can see the complete list of today's Zacks #1 Rank (Strong Buy) stocks here.

IHS Markit has a solid long-term earnings growth expectation of 11.7%. It topped estimates twice in the trailing four quarters with an average positive earnings surprise of 2.4%.

FTI Consulting is currently trading at a forward P/E of 20.8x.

NV5 Global has a healthy long-term earnings growth expectation of 20%. It beat earnings estimates thrice in the trailing four quarters with an average positive earnings surprise of 4.5%.

Investor Alert: Breakthroughs Pending

A medical advance is now at the flashpoint between theory and realization. Billions of dollars in research have poured into it. Companies are already generating substantial revenue, and even more wondrous products are in the pipeline.

Cures for a variety of deadly diseases are in sight, and so are big potential profits for early investors. Zacks names 5 stocks to buy now.

Click here to see them >>
Want the latest recommendations from Zacks Investment Research? Today, you can download 7 Best Stocks for the Next 30 Days.
Click to get this free report
Verisk Analytics, Inc. (VRSK): Free Stock Analysis Report
IHS Markit Ltd. (INFO): Free Stock Analysis Report
FTI Consulting, Inc. (FCN): Free Stock Analysis Report
NV5 Global, Inc. (NVEE): Free Stock Analysis Report
To read this article on Zacks.com click here.
Zacks Investment Research