Exelixis, Inc. EXEL reported impressive results for third-quarter 2017 on the back of increased Cabometyx sales. The company posted third-quarter 2017 earnings of 26 cents, beating the Zacks Consensus Estimate of 8 cents. Notably, the company reported a loss of 4 cents per share in the year-ago quarter.
Exelixis, Inc. Price and EPS Surprise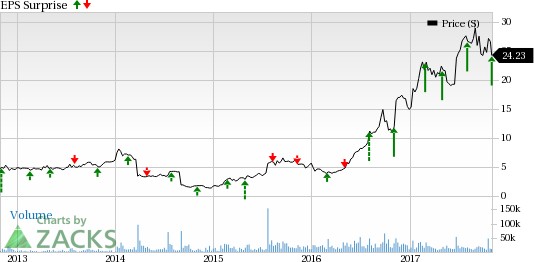 Exelixis, Inc. Price and EPS Surprise | Exelixis, Inc. Quote
Net revenue came in at $152.5 million, significantly up from $62.2 million in the year-ago quarter. Revenues also surpassed the Zacks Consensus Estimate of $104.4 million
Revenues were boosted by increased Cabometyx sales. The FDA approved a tablet formulation of cabozantinib, (distinct from the capsule form) under the brand name Cabometyx in April 2016 for the treatment of advanced renal cell carcinoma (RCC) in patients who have received prior anti-angiogenic therapy.

Exelixis' share price has increased 62.5% year to date compared with the industry's gain of 4.1%.
Quarter in Detail
Total product revenues were $96.4 million, up from $42.7 million in the year-ago quarter. Cabometyx generated $90.4 million in net product revenues, up 11.6% sequentially driven by 9% growth in demand which was attributable to new patient starts, refills for patients already on therapy and continued expansion of the prescriber base. Cometriq (cabozantinib) capsules for the treatment of medullary thyroid cancer generated $6.1 million in net product revenues.
Total collaboration revenues were $56.1 million compared with $19.5 million in the year-ago quarter.
In the reported quarter, research and development expenses increased 40.4% to $28.5 million primarily as a result of increases in personnel expenses, clinical trial costs and consulting and outside services. Selling, general and administrative expenses were $38.1 million, up 17.2% driven by increases in consulting and outside services to support the company's marketing activities resulting primarily from an increase in general and administrative headcount to support the company's commercial and research and development organizations.
Pipeline Update
The company continues to focus on the commercialization of Cabometyx in the United States. Exelixis filed a supplemental New Drug Application (sNDA) for cabozantinib as a treatment for previously-untreated patients with advanced RCC in August 2017. The FDA had accepted the sNDA and granted Priority Review, assigning a Prescription Drug User Fee Act (PDUFA) action date of Feb 15, 2018.
In March 2017, the FDA granted cabozantinib orphan drug designation for the treatment of advanced hepatocellular carcinoma (HCC). In October, Exelixis announced that the CELESTIAL trial met its primary endpoint of overall survival (OS) with cabozantinib providing a statistically significant and clinically meaningful improvement in OS compared to placebo in patients with advanced HCC. The independent data monitoring committee for the study recommended that the trial should be stopped for efficacy following review of the second planned interim analysis. Exelixis plans to submit an sNDA to the FDA in the first quarter of 2018.
During the first quarter, Exelixis inked agreements with Bristol-Myers Squibb Company BMY and Roche Holding AG RHHBY to develope cabozantinib in combination with immunotherapy agents. Exelixis and Bristol-Myers initiated a phase III trial, CheckMate 9ER, in July 2017.
Meanwhile, Exelixis and Roche have agreed to revise the revenue and cost-sharing arrangement for commercialization of the other drug in the former's portfolio, Cotellic in the United Sates.
The IMspire150 (TRILOGY) trial, which evaluates the combination of Cotellic, Tecentriq, and Xelboraf in first-line BRAF V600 mutation-positive metastatic or unresectable locally advanced melanoma is underway while IMspire170, the trial evaluating the combination of Cotellic and Tecentriq versus Merck & Co., Inc.'s MRK Keytruda in first-line BRAF wild-type metastatic or unresectable locally advanced melanoma, is open for enrolment.
2017 Guidance
Exelixis expects total costs and operating expenses for 2017 in the range of $285-$295 million.
Our Take
Exelixis' third-quarter results were strong wherein both earnings and sales beat estimates driven by solid Cabometyx sales. The sequential increase in Cabometyx sales is a positive for the company thereby underlying the increasing demand for the drug. New patient market share in the second line plus setting increased to 38%. Going forward, we expect investors focus to remain on further label expansion of cabozantinib and Cotellic. A potential label expansion in first-line RCC and advanced HCC will significantly boost the growth prospects of the company.
Zacks Rank & Key Pick
Exelixis currently carries a Zacks Rank #2 (Buy). You can see the complete list of today's Zacks #1 (Strong Buy) Rank stocks here.
Zacks' Best Private Investment Ideas

While we are happy to share many articles like this on the website, our best recommendations and most in-depth research are not available to the public.

Starting today, for the next month, you can follow all Zacks' private buys and sells in real time. Our experts cover all kinds of trades… from value to momentum . . . from stocks under $10 to ETF and option moves . . . from stocks that corporate insiders are buying up to companies that are about to report positive earnings surprises. You can even look inside exclusive portfolios that are normally closed to new investors.

Click here for Zacks' private trades >>
Want the latest recommendations from Zacks Investment Research? Today, you can download 7 Best Stocks for the Next 30 Days.
Click to get this free report
Roche Holding AG (RHHBY): Free Stock Analysis Report
Bristol-Myers Squibb Company (BMY): Free Stock Analysis Report
Merck & Company, Inc. (MRK): Free Stock Analysis Report
Exelixis, Inc. (EXEL): Free Stock Analysis Report
To read this article on Zacks.com click here.