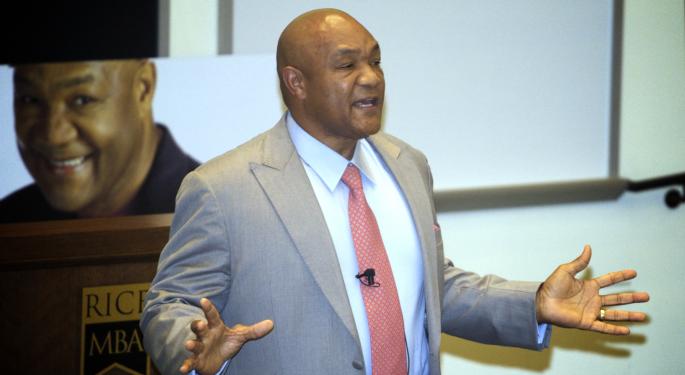 These days, professional athletes earn some of the largest paychecks in the world. However, the average pro sports career typically lasts only 3-6 years.
Unfortunately, many of the highest paid pro athletes make headlines after they retire for mismanaging their money. But a handful of pro athletes have gone on to become extremely successful investors once their playing days are over. Here's a look at five of the best athlete investors of all time.
5. George Foreman
Foreman gained notoriety for his battles in the ring with Muhammad Ali. However, his endorsement of the George Foreman Grill is what earned him the majority of his fortune. Foreman originally agreed to promote the grills in exchange for 45 percent of their total profits, but the company that made the grills bought out Foreman in 1998 for $137.5 million.
4. Junior Bridgeman
After retiring from the NBA in 1987, Bridgeman started out his investing career by buying five Wendys Co WEN 0.53% locations. As of 2015, Black Enterprise Magazine listed Bridgeman's restaurant holding company Manna Inc as the sixth largest black-owned business in the US.
3. Magic Johnson
Since his NBA playing days ended, Johnson has made a number of high-profile investments via his company Magic Johnson Enterprises. Early investments included 31 Burger King restaurants, 13 24-Hour Fitness clubs and 105 Starbucks Corporation SBUX 1.38% franchises.
2. Roger Staubach
The former Dallas Cowboy quarterback sold his real estate company, The Staubach Company, in 2008 for $613 million. ESPN business analyst Darren Rovell once called Staubach "the most successful athlete-businessman of all-time."
1. Ty Cobb
Ty Cobb is one of the greatest baseball players in history, but his investing career may have even outshined his play on the diamond. During his prime, Cobb was the highest-paid baseball player in the world, earning $20,000 per year. Cobb reportedly began aggressively investing in The Coca-Cola Co KO 0.02% as early as 1907 and also owned a large stake in United Motors as well. His United Motors shares were converted to General Motors Company GM 0.25% shares following a 1918 buyout.
When he died in 1961, Cobb's investment portfolio included $2 million of Coca-Cola stock and $10 million of GM stock.
© 2016 Benzinga.com. Benzinga does not provide investment advice. All rights reserved.