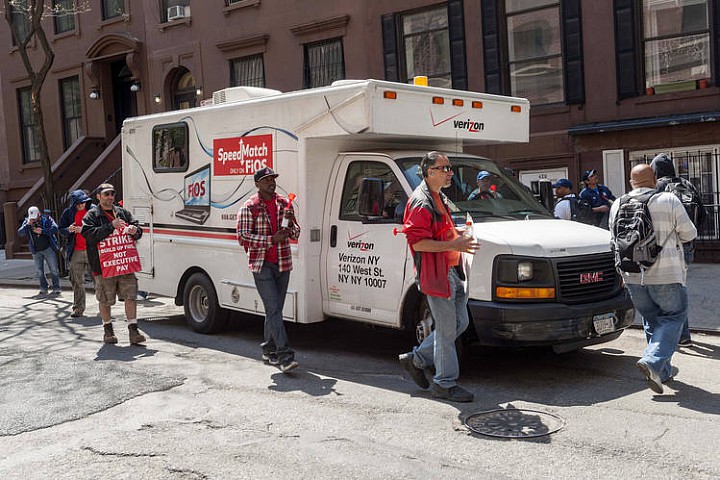 After opening her door Tuesday for two Verizon workers, Ms. Clausen, a 30-year-old Crown Heights resident, was surprised to see striking workers outside the building.
The men sent by the telecom company told her they weren't regular technicians, but part of a replacement workforce tasked to fill in for nearly 40,000 Verizon union workers who went on strike last week. The men told her the strikers had followed their company van to her home.
"I don't know much about the strike, but then I sort of became a part of it," Ms. Clausen said.
Members of the Communications Workers of America, one of the unions on strike, have spent recent mornings outside Verizon garages across the city, accusing Verizon of corporate greed and chastising the company's temporary workers.
When one of the company vans leaves the garage, union members scurry into their own vehicles and trail them to their destination, whether it is a utility pole or customer's home.
Company officials see it as a low blow. Rich Young, a Verizon spokesman, said the company respects picketing in public places, but following Verizon vans to customers' homes is "absolutely wrong."
"Why drag our customers into this labor dispute?" Mr. Young said. "It's ridiculous."
Tony Spina, president of Communications Workers of America 1109 of Brooklyn, said...
More