The major U.S. benchmarks are trending persistently higher with the best six months seasonally — November through April — just one week away.
Against this backdrop, the S&P 500 is vying for its latest record high, rising from a successful test of first support.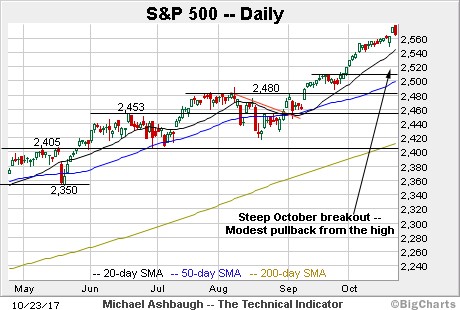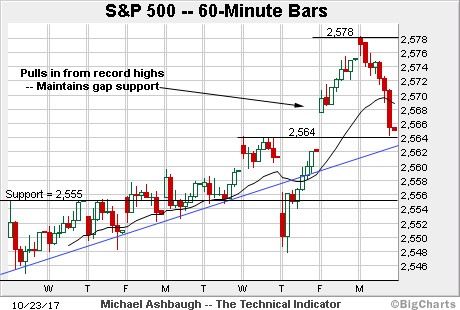 Before detailing the U.S. markets' wider view, the S&P 500's SPX, +0.16% hourly chart highlights the past two weeks.
As illustrated, the S&P has pulled in from its latest record high.
The index has thus far maintained the bottom of the gap — S&P 2,564 — an area closely matching the near-term uptrend. Deeper support matches the former range top, circa 2,555.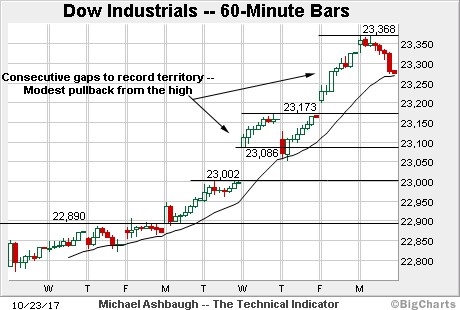 Meanwhile, the Dow Jones Industrial Average has registered consecutive gaps higher — across a four-session span — before pulling in modestly from all-time highs.
Recall that the initial gap atop the 23,000 mark has yet to be filled.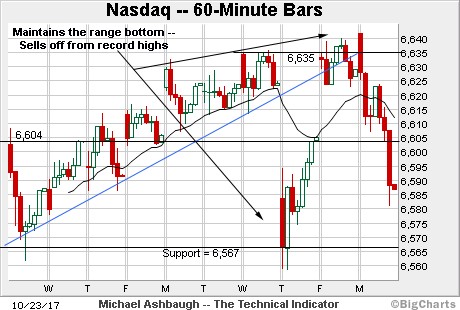 Looking elsewhere, the Nasdaq Composite's near-term backdrop is comparably jagged.
Still, the index has maintained support matching the range bottom (6,567) rising to a nominal intraday record high this week.
Tactically, the 6,604 area remains an inflection point, closely matching last week's gap.