Fred's, Inc. FRED or Fred's Pharmacy lost over 20% yesterday after Walgreens Boots Alliance, Inc. WBA decided not to proceed with its planned takeover of the rival drugstore Rite Aid Corporation RAD due to various antitrust issues, as per Bloomberg. The cancelled merger significantly hurt Rite Aid's stock too, which fell 26.46% yesterday amid Federal Trade Commission (FTC) pushback.
What Led to the Revision of the Deal?
Walgreen Boots Alliance had agreed to acquire Rite Aid in Oct 2015 for about $9.4 billion. In order to obtain FTC's approval for the transaction, Fred's inked a deal in Dec 2016 with Rite Aid and Walgreens to buy 865 stores located in the eastern and western U.S., along with certain assets for a total cash outlay of $950 million.Fred's also announced plans to buy additional assets, including up to 1,200 Rite Aid stores. Notably, Fred's could also forge ahead with the deal only after the proposed merger of Rite Aid and Walgreens received clearance from FTC.
FTC was slated to announce its decision on the Walgreens-Rite Aid merger on Jul 7. Though the deal was anticipated to hurt competition, there were indications earlier this week that the FTC was finally leaning toward the approval.
However, Walgreens was unlikely to get a FTC clearance and thus considered a revision of the previously announced merger deal.
Revised Deal – A Boon for Rite Aid, A Curse for Fred's
Under the terms of the revised deal, Walgreens, the pharmacy giant, agreed to acquire 2,186 stores and related assets from Rite Aid for $5.175 billion. Walgreens' shares closed 1.66% higher yesterday after the announcement of the new deal.
This new downsized deal, if it gets FTC nod, would offer enough cash to Rite Aid to pay down its huge debt. It will transform Rite Aid into a smaller but a strong, independent, multi-regional drugstore chain and pharmacy benefits manager with a compelling footprint in key markets.
However, it did not do any good to Fred's, as this new deal means that the company will no longer be a buyer of Rite Aid stores. Fred's was left disappointed after the cancelled merger, which would have given the company greater negotiating power and as many as 1,200 stores beyond small rural towns. It would have also improved the company's healthcare growth strategy and benefit customers, patients, payors, supplier partners, team members and shareholders.
The busted Walgreens-Rite Aid pact was very crucial for Fred's as it would have positioned this regional pharmacy chain as the third-largest drugstore chain in the U.S. after Walgreens and CVS Health Corporation CVS.
We note that Fred's has been disappointing investors of late. Fred's posted weaker-than-expected sales in the first quarter of fiscal 2017, wherein losses were in line with the Zacks Consensus Estimate. Adjusted quarterly loss of 6 cents per share was also unfavorable compared with the year-ago quarter figure 3 cents. Decline in sales along with lower comps and gross margin contraction led to the decline. First-quarter sales slipped 3.1% year over year to $532.2 million, while comparable store sales dipped 1.2%, as a result of the sale of low productive discontinued inventory. The company is also facing headwinds in the competitive consumable categories.
Fred's, Inc. Price, Consensus and EPS Surprise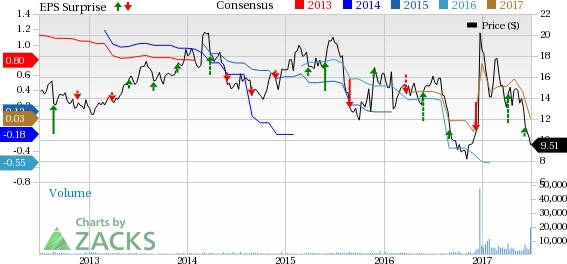 Fred's, Inc. Price, Consensus and EPS Surprise | Fred's, Inc. Quote
Price Performance
If we look into the past six months performance of Fred's, we note that the Zacks Rank #4 (Sell) stock has significantly underperformed the Zacks categorized Retail-Discount & Variety industry.
The stock lost around 48.8% in the past six months, as compared to the industry's decline of 8.6% over the same time frame. You can see the complete list of today's Zacks #1 Rank (Strong Buy) stocks here.

5 Trades Could Profit ""Big-League"" from Trump Policies
If the stocks above spark your interest, wait until you look into companies primed to make substantial gains from Washington's changing course.
Today Zacks reveals 5 tickers that could benefit from new trends like streamlined drug approvals, tariffs, lower taxes, higher interest rates, and spending surges in defense and infrastructure. See these buy recommendations now >>
Want the latest recommendations from Zacks Investment Research? Today, you can download 7 Best Stocks for the Next 30 Days.
Click to get this free report
Fred's, Inc. (FRED): Free Stock Analysis Report
Rite Aid Corporation (RAD): Free Stock Analysis Report
CVS Health Corporation (CVS): Free Stock Analysis Report
Walgreens Boots Alliance, Inc. (WBA): Free Stock Analysis Report
To read this article on Zacks.com click here.
Zacks Investment Research