American Express Company AXP justreleased its second-quarter 2017 financial results, posting earnings of $1.47 per share and revenues of $8.31 billion. Currently, AXP is a Zacks Rank #3 (Hold) and is down 1.20% to $85 per share in after-hours trading shortly after its earnings report was released.
AXP:
Beat earnings estimates. The company posted earnings of $1.47 per share, just beating the Zacks Consensus Estimate of $1.46 per share.
Beat revenue estimates. The company saw revenue figures of $8.31 billion, topping our consensus estimate of $8.19 billion.
The credit card giant posted a quarterly profit of $1.31 billion, which is down 33% year-over-year. The big drop is attributed, in part, to American Express ending its relationship with Costco U.S.
American Express' diluted earnings per share were also down, coming in about 30% lower than the prior-year period. The company's consolidated expenses climbed 21% to $5.8 billion. Total operating expenses also rose, up 39% from a year ago.
The company's U.S.-based consumer services' net income fell 59% year-over-year to $440 million.
American Express expects full-year earnings to be between $5.60 and $5.80 per share.
"We started the year strong and accelerated the pace this quarter by continuing to execute a strategy that is transforming our consumer, commercial and merchant businesses," American Express chairman and CEO Kenneth I. Chenault said in a statement.
"Our transition started in 2015 when we renewed several long term cobrand relationships and moved away from others that no longer made economic sense. It continued with aggressive initiatives to lower operating expenses and increase investment spending in businesses with the most attractive growth potential. While each of those moves suppressed short-term results, we believed they would put us in a stronger position for the longer term."
Here's a graph that looks at AXP's Price, Consensus and EPS Surprise history:
American Express Company Price, Consensus and EPS Surprise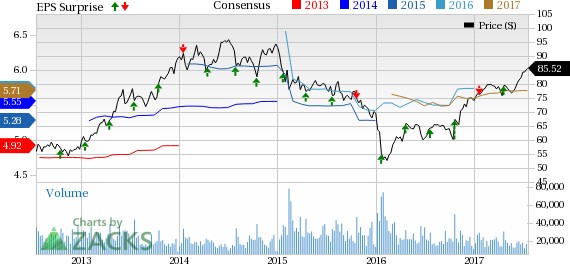 American Express Company Price, Consensus and EPS Surprise | American Express Company Quote
American Express Company is primarily engaged in the business of providing travel related services, financial advisory services and international banking services throughout the world. American Express Travel Related Services Company, Inc. provides a variety of products and services, including, global network services, the American Express Card, the Optima Card and other consumer and corporate lending products, stored value products, and several others.
Check back later for our full analysis on AXP's earnings report!
Looking for Stocks with Skyrocketing Upside?
Zacks has just released a Special Report on the booming investment opportunities of legal marijuana.
Ignited by new referendums and legislation, this industry is expected to blast from an already robust $6.7 billion to $20.2 billion in 2021. Early investors stand to make a killing, but you have to be ready to act and know just where to look. See the pot trades we're targeting>>
Want the latest recommendations from Zacks Investment Research? Today, you can download 7 Best Stocks for the Next 30 Days.
Click to get this free report
American Express Company (AXP): Free Stock Analysis Report
To read this article on Zacks.com click here.
Zacks Investment Research