Stanley Black & Decker Inc. SWK is a leading global manufacturer of branded tools and engineered solutions for professional, industrial and consumer applications. Also, the company provides integrated access and security solutions to commercial, institutional and residential customers. This New Britain, CT-based company has a $22.5 billion market capitalization.

However, Stanley Black & Decker's exposure to headwinds including uncertain global economic conditions, unfavorable foreign currency movements, commodity inflation, industry rivalry and high debt levels remain major causes of concern. Investors are eagerly waiting for the company's latest earnings report.

Stanley Black & Decker's earnings track record has been impressive in the trailing four quarters. Better-than-expected results in all occasions led to an average earnings surprise of +5.38%.
Stanley Black & Decker, Inc. Price and Consensus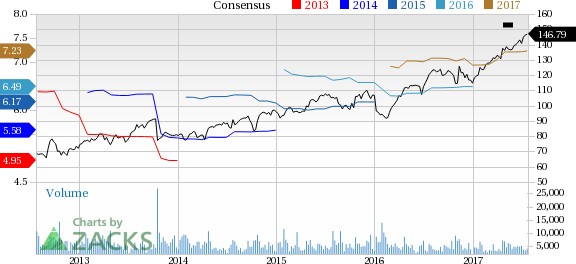 Stanley Black & Decker, Inc. Price and Consensus | Stanley Black & Decker, Inc. Quote
Currently, Stanley Black & Decker carries a Zacks Rank #3 (Hold), but that could definitely change after the release of its upcoming earnings report. You can see the complete list of today's Zacks #1 (Strong Buy) Rank stocks here. We have highlighted some of the key stats from this just-revealed announcement below:

Earnings: Stanley Black & Decker reported earnings of $2.01 per share in second-quarter 2017. The bottom line result was above the Zacks Consensus Estimate of $1.96 per share.

Revenue: Revenues surpassed. Stanley Black & Decker generated revenues of $3.229 billion, above the Zacks Consensus Estimate of $3.17 billion.

Key Stats to Note: For 2017, Stanley Black & Decker increased its earnings guidance range to $7.18−$7.38 per share from the previous projection of $7.08−$7.28 per share range. Organic revenue is predicted to grow 10-13% year over year.

Stock Price: Stanley Black & Decker shares were up 0.09% ahead of the report while no movement was noticed in the pre-market trading session.

Check back our full write up on this SWK earnings report later!

More Stock News: This Is Bigger than the iPhone!

It could become the mother of all technological revolutions. Apple sold a mere 1 billion iPhones in 10 years but a new breakthrough is expected to generate more than 27 billion devices in just 3 years, creating a $1.7 trillion market.
Zacks has just released a Special Report that spotlights this fast-emerging phenomenon and 6 tickers for taking advantage of it. If you don't buy now, you may kick yourself in 2020.

Click here for the 6 trades >>
Want the latest recommendations from Zacks Investment Research? Today, you can download 7 Best Stocks for the Next 30 Days.
Click to get this free report
Stanley Black & Decker, Inc. (SWK): Free Stock Analysis Report
To read this article on Zacks.com click here.
Zacks Investment Research