Gopro (GPRO) has been trading sideways in 2016, neutralizing a bearish trend since October 2014. This bearish trend has brought the share price from a height of 98.40 down to 8.60. But as we can see in the daily chart, price action has flattened in 2016.

GPRO Daily Chart 9/12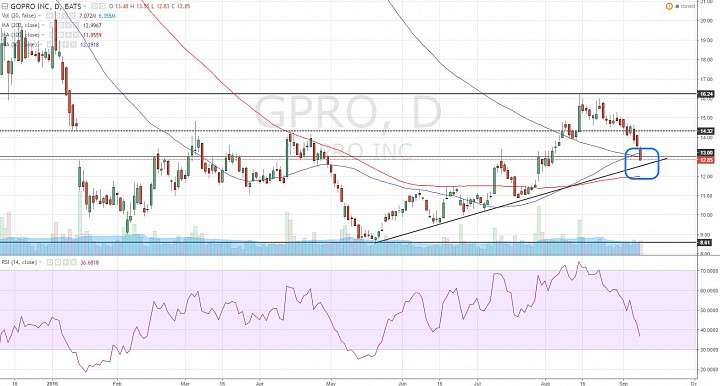 (click to enlarge)
Price bottom?
- Looking at the daily chart, we can argue that price action has even taken a bullish turn after GPRO rallied above a resistance in the 14.30-15.00 area. 
- Another sign is that price has broken above the 200-, 100-, and 50-day simple moving averages (SMAs), which reflect either the fact that GPRO is in a major consolidation, or that it is in a bullish reversal. 
- Finally, the RSI has pushed above 70, which shows that momentum is at least sideways if not turning bullish.

Pullback and confirmations:
- After price tagged 16.00, GPRO pulled back. It is now trading under 13.00.
- As GPRO slides under 13.00, it has entered a key support area. 
- We can see the cluster of 200-, 100-, and 50-day SMAs, which could provide support if the stock is indeed in a bullish reversal.
- There is also a rising trendline coming up from May, from the low on the year. 

GPRO 4H Chart 9/12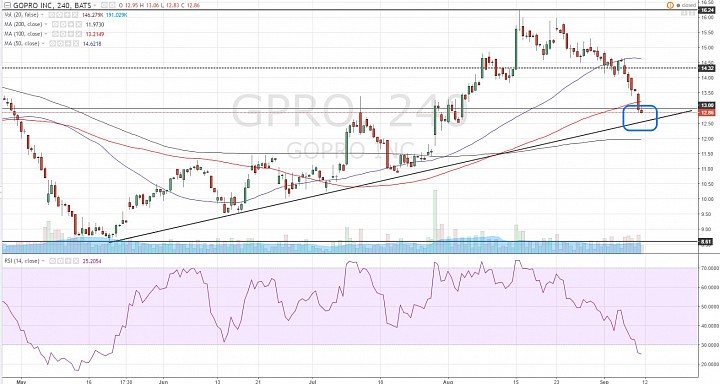 (click to enlarge)
Momentum is too strong. 
- We can see that price action is accelerating towards the above-mentioned support factors. 
- It might not be a good idea to "predict" a sharp bullish reversal just because there is a support cluster here.
- Instead, we should monitor intra-session charts (like the 4H chart), and see if price stalls at or above 12.50. 
- A good sign would be a bullish divergence between the 4H RSI and price action.

12.00 could be key:
- A break below 12.00 would clear the rising trendline and the 200-period SMA in the 4H chart. 
- This makes the bullish reversal scenario in the daily chart less likely, or at least puts it on hold in favor of a longer sideways consolidation that could be choppy. 

My opinion is that after losing 4/5 of its value since 2014, GPRO could be finding a bottom in 2016. However, the upside does not look that great unless you get in at a good price. Even then, its not much better than a 2:1 reward to risk. For example, let's say you get in at 12.00 with a stop at 8.00 (below the current 2016-low), A target of 20.00 yields 66.7% potential reward and 33.3% potential risk. Just think of all the competition GoPro has.