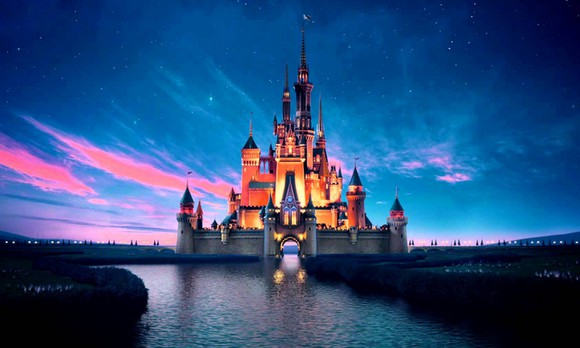 Image source: Disney.
Walt Disney (NYSE: DIS) reported its third-quarter fiscal 2016 results after the market closed on Tuesday. The entertainment giant posted year-over-year revenue growth of 9%, while adjusted earnings per share rose 12%. Results were driven by the studio entertainment segment, which released a trio of hit movies in the quarter, and by continued strength in the parks and recreation segment's domestic operations. 
Shares of Disney were up 2.6% at 10:40 a.m. Wednesday. The market has seemed intent on punishing the stock over the past year for the slow decline in the number of ESPN subscribers, despite the company continuing to pump out good to great quarterly results. It's important to keep in mind that strong growth in other segments means that Disney's results are slowly but steadily becoming less dependent on its media networks business. 
Key quarterly numbers
|  Metric | Fiscal Q3 2016 | Fiscal Q3 2015 | YOY Growth |
| --- | --- | --- | --- |
| Revenue | $14.28 billion | $13.1 billion | 9% |
| Segment operating income | $4.46 billion | $4.12 billion | 8.2% |
| Net income | $2.60 billion | $2.48 billion | 4.6% |
| GAAP EPS | $1.59 | $1.45 | 9.7% |
| Adjusted EPS | $1.62 | $1.45 | 11.7% |
| Cash generated from operations | $3.62 billion | $2.81 billion | 29.1% |
| Free cash flow | $2.49 billion | $1.65 billion | 50.7% |
YOY = year over year. Data source: Disney. 
Analysts were looking for adjusted EPS of $1.61 on revenue of $14.17 billion. So, the House of Mouse slightly beat both expectations. Too much credence shouldn't be given to analysts' expectations, however, since Wall Street is focused on the short term. However, they can be helpful to keep in mind since they often help explain market reactions.
Cash provided by operations and free cash flow ballooned from the year-ago period – a huge plus, since cash is the real McCoy when it comes to measuring a company's true performance. Net income -- or earnings -- is just an accounting measure.
Here's how the four segments performed.
Media networks: Holding steady 
| Metric | Fiscal Q3 2016 | Fiscal Q3 2015 | YOY Growth |
| --- | --- | --- | --- |
| Revenue | $5.91 billion | $5.77 billion | 2.4% |
| Operating income | $2.37 billion | $2.38 billion | N/A |
Data source: Disney.
Within the segment, cable networks revenue grew 1.4%, while broadcasting revenue rose 4.8%. Operating income in cable networks expanded 0.6% to $2.09 billion, while it fell 6% in broadcasting. So, the segment's headline numbers don't reflect any notable negative surprises in the all-important cable networks business, which has been under intense scrutiny since Q3 2015 due to declining subscriber counts in crown jewel ESPN.
Disney attributed the slight increase in operating income in cable networks to growth at ESPN, partially offset by several factors. The increase at ESPN was based on growth in affiliate and advertising revenue, partially offset by higher programming costs. Affiliate revenue growth was due to contractual rate increases, partially offset by a decline in subscribers -- no quantification was provided in the press release -- and an unfavorable impact from foreign currency translation.
Broadcasting's 6% drop in operating income didn't have much effect on the segment's overall results because it's a much smaller business than cable networks. The company attributed the decline in operating income to several factors, notably lower network advertising revenue and higher equity losses from Hulu (a streaming service that Disney jointly owns), partially offset by affiliate revenue growth and higher operating income from program sales.
Parks and resorts: Dependable growth continues 
| Metric | Fiscal Q3 2016 | Fiscal Q3 2015 | YOY Growth |
| --- | --- | --- | --- |
| Revenue | $4.38 billion | $4.13 billion | 6% |
| Operating income | $994 million | $922 million | 7.8% |
Data source: Disney.
Disney's second-largest segment continues to be a steady performer thanks to continued strength in its domestic operations. Higher operating income in domestic operations was due to increased guest spending and lower costs, partially offset by lower volumes. The increase in guest spending was driven by higher average ticket prices at theme parks and the cruise line. Lower park attendance was partially offset by higher occupied room nights.  
Investors need to keep an eye on attendance at domestic parks. The declines could be due to the demand-based pricing Disney implemented at its parks earlier this year -- a factor that should right itself over time. More concerning, however, would be attendance falling due to consumers balking at rising park ticket prices independent of the effect of the demand-based pricing.  
Results were also adversely affected by a fiscal calendar timing issue, as the Easter holiday occurred in the second quarter this year versus the third quarter last year. "Significant preopening costs" at Shanghai Disney, which opened in mid-June, negatively impacted operating income of the international operations.
Studio entertainment: Another home run
| Metric | Fiscal Q3 2016 | Fiscal Q3 2015 | YOY Growth |
| --- | --- | --- | --- |
| Revenue | $2.85 billion | $2.04 billion | 39.6% |
| Operating income | $766 million | $472 million | 62.3% |
Data source: Disney.
Disney's studio entertainment segment hit it out of the park -- again. Results were driven by the trio of blockbusters released in the quarter -- The Jungle Book, Captain America: Civil War, and Finding Dory -- as well as some theatrical carryover from the popular Zootopia, released in the previous quarter. 
Disney is killing it on the hit-movie front, as shown in this list of the top-grossing movies worldwide to date in 2016:
|  Rank  | Movie           | Distributor  | Total Gross |
| --- | --- | --- | --- |
| 1 | Captain America: Civil War | Disney | $1,151,500,000 |
| 2 | Zootopia | Disney | $1,023,100,000 |
| 3 | The Jungle Book (2016) | Disney | $940,600,000 |
| 4 | Batman v. Superman: Dawn of Justice | Warner Brothers | $872,700,000 |
| 5 | Zootopia | Disney | $831,100,000 |
Data source: Box Office Mojo; data last updated on Aug. 9 at 1:19 p.m. PT. 
Consumer products and interactive media: A minor downturn
| Metric | Fiscal Q3 2016 | Fiscal Q3 2015 | YOY Growth |
| --- | --- | --- | --- |
| Revenue | $1.15 billion | $1.16 billion | (1.5%) |
| Operating income | $324 million | $348 million | (6.9%) |
Data source: Disney.
The year-over-year decline in operating income in the company's smallest segment was in part due to a tough comparable -- toys and other products based on the phenomenally successful Frozen were still selling like hotcakes in the year-ago period. Higher marketing costs and an unfavorable currency impact were also factors. 
Quarterly results will be "lumpy" due to the fact that this segment's results are very dependent on movie release dates. As long as Disney keeps pumping out blockbusters, this segment's results should continue to grow over the long term.
Looking ahead
In short, Disney posted solid revenue and earnings results and spectacular cash flow growth.
The company doesn't provide forward guidance. Catalysts for growth in the fourth quarter include what should be continued strong theatrical receipts from Finding Dory, which opened about two weeks before the end of the third quarter; the start of the rollout to home entertainment formats of the hit films released in the third quarter; and the initial rollout of toys and other products ahead of the Dec. 16 domestic release of the Star Wars stand-alone film, Rogue One.  
The fourth quarter's movie release slate doesn't appear particularly strong, but that's typical for the quarter that follows the big summer movie release quarter and precedes the holiday quarter. 
A secret billion-dollar stock opportunity
The world's biggest tech company forgot to show you something, but a few Wall Street analysts and the Fool didn't miss a beat: There's a small company that's powering their brand-new gadgets and the coming revolution in technology. And we think its stock price has nearly unlimited room to run for early in-the-know investors! To be one of them, just click here.
Beth McKenna has no position in any stocks mentioned. The Motley Fool owns shares of and recommends Walt Disney. Try any of our Foolish newsletter services free for 30 days. We Fools may not all hold the same opinions, but we all believe that considering a diverse range of insights makes us better investors. The Motley Fool has a disclosure policy.