It's hard to believe, but shares of Google first appeared on the NASDAQ under the ticker symbol "GOOG" just ten years ago. The stock traded at USD 85 (even USD 50, if you take into account stock splits and dividends), but a lot has changed during the decade.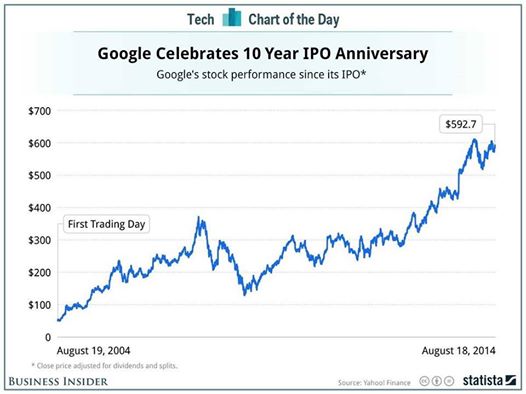 During ten years, Google's stock rose, fell and spiked again, having reached nearly USD 600 mark, this is an increase of 1,293% since the IPO.
And what is this fall, which is so noticeable on the chart? It happened in the late summer/early fall of 2008, immediately after the release of Google report for Q2. Data were worse than the Wall Street analysts expected, quotes went down and Eric Schmidt, who was the company's CEO at the moment, said that the company was reducing the amount of new hires since the economy was passing through hard times (and he was absolutely right).