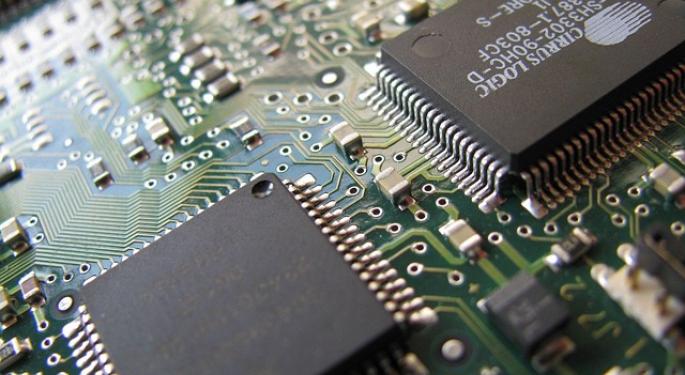 While holding a conference call with clients today, Argus Director Of Research Jim Kelleher laid out the four names in the semiconductor space Argus thinks are most interesting.
Nvidia
Argus was excited about NVIDIA Corporation NVDA 0.61%. Once a leader in graphics processing, the company has now expanded to growth areas like PC gaming, big data, deep learning, cloud services and professional design. Most exciting, perhaps, is that Nvidia has gotten significantly involved in autonomous cars. Though Kelleher said the share price has run a little high, in the view of Argus there is still potential here.
Broadcom
Calling Broadcom Limited AVGO 0.33% very diversified, Argus said this acquisitive company's experience with purchasing companies has helped it absorb Broadcom very well. Argus holds a $184 price target on the shares, implying 7.5 percent from where they opened trading on Wednesday.
Cavium
Cavium, Inc CAVM 0.39%, which recently posted in-line earnings and a revenue beat this earnings season, is very strong in network processing, said Argus. Having spoken with the CEO a few weeks ago, Argus is likes Cavium, particularly as the best value play since the share prices of others in this group have run up lately in comparison.
Qualcomm
After recapping some of the issues faced by QUALCOMM Incorporated QCOM 0.64% recently - most notably royalty disputes in China - Argus said the company has regained its market share in Samsung flagship phones with Snapdragon, and that Q3 could see the reverse of negative top and bottom line comps. The Argus price target for Qualcomm shares is $70, while shares traded at $61.64 two hours before the close of Wednesday's market session.
Date
Firm
Action
From
To
Aug 2016
Barclays
Maintains
Underweight
Aug 2016
Jefferies
Maintains
Buy
Jul 2016
Mizuho Securities
Initiates Coverage on
Buy
© 2016 Benzinga.com. Benzinga does not provide investment advice. All rights reserved.