The NZD/USD is "stepping" up. Let's take a look at the 1H chart.
NZD/USD 1H Chart 7/28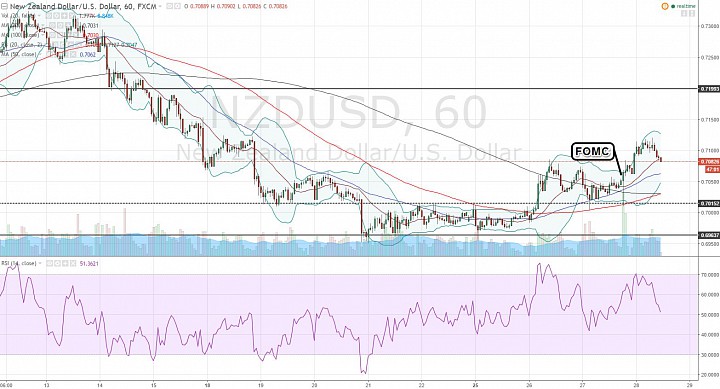 (click to enlarge)
Consolidation and price bottom:
- Coming into the week, the NZD/USD was bearish, but found support just above 0.6950. 
- Price consolidated above 0.6950 and under 0.7015,.

Breakout and a buy:
- We saw a bullish breakout, after which I suggested a buy around 0.7020, with a stop around 0.6970-80, and a target around 0.71.
-  Previous update: NZD/USD - Bullish Breakout at Key Support
- Personally, I put in 3 entry limits but only 1 of them hit. (I had them at 0.7020, 0.7010, and 0.70). 
- The FOMC-reaction was initially USD-bullish, but quickly reversed. 
- My NZD/USD long position weathered that initial dip, and was able to exit at 0.71. 
Outlook:
- I am still cautiously bearish on NZD/USD especially after a rally like the one we just had this week.
- I would limit the bullish outlook to 0.72, but it looks like the market is already pulling NZD/USD back below 0.71.
- If 0.71 starts to act as resistance, we should anticipate a bearish swing back towards this weeks consolidation area. 
- If the pair approaches the 0.6950 area, I would respect the support here.
- A break below 0.6950 on the other hand can open up further downside towards at least 0.6875, and then possibly to the May around 0.67.