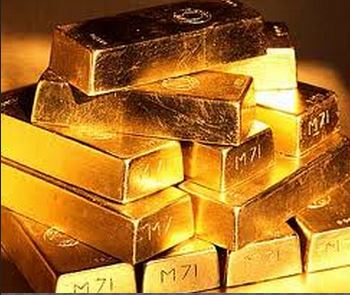 Harga emas telah menurun setelah dirilisnya hasil pertemuan kebijakan The Fed dan data manufaktur Cina.
Selama berlangsungnya perdagangan di sesi Asia,emas berjangka pengiriman April telah turun sebesar 0.64% di level  $1.311.90 per troy ounce di divisi Comex, New York Mercantile Exchange.
Harga emas terpantau kembali mendapat tekanan ke bawah ketika sebuah laporan resmi yang dirilis olehMarkit, telah menyatakan bahwa PMI Manufaktur awal Cina lanjut menurun menjadi 48.3 di bulan Februari, dari 49.5 di bulan Januari. Hal ini telah menandakan bahwa telah terjadi kontraksi pada sektor manufaktur Cina.
Seementara itu, pada Kamis dini hari tadi hasil pertemuan kebijakan The Fed yang berlangsung selama dua hari di tanggal 28-29 Januari lalu berisikan bahwa otoritas kebijakan moneter AS telah memperlihatkan sebuah kebutuhan untuk melanjutkan pemangkasan pada program stimulus agar terus mengecil serta kenaikan suku bunga ketika tingkat pengangguran telah menurun menembus 6.5%.
The Fed telah memutuskan untuk tetap mempertahankan laju program pembelian obligasi senilai $65 milyar per bulan, dari $75 milyar dengan meninggalkan suku bunga untuk tetap berada 0-0.25% hingga tingkat pengangguran di bawah 6.5%.