Per a Bloomberg report, Cupertino-based tech giant, Apple Inc, AAPL is looking to swap iPhone's fingerprint unlocking mechanism with facial recognition system.
Citing sources familiar with the matter, Bloomberg reported that the technology is still under development and could feature a 3-D sensor as well as eye scanning/tracking to enhance security.
The new system could scan the user's face and unlock the phone in a "few hundred milliseconds." The security system is designed in a way such that the phone lying flat on a table will also be able to recognize faces and unlock the device, adds the report further.
Touch ID has been a staple of iPhones since 2013. This mechanism, as a form of biometric authentication, is fast becoming obsolete. This is because the need for better mechanisms has arisen due to the use of mobile phones for authenticating payments and much more.
However, analysts observe that Apple needs to tread cautiously. The main reason behind this is Samsung's iris-scanning mechanism in its latest edition phones, Galaxy S8 and S8 plus. Iris scanning in these phones uses 2D sensors, which can easily be hacked into by using photos. This poses a terrible threat to security.
As facial recognition technology is still under development, the upcoming edition, widely dubbed as iPhone 8, might or might not feature the upgraded security system.
Apple Inc. Price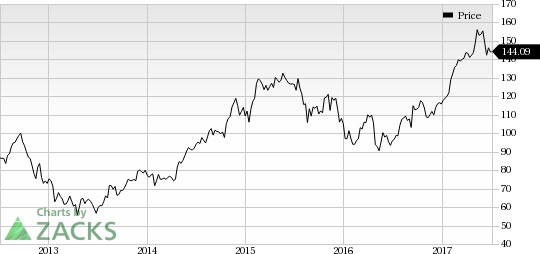 Nevertheless, expectations regarding the upcoming iPhone 8 are humongous, as it will mark the tenth anniversary of the first iPhone. Apple is anticipated to make a big innovation leap with this new edition. The phone is rumored to have features like a glass body, a dual curved edge-to-edge OLED (organic light-emitting diode) display with wireless charging (USB-C) and higher storage options.
Reportedly, iPhone 8 will be the first of its kind to support OLED display. Per reports, the company has ordered nearly 70 million OLED screens from Samsung Electronics.
OLED display is being increasingly adopted as it comes with improved brightness, contrast and efficiency compared with LCD or Plasma displays. Television sets have long been equipped with OLED displays. Smartphones are fast catching up now.
Apple has already been using OLED in its Watch for a while now. Hence, it was only a matter of time before Apple adopted it for its larger products – iPhone and iPad. Apparently, Apple intends to add OLED display to all its iPhones by 2019.
At present, Apple relies only on Samsung for its OLED display needs. However, a couple of days back, the company was reported to have been considering investing $1.75–$2.65 billion in the new OLED screen production factory of LG Electronics. The investment will ensure LG's special commitment to Apple's OLED screen demand.
Nonetheless, it is the price point that might prove an impediment. Reportedly, iPhone 8 could be priced more than $1,000 dollars. Many analysts argue that the existing iPhone 7 and 7 Plus editions with 256GB storage, carry price tags of $849 and $969, respectively. So a price tag of $1000 should not be considered unreasonable for a fully redesigned OLED iPhone 8.
At present, Apple carries a Zacks Rank #3 (Hold). You can see the complete list of today's Zacks #1 Rank (Strong Buy) stocks here.
In the past year, shares of Apple have registered growth of 50.8% compared with the Zacks categorized Computer Mini industry's gain of 50%.
Stocks to Consider
Better-ranked stocks in the broader tech space include Cypress Semiconductor Corp. CY, Quantum Corp. QTM and Marvell Technology Group Ltd. MRVL, all sporting a Zacks Rank #1 (Strong Buy).
Cypress, Quantum, and Marvell have delivered average positive earnings surprise of 83.30%, 43.75% and 86.70%, respectively in the trailing four quarters.
Today's Stocks from Zacks' Hottest Strategies
It's hard to believe, even for us at Zacks. But while the market gained +18.8% from 2016 - Q1 2017, our top stock-picking screens have returned +157.0%, +128.0%, +97.8%, +94.7%, and +90.2% respectively.
And this outperformance has not just been a recent phenomenon. Over the years it has been remarkably consistent. From 2000 - Q1 2017, the composite yearly average gain for these strategies has beaten the market more than 11X over. Maybe even more remarkable is the fact that we're willing to share their latest stocks with you without cost or obligation. See Them Free>>
Want the latest recommendations from Zacks Investment Research? Today, you can download 7 Best Stocks for the Next 30 Days.
Click to get this free report
Quantum Corporation (QTM): Free Stock Analysis Report
Marvell Technology Group Ltd. (MRVL): Free Stock Analysis Report
Cypress Semiconductor Corporation (CY): Free Stock Analysis Report
Apple Inc. (AAPL): Free Stock Analysis Report
To read this article on Zacks.com click here.
Zacks Investment Research