This Seeking Alpha Eye on Tech newsletter goes over coverage of Amazon's new Prime Video option, an iPhone production report, an Intel layoff report and Yahoo M&A drama.
Also covered: Intel's latest Atom CPU platform, the Mitel/Polycom deal, an Oracle ad tech acquisition, the EU's Google probe, Apple's reported 2017 iPhone plans and Tesla Model 3 reservations.
Commentary and reports regarding U.S. PC web usage, Facebook chatbots, Tencent's WeChat, FCC set-top rule changes and Amazon's rumored airport-bidding efforts are covered.
Welcome to the April 18th edition of Seeking Alpha's Eye on Tech newsletter.
Eye on Tech Coverage
Amazon will now offer standalone Prime Video subscriptions for $8.99/month, and a $10.99/month option for Prime in full.

It's unlikely many people will sign up for the standalone Prime Video option, given the full Prime service costs just slightly more on a monthly basis, and is actually cheaper on an annual basis ($99/year vs. $108/year).

To a large extent, creating a standalone video service is a marketing tactic meant to drive home to consumers the value provided by the full Prime service.
Japan's Nikkei reports Apple will be keeping iPhone production at depressed levels in calendar Q2.

Both Apple and chip suppliers sold off on the report, which comes ahead of Apple's April 25 FQ2 report.

Potential reasons output is being kept down: Forex/macro pressures, iPhone 7 anticipation, Android defections and longer smartphone upgrade cycles.

Forex/macro and iPhone 7 anticipation are likely having the biggest impact. Both are short-term problems rather than causes for panic.
Recent reports indicate Yahoo has far fewer serious bidders than past reports suggested.

A silver lining: The new reports still indicate Verizon's interest in buying Yahoo is quite legitimate.

Tim Armstrong, the head of Verizon's AOL unit, wants to build an online ad giant. And Verizon is increasingly turning to online media to offset telecom revenue pressures.
Ahead of Intel's Tuesday Q1 report, The Oregonian reports Intel is planning to announce a major round of layoffs.

In addition to weak PC sales, the Altera acquisition, mobile loss-reduction efforts and a manufacturing strategy change could be motivating Intel to pare headcount.

It's also possible a recent management shakeup and more transparent financial reporting are playing roles.
It's official: Mitel (NASDAQ:MITL) is acquiring (really merging) with conferencing and unified communications ("UC") hardware/software peer Polycom (NASDAQ:PLCM) for $1.96B in cash and stock (~$300M more than what Bloomberg had reported Mitel would be paying).

Mitel fell sharply on the news, and Polycom moderately. With activist Elliott Management wanting further consolidation, ShoreTel (NASDAQ:SHOR) and other mid-market UC firms could be targeted by Mitel/Polycom.
Notable Tech News
Intel reveals its Apollo Lake Atom CPU platform for tablets and low-end PCs - Apollo Lake, due in 2H16, will succeed the Cherry Trail Atom platform, and is meant for tablets, low-end notebooks, convertibles and cheap all-in-one and miniature desktops. Like Cherry Trail, Apollo Lake uses Intel's (NASDAQ:INTC) 14nm manufacturing process and supports up to four CPU cores per chip, but it relies on a more powerful core architecture (codenamed Goldmont) and also a new GPU architecture. Battery life improvements are once more promised.
Intel is trumpeting Apollo Lake's ability to deliver low-end, SSD-based, PCs that are thinner and cheaper than comparable Cherry Trail-based systems. It also argues the platform will enable more powerful Chromebooks and other sub-$300 notebooks that rely on flash storage, provide long battery life, and handle basic tasks. (Intel calls them "Cloudbooks")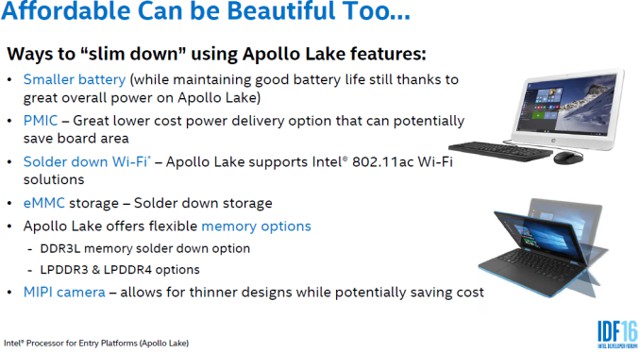 The chip giant is hoping the hardware enabled by Apollo Lake will strengthen a low-end consumer PC market that remains pretty weak. The education market and emerging markets users who have been relying on mobile devices (smartphones especially) for their computing needs are presumably among the segments Intel is targeting.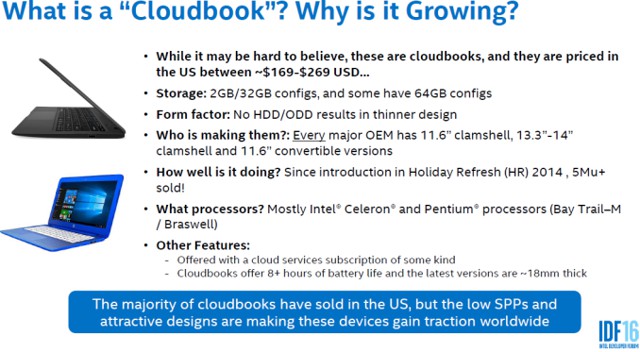 There's always some risk a more powerful low-end platform will cannibalize sales of most costly CPUs, but...
More