Why didn't Exxon, others diversify at the first signs of global warming?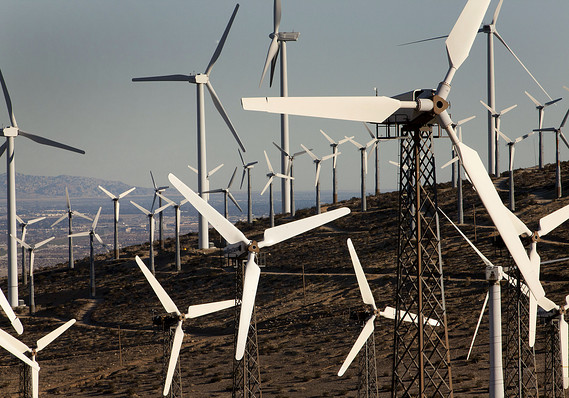 Bloomberg
Turbines stand at the San Gorgonio Pass Wind Farm in Whitewater, Calif.

Get out now, before Big Oil stocks really crash, big-time. Exxon Mobil's CEO Rex Tillerson gets a $40 million salary. Along with the myopic bosses of the other major oil firms, Shell, Conoco, Chevron and BP, they all threw away massive future earnings for their shareholders, and likely each signed their company's death warrants in what Foreign Policy, BusinessWeek, Science, the Economist, National Geographic and other journals are officially calling the "End of the Oil Age."
Listen: "Exxon's Own Research Confirmed Fossil Fuel's Role in Global Warming Decades Ago," screams an InsideClimateNews.org headline. Environmental activist Bill McKibben's op-ed in the Guardian news was brutal, calling Exxon Mobil's secret decades-long campaign as a turncoat climate-science denier an "unparalleled evil."
And the Department of Justice attorney who successfully sued Big Tobacco says America should sue Big Oil on racketeering charges, a fraud against investors as well as the public, covering up their own research and hiring goons to undermine other legitimate research, such as the United Nations Intergovernmental Panel on Climate Change.
Blame. Accusations. Damages. Lawsuits. Moral condemnations. No wonder the calls to divest Big Oil. Of course the public should be compensated. The losses are in the billions. Even trillions. One EU research firm says it will take $60 trillion to fix global warming. The DOJ should go for big billions, like it did with Big Tobacco.
Big Oil's lost diversification opportunity ... costing investors trillions
But that's not the No.1 question for investors. The biggest question: Why didn't Exxon Mobil's CEO, its board and every other Big Oil CEO look at their global-warming research as a new market opportunity rather than as a problem?
Get it? Why the hell didn't those presumably savvy multimillion-dollar-a-year executives diversify their companies into alternative energy resources, balance old and new? Fossil fuels with alternative energies?
Yes, No.1 question nobody's asking is simple: Why did they ignore the marketing opportunity to diversify? They were in the lead. Why did they react out of fear rather than act decisively on an opportunity? Why? Exxon's research was solid, decades ahead of the competition, and at the time even ahead the UN's work.
A historic blunder: Exxon would have virtually owned the world of alternative-energy technology and product development, today a high-growth sector. If they acted not out of fear but on positive opportunities, today they'd be balancing returns in innovative growth technologies from solar, wind, nd biofuel divisions against declines in their traditional gas and petroleum businesses.
Threat of Big Tobacco-style lawsuit will accelerate divesting stocks
Instead, Exxon and Big Oil are a one-trick pony trapped in a dying industry. Exxon and Big Oil are not only facing trend of big pensions, institutions and mutual funds pressured to divest oil stocks, they're facing a Big Tobacco-style law suit.
And worse, if activist investors get testy enough for being lied to, they may start a class action civil suit for the cover-up fraud. "Exxon Mobil set back by decades any effective action to curb climate change when it publicly disputed the very facts its research confirmed," said climate activist Bill McKibben in the Guardian.
Exxon's action was "unparalleled evil," McKibben said. "Global warming became a public topic in 1988, thanks to NASA scientist James Hansen, it's taken a quarter-century and counting for the world to take effective action." Remember, if Big Oil did hide facts that their own investors had a right to know, they probably left the data out of their 10-K annual reports to the SEC. A legal no-no.
http://www.marketwatch.com/story/how-big-oil-investors-were-...