Ophthotech Corporation OPHT reported narrower-than-expected loss in the second quarter of 2017 while sales beat expectations. Along with the results, the small biotech also outlined plans to initiate a number of studies with Zimura in multiple orphan ophthalmic diseases – including Stargardt disease, idiopathic choroidal vasculopathy (IPCV), and intermediate/posterior uveitis.
Ophthotech's second-quarter 2017 loss of 62 cents per share, was narrower than the Zacks Consensus Estimate of a loss of $1.07 and the year-ago loss of 85 cents.
Ophthotech Corporation Price, Consensus and EPS Surprise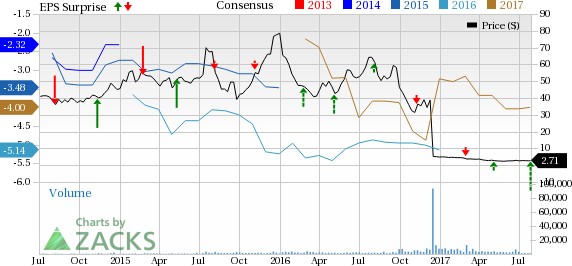 Ophthotech Corporation Price, Consensus and EPS Surprise | Ophthotech Corporation Quote
Shares of the biotech company closed 2.65% higher on Wednesday. However, Ophthotech's shares have underperformed the industry in the last three months. Specifically, the company's shares have lost 8.8% whereas the industry registered an increase of 7.2%.

Ophthotech derives revenues from milestone and other payments under collaborations as there is no approved product in its portfolio yet. The company has a licensing and commercialization agreement with Novartis AG NVS, which provides it with collaboration revenues.
Collaboration revenues decreased almost 94% to $1.7 million on unfavorable year-over-year comparisons. It had recorded a milestone payment of $28.2 million from Novartis, following final enrolment in a phase III study of Fovista in the year-ago quarter. Reported revenues however beat the Zacks Consensus Estimate of $1.44 million.
Quarter in Detail
Research and development expenses decreased 67.5% to $15.7 million, mainly due to lower expenses related to the phase III program on Fovista, which includes manufacturing expenses and lower personnel costs due to workforce reduction
General and administrative expenses decreased 18.1% from the year-ago period to $8.6 million due to cost control initiatives undertaken by the company including lower personnel costs due to workforce reduction
Pipeline Update
Following the disappointing results from two phase III studies on Fovista, the company is now shifting its focus toward the development of Zimura for ophthalmic orphan diseases. The company's primary focus will be on starting a study for evaluating Zimura in Stargardt disease by the end of this year. Stargardt is a devastating inherited retinal orphan disease, which causes vision loss during childhood or adolescence. There is no approved treatment for the disease yet.
The company is also enrolling patients in a phase II/III study on Zimura (an inhibitor of complement factor C5) as a monotherapy for the treatment of geographic atrophy, a form of dry AMD. The company is in the process of initiating two phase IIa studies on Zimura before the end of this year. The studies will evaluate Zimura in combination with anti-VEGF therapy as treatment for wet AMD and for idiopathic polypoidal choroidal vasculopathy. The company expects to start another phase IIa study in 2018, evaluating Zimura monotherapy in non-infectious, intermediate posterior uveitis.
A phase III study, OPH1004 is currently ongoing and is evaluating Fovista in combination with either Regeneron Pharmaceuticals, Inc.'s REGN Eylea or Roche Holding AG's RHHBY Avastin versus Eylea or Avastin monotherapy for treating wet AMD. Data from the study is expected in the third quarter of 2017. The company believes that there is a low likelihood of success for OPH1004.
In Dec 2016, Ophthotech along with Novartis, announced that two pivotal phase III studies – OPH1002 and OPH1003 – evaluating Fovista, in combination with Lucentis, for the treatment of wet age-related macular degeneration (AMD) failed to meet the primary endpoint. The studies were terminated.
Cash Balance
Ophthotech's cash balance was $196.4 million as of Jun 30, 2017. Cash of $20 million to $35 million has been committed toward the implementation of reduction in workforce, winding down of Fovista phase III studies andtermination of Fovista Expansion Studies. A portion of this cash has also been allocated for the remaining phase III study of Fovista, OPH1004.
The company expects cash balance in the range of $145 million to $160 million (previously $140 million to $160 million) by the end of fiscal year 2017.
The company also expects to recognize collaboration revenues between $175 million and $195 million in the third quarter of 2017 due to the revision of its agreement with Novartis. However, it will not impact the company's expected cash position.
Zacks Rank
Ophthotech currently carries a Zacks Rank #3 (Hold). You can see the complete list of today's Zacks #1 Rank (Strong Buy) stocks here.
More Stock News: Tech Opportunity Worth $386 Billion in 2017
From driverless cars to artificial intelligence, we've seen an unsurpassed growth of high-tech products in recent months. Yesterday's science-fiction is becoming today's reality. Despite all the innovation, there is a single component no tech company can survive without. Demand for this critical device will reach $387 billion this year alone, and it's likely to grow even faster in the future.
Zacks has released a brand-new Special Report to help you take advantage of this exciting investment opportunity. Most importantly, it reveals 4 stocks with massive profit potential. See these stocks now>>
Want the latest recommendations from Zacks Investment Research? Today, you can download 7 Best Stocks for the Next 30 Days.
Click to get this free report
Roche Holding AG (RHHBY): Free Stock Analysis Report
Novartis AG (NVS): Free Stock Analysis Report
Regeneron Pharmaceuticals, Inc. (REGN): Free Stock Analysis Report
Ophthotech Corporation (OPHT): Free Stock Analysis Report
To read this article on Zacks.com click here.