US equity futures have retraced the late-day ramp from Friday with Dow down around 65pts. Asia is opening weaker (NKY -900 from Thursday highs) with EM FX appearing not to get the "but we didn't hike" message from The Fed with MYR the worst hit for now (after a few days of strength). EM outflows accelerated according to Morgan Stanley, down 6% AUM in 12 weeks. PBOC devalued the Yuan fix by 0.11% (the most in 2 weeks). While Fed uncertainty and fears about China have caused global derisking, PBOC chief Fan says "the economy is stable," and China's Beige Book suggests 'everything is awesome', as the survey summarizes, "perceptions of China may be more thoroughly divorced from facts on the ground than at any time in our nearly five years of surveying the economy." If that's the case, then why is Janet in panic mode?
Dow futures have retraced Friday's late-day ramp...
And Nikkei 225 is down 900 points from Thursday's peak BoJ manipulation highs...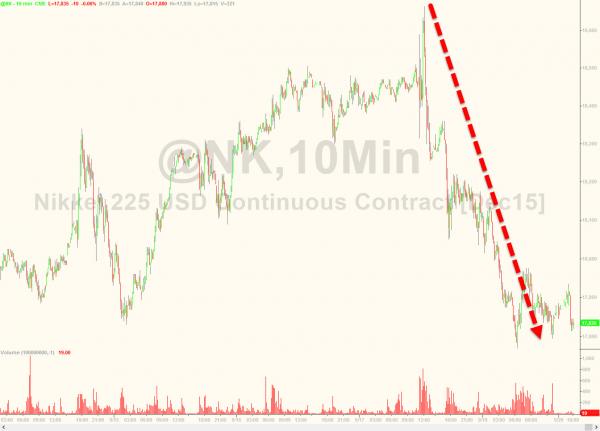 EM FX continues to weaken..
*MALAYSIA RINGGIT EXTENDS DROP, NOW DOWN 0.8% TO 4.2397/DOLLAR
Baht declines 0.2% to 35.710 per dollar, set to snap two-day rally
EM equity fund outflows of $2.2b for week ended Sept. 16 mainly driven by Asia funds ($1.8b), compares with avg $6.5b outflow in last 4 weeks, Morgan Stanley analysts Jonathan Garner and Pankaj Mataney write in Sept. 18 note.
Cumulative 12-week outflow reaches US$40.2b, or 5.6% of assets under management
Taiwan, India, Korea had largest inflows
Philippines had biggest weekly outflow since Oct. 2013
New Zealand Consumer Confidence tumbled to 3 year lows...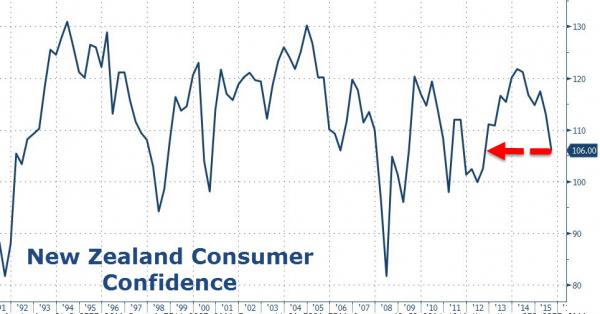 *  *  *
With China open, the propaganda ramps up.. It appears it is time for some central banker credibility to be lost...
China's economy isn't as weak as it may look, according to a private survey that says it's a myth that the nation's slowdown is intensifying.

 

"No collapse is nigh" in the aftermath of the stock market plunge and currency devaluation, according to the third-quarter China Beige Book, published by New York-based CBB International and modeled on the survey compiled by the Federal Reserve on the U.S. economy. Capital expenditure rebounded slightly in the period and the services sector showed strength, the report said.

 

"Perceptions of China may be more thoroughly divorced from facts on the ground than at any time in our nearly five years of surveying the economy," CBB President Leland Miller wrote in the report.
And then The PBOC put everyone straight...
*PBOC DEPUTY GOVERNOR SAYS CHINA ECONOMY IS STABLE: NEWS
Chinese central bank Deputy Governor Fan Yifei said the country's economic structure continues to improve and trade surplus remains, providing solid foundation for stable yuan and financial market, Financial News reports, citing Fan's comments at a forum Sept. 19.
Fan called for strengthening currency swaps with Asean countries and pushing forward currency trade with these countries, including direct trading
So why did Janet blink then?
Margin debt declined...
*SHANGHAI MARGIN DEBT BALANCE FALLS FIRST TIME IN THREE DAYS
And Chinese stocks open lower...
*FTSE CHINA A50 INDEX FUTURES FALL 0.7% IN SINGAPORE
*CHINA'S CSI 300 STOCK-INDEX FUTURES FALL 1% TO 3,107.4
*SHANGHAI COMPOSITE INDEX FALLS 1.1% AT OPEN
*HANG SENG CHINA ENTERPRISES INDEX FALLS 2.06%
The PBOC weakened the fix by the most in 2 weeks
*CHINA SETS YUAN REFERENCE RATE AT 6.3676 AGAINST U.S. DOLLAR
*CHINA WEAKENS ONSHORE YUAN FIXING BY 0.11% TO 6.3676/USD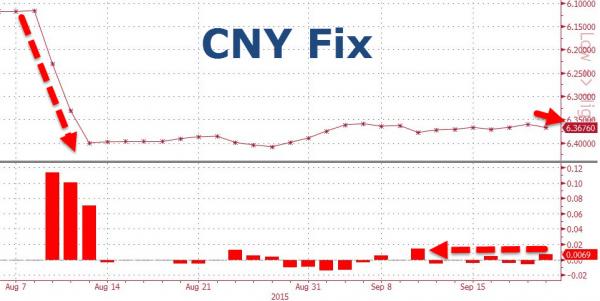 Finally, on a sidenote, China Mobile reported its additional subscriber base grew at the slowest in 2015...
*CHINA MOBILE ADDS 1.37MLN CUSTOMERS IN AUG.

But but but Tim Cook told Cramer everything was awesome?
Charts: Bloomberg