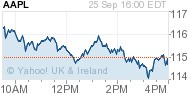 Apple (NasdaqGS: AAPL - news) has retained its title as the coolest brand in Britain for a fourth year, according to the CoolBrands annual survey.
Streaming service Netflix (Xetra: 552484 - news) continued its charge up the rankings from 10th place last year to fifth, while Instagram rose from 14th to seventh.
Six new entries include Spotify, suggesting some competition for Apple Music, sportswear brand Adidas (Other OTC: ADDDF - news) , healthy foods retailer Whole Foods Market (NasdaqGS: WFM - news) , wireless home system maker Sonos, Shoreditch's boutique Ace Hotel and the...
More