Summary
Following on from previous articles related to the graphite mining industry.
Mason Graphite recently published the results of the feasibility study for its Lac Gueret project in Quebec.
The study indicated a positive return on investment and a net present value that is about eight times Mason's market capitalization.
However, uncertainties about the direction of future prices in the face of upcoming increases in supply may prevent the project from advancing beyond the feasibility study phase.
Wait for Mason's upcoming study of value-added products before deciding whether or not to invest.
In a news release last week, Mason Graphite (OTCQX:MGPHF) published the results of its feasibility study for the Lac Gueret graphite project in North Eastern Quebec.
One of the major changes from the Preliminary Economic Assessment (PEA) is that it now plans to build the graphite processing plant in the town of Baie-Comeau, instead of at the remote mine site. The savings in power and labour costs at the Baie-Comeau site offset the extra costs of transporting the ore by truck to the processing plant. This is possible because of the exceptionally high grade ore that will be processed during the mine's first 25 years of operation.
The feasibility study forecasts a capital cost of $US128 million for the mine and processing plant to produce an average of 51,900 tonnes per year over the life of mine. This figure is about 25% higher than the estimates given in the PEA.
Operating costs are forecast to be $US290/tonne, which is a small reduction from the figure given in the PEA. Relocation of the processing plant, combined with the effects of a lower Canadian dollar exchange rate are the reasons for the lower operating costs.
Note: All figures in this article have been converted to US dollars at an exchange rate of $0.77 US to $1.00 CND, the same rate assumed in Mason's feasibility study.
Table 1 below compares the capital and operating cost estimates against some of the more advanced graphite projects in the rest of the world: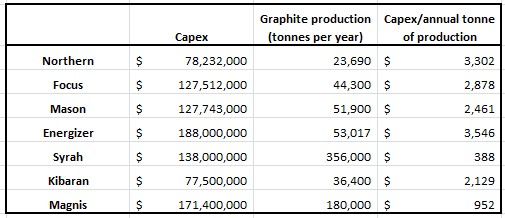 Table 1: Capital costs per tonne of annual production
On a CAPEX per tonne of production basis, Mason's project is competitive with other projects proposed by Canadian listed companies. However, the capital costs are still high when compared against projects in Africa being pursued by Australian listed companies.
Mason's high grade ore gives the company a significant advantage in operating costs. Its $US290/ tonne operating cost is among the lowest of any of the advanced stage graphite projects. However, operating costs are not the only consideration when evaluating the future income stream. Flake graphite has a range of selling prices depending on the flake size and purity. The higher flake sizes command the best prices. Unfortunately for Mason, its Lac Gueret deposit contains only a small proportion of the higher flake sizes, and more than 50% of the recovered graphite is low value fine flake.
In the Table 2 below, I have compared operating costs (FOB port) for seven of the proposed graphite projects. I have also projected a selling price, based on the expected product mix from each of the mines. These selling prices are based on 2015 graphite prices, with no allowance for price escalation. Mason has not provided any updated information on flake size distribution, so I have assumed that it is unchanged from the Preliminary Economic Assessment.
For comparison purposes, I have used the same range of selling prices for each company, based on flake size and purity. In most cases, the selling prices listed in the table are lower than the prices used in each of the named company's feasibility studies.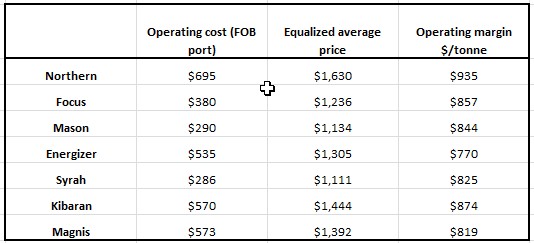 Table 2: Operating costs (US dollars per tonne FOB port), and operating margins
Mason's operating cost advantage disappears when the lower selling price of the smaller flake sizes is included in the analysis.
Mason's project NPV10 after tax is $US212 million. However, graphite prices used in Mason's feasibility study are an average of the last five years' prices as published by Industrial Minerals. This results in an average selling price of $US1,495/tonne, about 25% higher than my own estimates.
Use of five years of historical data probably overestimates the future selling price because that data includes the large temporary price spike that happened in 2011, when China first raised doubts about the continuity of its own graphite supplies.
The next stage of Mason's project development is to get financing for the project. Rival TSX listed companies, Energizer (OTCQB:ENZR), Focus (OTCQX:FCSMF) and Northern (OTCQX:NGPHF) have all produced feasibility studies with positive results, and so far none of those companies has been able to find the necessary financing to advance their projects. Based on the information in the feasibility study press release, I can see no reason why Mason will be any more successful in that endeavor.
However, I would not write off the company completely. Mason is currently working on a second feasibility study for a plant to make value-added products such as spheronized, high purity graphite for the lithium ion battery industry. The considerable experience of the Mason CEO and management team should give them an advantage in evaluating and entering the value-added products side of the business. I have invested in Mason in the past, but I will wait for the results of the value-added products study before deciding whether or not to invest again.
In other news, Syrah Resources (OTCPK:SYAAF) has completed the financing for the Balama graphite project in Mozambique and is proceeding with detailed design, procurement and construction with a target start-up date of Q1 2017.
Magnis Resources (OTC:URNXF) announced that it now has a mining license for its 180,000 tpy project in Tanzania, which is being financed by its Chinese off-take partner.
Kibaran announced that it is qualified "in principle" for loan guarantees from the German government which may help in obtaining financing from banks for its project, which will supply graphite to a major German customer.
Other SA contributors have criticised the scale of some of the proposed African projects, and in particular, whether or not Syrah can reasonably be expected to sell that amount of graphite, even in a growing market. Syrah's 356,000 tpy project is a huge scale project when compared to the overall natural graphite industry annual production of about 1.1 million tonnes per year, and flake graphite production of about 450,000 tpy.
I am not commenting here on that question, except to say that it seems almost certain that Syrah, and possibly both Magnis and Kibaran will proceed with their projects and be in production sometime in 2017. It seems inevitable therefore that there will be downward pressure on prices after 2017, especially in the fine flake sizes where Syrah will have to dispose of about one-third of its production.
The uncertain picture with regard to future pricing will make financing of any project very difficult unless the project has firm take-off agreements with guaranteed price floors.
Editor's Note: This article covers one or more stocks trading at less than $1 per share and/or with less than a $100 million market cap. Please be aware of the risks associated with these stocks.
More