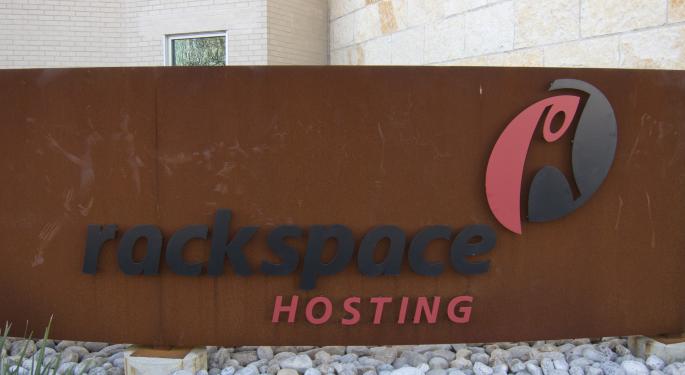 Cloud-computing company Rackspace Hosting, Inc. RAX 2.25% released its second-quarter financial results on Monday, beating on both the top and bottom line.
Rackspace reported EPS of $0.28 versus a $0.22 estimate, and revenue came in to $523.6 million compared to Wall Street estimates of $521.2 million. They also reported adjusted sales growth of 8.9 percent.
While investors are certainly interested in how the company performed in the second-quarter, the bigger story surrounding Rackspace is a Wall Street Journal report from last Friday that suggested RAX is being pursued by private-equity investors. A potential deal could reap shareholders in excess of $3.5 billion.
Other highlights in the quarter included net income margin of 6.8 percent and an adjusted EBITDA margin of 35.8 percent. Free cash flow in the period was $98 million with cash flow from operating activities of $165 million.
"Demand is scaling rapidly for the expertise and managed services that we provide to businesses that use AWS, the Microsoft Cloud, and our OpenStack private cloud," said Taylor Rhodes, president and CEO of Rackspace. "We now serve almost 600 customers on these platforms, including some of the world's largest companies. During the second quarter, we demonstrated continued revenue growth, along with higher profitability, higher capital efficiency, strong operating cash flow and record free cash flow."
Going forward, investors will want to take into account the company's strong Q2 performance, but given recent news, the possibility of an imminent tender offer will likely drive action in the share price.
In late trading, the stock was last down 0.38 percent to $28.50.
© 2016 Benzinga.com. Benzinga does not provide investment advice. All rights reserved.