Four young female U.S. tourists were attacked with acid Sunday in the French city of Marseille by a woman with "deep psychological problems" who has been arrested, the Marseille prosecutor's office said according to AP.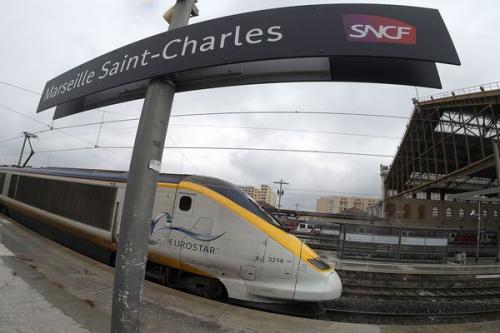 The attack took place shortly after 11am at the Gare de Marseille-Saint-Charles station, where the party from the US was preparing to board a train. The 41-year-old attacker used a cleaning substance containing hydrochloric acid that she is thought to have picked up from a local DIY store.
Two of the tourists were injured in the face in the attack in the city's main Saint Charles train station and one of them has a possible eye injury, a spokeswoman for the Marseille prosecutor's office said. All four of the tourists, who are in their 20s, have been hospitalized, two of them for shock. She said a 41 -year-old female suspect has been arrested.
After carrying out the assault, the woman displayed photos of her own burns, allegedly picked up in an earlier incident. 'Two American women aged 20 were hit in the face, while the other two were sprayed in the legs, and were mainly suffering from shock,' said a source close to the case quoted by the Daily Mail. The two with facial injuries were taken to hospital, while the others were treated at the scene. They were also aged 20 or 21. The Americans were thought to be on their way from the southern Mediterranean city to Paris.
The attacker wanted to show off photographs of her own injuries. She was arrested at the scene and faces charges. She displayed clear signs of suffering from deep psychological problems, according to local prosecutors. According to witnesses, no slogans were shouted out during the attack, and it was not thought to be terrorist related.
Prosecutors have opened a criminal enquiry, while none of those involved have yet been named. There was no immediate information on where the U.S. tourists were from.
Corrosive substances are increasingly being used as weapons in Europe, including in Britain, where there were 450 such attacks in London alone in last year. Acid-based products are easy to purchase, and can be paid for in cash, so there is no trace of who bought them.
In previous incidents in Marseille, a driver deliberately rammed into two bus stops last month, killing a woman, but officials said it wasn't terror-related. According to AP, in April, French police say they thwarted an imminent "terror attack" and arrested two suspected radicals in Marseille just days before the first round of France's presidential election. Paris prosecutor Francois Molins told reporters the two suspects "were getting ready to carry out an imminent, violent action" on French territory. In January 2016, a 15-year-old Turkish Kurd was arrested after attacking a Jewish teacher on a Marseille street. He told police he acted in the name of the Islamic State group.