According to Financial Time, Europe is experiencing fund outflows. Here is what happened
Europe's Reversal of Fortune: Ritholtz Chart
Europe is experiencing a reversal.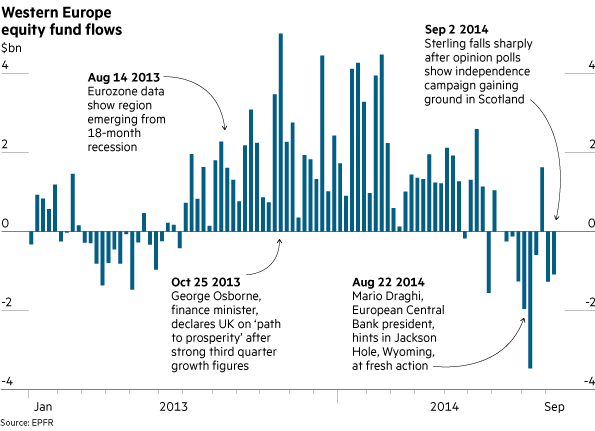 TheFinancial Timeswrites:
The withdrawals brought to an end 12 months of almost continuous inflows, powered by confidence that the eurozone debt crisis had retreated and that the region's economies were returning to growth. In the 12 months to July, assets under management at EPFR-tracked European equity funds expanded by 50 per cent to more than $1.2tn, one of the biggest sustained expansions since its records started in 1998.
The article also notes an increase in outflows from European equity funds since the first half of the year.
Weak economic growth, concerns about Scotland's secession and a fear that the European Central Bank lacks the political will or ability to make bold, controversial moves, similar to its counterpart in the U.S., might account for the reticence from investors.
Regardless, it may be worth noting that inflows and outflows are often inconclusive as evidence of broader trends. Whether this is a temporary shift or a major sea change will likely depend on how these issues -- especially growth in the EU -- unfold.
Source: Bloomberg View
If equity fund outflows from Euro, Which market are these funds going into?