China's factory production in January and February grew 8.6% compared to last year in this period. Economists had forecast a 9.5% gain, which was already lower than the 9.7% in December. The trend in production data has been negative, and the 8.6% is the lowest since 2009.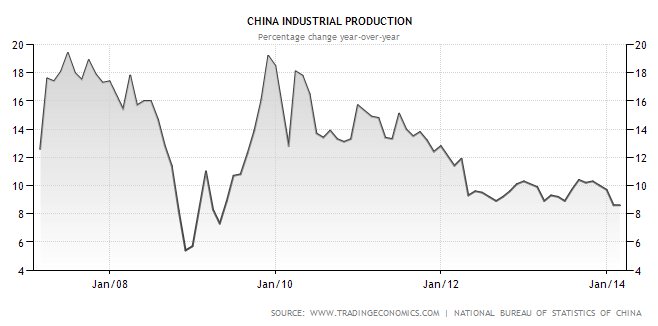 (China Industrial Production y/y)

Retail sales data grew 11.8% in February when compared to the same period last year. This missed the 13.5% forecast, and was the slowest annual pace since 2004.

The Chinese Premier Li Keqiang also spoke today, warning of "severe challenge". However, he sounded accepting or resigned to a year of slower growth, but was confident about the future saying "The economy is likely to maintain steady growth in the future". 

Others however are calling for some stimulus and easing policy from the central bank. 

The rising tide that lifted all boats is subsiding. There is some risk aversion, but nothing significant. Still going forward the trend of slowing China data should limit risk appetite.