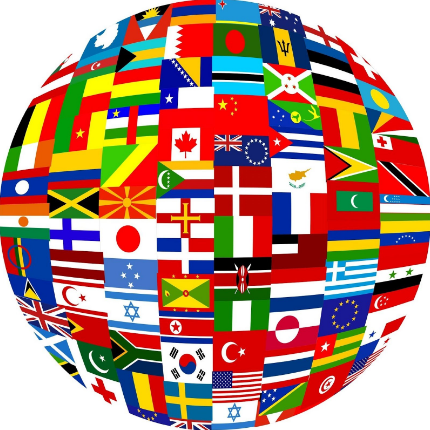 As it currently stands, economies are working at or near their expected capacities, with recession risks low, and monetary policy remaining accommodative. However, there are disinflationary issues throughout the economy that represent headwinds to how much central banks can expect to raise rates before they must deal with another drop in the cycle.
Too much debt at all levels of the economy (i.e., household, corporate, government), high government deficits, aging demographics, over-capacity/misallocation of capital in certain global economies (particularly India and China), and underutilization of productive resources (e.g., oil), in particular, will restrain growth and inflation and keep interest rates lower for longer. The world economy is mostly operating at around a sweet spot currently, but there are issues that render the long-term picture far less appealing.
Below I run through a variety of different sectors, countries, currencies, and asset classes as it pertains to the general outlook and my personal thoughts for each.
Banks – Neutral
The US Federal Reserve has an active interest in raising interest rates as it attempts to keep pace with any improvements in the global economy. The issue is that the economy – being very much global in scope with trade relationships and the fact that the vast majority of the world's largest corporations are multinational in nature – is still too weak to support any material ramp up in rates.
The European Central Bank is still easing and at a 0% lower-bound rate. Japan also continues to ease heavily and maintains a slightly negative overnight rate. It will necessarily remain that way as growth remains weak even though the compression of yield spreads down to nothing has rendered the policy mostly ineffective.
When spreads have closed between those of bonds and cash as they have in Japan (i.e., an investor will be indifferent between holding the two), then central banks will have difficulty shifting investors into other asset classes, creating the wealth effect and positive economic results these institutions are aiming for.
As mentioned, with high amounts of global debt, aging demographics, low resource utilization, and disinflation in housing and auto prices as it pertains to the US economy, these all point to equilibrium rates remaining lower.
Given inflation is actually decreasing and inflation expectations have been declining since late January, the Fed is raising rates against the direction of the primary force that determines rates. Ten-year breakeven inflation has been rising since mid-June, but I expect this to wash out around late September.
Accordingly, as the Fed raises rates it's only flattening the yield curve further. A flatter yield curve is bad for "borrow short/lend long" business models such as banks.
Banking deregulation, which has been ongoing, is beneficial for the sector. Corporate tax reform would also be helpful, but looks unlikely before 2018.
A flatter yield curve and an overly aggressive Fed would, of the main big banks, hurt Bank of America (BAC) the most. Other large banks, including JPMorgan (JPM), Citigroup (C), Goldman Sachs (GS), Morgan Stanley (MS), and Wells Fargo (WFC), would also see more stagnancy in share prices should the Fed be unable to raise rates up to 3% by the end of this cycle as expected.
At the moment, it looks like the terminal point of this cycle appears to be an overnight rate of 2.00%-2.50% but is of course subject to change in light of new developments.
In summary, banks for now are more neutral in their forward trajectory. Deregulation and low bond yields aiding the stock rally are positive developments, as are lagging interest costs to savers (despite recent Fed rate hikes). But a flattening yield curve will be a concern and long-term rates will remain subdued.
US Dollar – Following the argument above, if there's already another 175 bps of tightening factored into the curve by the end of 2019, and the Fed is unable to do so, this will be less bullish for the US dollar. Generally, rising interest rates in a country are a signal of increased growth and inflation and rising fixed-income yields, which brings in more capital chasing assets denominated in that currency.
Since the November 2016 US elections, investors have placed a heavy level of trust in the central bank. If the Fed comes to terms with the fact that tightening the federal funds rate is very effective for the abovementioned factors (developed countries have a lot of debt, most importantly), this will likely lower the outlook on the dollar's bullishness.
We already see some level of this based on the dollar's weakness in 2017.
Relevant tickers: UUP, UDN, DXY, DX_F, 6C_F, 6A_F, 6E_F, 6J_F
Euro – The euro has gained strength in recent months relative to the USD, though it will remain weak due to zero or negative yields on many forms of sovereign credit (depending on where you go).
While many were predicting parity with the Euro in late-2017, it's been the opposite. The dollar has gotten weaker with many (accurately) unsure whether the Fed can raise rates up to 3% over the next 2-3 years as expected. And economic data coming out of the EU has been mostly upbeat while euro-skeptic political risk has mostly abated.
Relevant tickers: FXE, EUO, ULE, EUFX, GEUR, EURS
Pound – The pound is volatile due to the unpredictable political nature of Brexit negotiations. Upon the June elections by which the conservatives lost their majority in Parliament, the pound fell believing the UK's divorce from the EU would become more uncertain without some type of ideological unity.
If for some reason Brexit should not go ahead – which is unlikely at this point – this would be bullish for the pound as most believe that the UK's ongoing inclusion in the EU is beneficial for the nation's economic prospects.
While 1.2000 is too low for the pound – based on the USD – a level somewhere above 1.3000 probably makes sense long-term. Economic data has remained mostly steady despite the Brexit vote. UK policymakers must ensure that they retain much of their industry and trade policies with the EU and countries abroad to ensure quality long-term economic growth. Assuming no drop-off in the UK economy from Brexit, the pound could likely be a viable long-term play.
Relevant tickers: FXB, EWU, GBB, DBUK, FKU, EWUS, DXPS, HEWU, QGBR
Yen – Japan's economic fundamentals are weak. As mentioned above, the BOJ is continually easing with no end in sight. Growth and inflation are around 0%-1%. Japan really doesn't have a way out of this unless there's a surge in innovation.
Immigration to add youth to the population would be beneficial, but Japan is a country that has always been concerned about immigration's potential effect on disrupting its cohesive national culture. After mid-century, it is expected that there will be one individual aged 20-64 for every individual aged 65+, which is almost mind-boggling. But Japan has a huge demographics issue and the strains on the entitlement system will only get worse.
With that said, the yen is treated as a safe haven. The yen has a 90%+ correlation with gold, and any type of negative development in the US and Europe – approximately 45% of world GDP – tends to result in safe haven inflows into the yen.
With Japan's economic picture, the structural soundness of the yen is questionable, but of any major currency pair, the yen has the highest negative correlation to the USD.
Of any major currency, it's easiest to be bearish on the yen due to its economic issues. With nominal GDP's influence on a currency, Japan's is expected to be the lowest of any major economy's and weigh on the currency long-term.
Relevant tickers: FXY, YCS, GYEN, YCL, JPYS
Yuan – As China transitions from an export-based to consumption-based economy, Chinese policymakers are encouraging a stronger domestic currency to ensure greater purchasing power for consumers. Yet with capital flows out of the country – migrating from yuan-based assets to those of other currencies – propping up the yuan has been difficult.
Nevertheless, through a combination of state intervention of capital flows and use of foreign exchange reserves, the Chinese government has been able to take control of the currency. This is positive as it discourages the shorting of the yuan – which might be the right trade in a true free market – which helps its stability and supports the growth in consumption policymakers are aiming for.
Moreover, a stronger yuan has the effect of tightening monetary policy as imports become relatively less expensive with a more valuable currency, which reduces inflation. At a time where credit growth far exceeds the rate of nominal GDP growth, tightening monetary supply and reducing money velocity (i.e., credit creation) is appropriate.
Relevant tickers: CYB
China – China, as stated, is going through an economic restructuring where a developing middle class is supportive of a more consumption-oriented focus. It must also find ways to slow the pace of debt growth. Supporting a stronger currency is useful for tightening policy as is raising interest rates directly.
China is currently in a middle ground scenario where it must wean itself off the lower-growth old industries and shift into a higher-growth "innovative" industries centered around boosting consumption.
Forward returns in China are currently higher than they are in the US and other developed markets, largely on account of the risks of lower liquidity and lower quality capital markets.
China recently recorded a credit downgrade from Moody's on account of its rapidly increasing debt burden. The economy is still nonetheless growing slightly above expectation in 2017 at just under 7%, meaning the country is nearly doubling its living standards every ten years compared to just every 35-45 years in developed markets growing at 1.5%-2.0%.
The bottom line is that China comes with higher returns but with higher risks as it manages to restructure its economy, capital markets, slow its debt growth, and gain control over its capital flows.
Relevant tickers: GXC, MCHI, KFYP, XCEM, ALCH, ECXC, KWEB, CQQQ, CHIQ, CHIX, CHII, CHIE, CHIM
REITs – How interest rates affect REITs depends on the type, but collectively REITs generally perform better in a low-rate environment where cheap borrowing costs can be used to make leveraged accretive investments.
Given central banks are now in a rate-hiking phase or tightening mentality more generically, the tendency is to view REITs as a less attractive investment. However, if you believe in the idea that central banks can't significantly tighten and will end up being more dovish than what's currently priced in, REITs are probably at least neutral relative to competing investments.
As someone who believes that interest rates can't increase materially – without the economy suffering – as rate hikes potentially price out of the curve, this could be beneficial to REITs.
Historically, this asset class appears somewhere in the middle of its ideal range – not very expensive (February 2007) or very cheap (March 2009), but rather what reversion to the mean might dictate.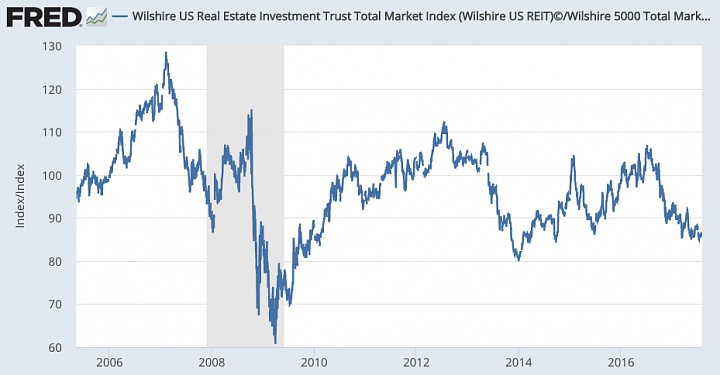 (Source: St. Louis Federal Reserve)

However, with inflation low – and being driven progressively lower since 1981 in terms of the long-term trend – this has been favorable for REITs and can help support their valuations relative to stocks. (REITs perform best in a high-growth/low-inflation environment while stocks more generally perform best in a high-growth/high-inflation environment.)
Relevant tickers: VNQ, VNQI, SRET, REET; in terms of individual names, Simon Property Group (SPG), Realty Income (O), and Annaly Capital Management (NLY) are regularly the most popular in the space and generally make up reasonable fractions of REIT and high dividend yield ETFs.
Real estate – Valuations are high and some cap rates on commercial properties are less than 4%, which is historically low. While a decent economy and low rates support real estate valuations, yields are generally low. Risks in all risk asset markets are skewed downward, but the backdrop of a low volatility environment will keep valuations where they are for the time being. Risks will build as central banks draw liquidity out of the system.
Relevant tickers: ICF, IYR
Insurance – Neutral to down. Insurance is a model similar to banks – "borrow short, lend long" – and low rates and a flattening yield curve are constraining profitability.
To ride out a period of low profits, expect the industry to enter into a period of consolidation wherein excess capital can be deployed for merger opportunities and greater scale.
Relevant tickers: KIE, IAK, KBWP
Consumer Discretionary/Staples – The retail industry is heavily divided in terms of quality.
Powerful e-commerce platforms, such as Amazon (AMZN), Alibaba (BABA), JD.com (JD), and Tencent (TCEHY) are in good shape. Wal-Mart has made good strides in competing with Amazon with its acquisitions of Jet, Bonobos, and other smaller retailers. eBay (EBAY) remains the top consumer-to-consumer platform.
Electronic payments platforms such as Visa (V), Mastercard (MA), PayPal (PYPL) and Square (SQ), assuming they're managed well, will benefit from what is likely to be a doubling in e-commerce sales by 2020.
Other parts of retail that hold promise include extreme discount stores, such as Dollar General (DG) and Dollar Tree (DLTR).
Luxury retailers, such as Louis Vuitton (LVMUY), Sotheby's (BID), among others, will be cyclical given the highly discretionary nature of more expensive products. Nonetheless, these types of retailers have less reason to be concerned about Amazon given consumers are reluctant to make big purchases outside of the physical retail channel.
Mid-retail is where the major shakeout will occur and puts all the traditional names at risk – Macy's (M), JCPenney (JCP), Sears (SHLD), among many others. REITs that also rely on investments into commercial properties, such as the abovementioned Simon Property Group (SPG), are also feeling the effects.
If mid-retail and commercial property holders are struggling mid-to-late cycle while in a period of historically low volatility, one can only imagine the effects once the next down-cycle hits.
United States – Near-term bullishness, but the long-term picture is concerning.
The US has large amounts of debt, a working-age population that has been stagnant since 2001, a rapidly growing retiree base working to increase dependency ratios, and entitlement spending that will progressively squeeze the country's credit quality and growth prospects.
Entitlement expansion may appeal to voters – and hence the difficulty in reforming it, given taking away entitlements means alienating voters and not getting elected – but it is not a sustainable political strategy.
The issues associated with Social Security, Medicare, and unfunded pensions won't shake out as a major economic shock, but rather something that worsens the country's financial shape inch-by-inch as time progresses and the problem is consistently ignored by politicians without sufficient motivation to act.
Rates are already low and the entire US Treasury yield curve remains entirely under 300 bps, which means the Fed has limited room to ease if and when economic conditions sour.
Relevant tickers: SPY, DIA, QQQ, IWM, IEF, TLT, EDV
Cash – Every time markets become increasingly expensive and as monetary policy is tightened, cash becomes more compelling given economic risks increase more broadly.
Cash rates are still minimal and most banks have not needed to increase interest on deposits to the extent believed heading into the latest series of rate hikes. Savings accounts still mostly provide under 1% interest rates even with the fed funds rate at a lower-bound of 1.00%.
Cash naturally still isn't very attractive, especially if you need yield and if you believe a major market shakeout or recession is still one or more years away. Being some ways out on the risk spectrum still makes sense.
Japan – Up near-term, down long-term.
Japan is a very messy situation, given massive levels of debt that have never been seen before (over 250% of GDP at the central government level, far worse than Greece's ~180%). The economy can't grow to any appreciable extent; inflation is weak; the average age of the population is nearly 50. Concerns over cultural assimilation limit the appetite for immigration.
Yet for the time being, the BOJ is easing more than any other central bank in the world in relation to the size of the Japanese economy. With a lot of liquidity in the system, this is finding its way into financial assets and boosting prices further.
Low rates keep interest costs minimal and debt servicing cheap. However, the central bank's ability to solve Japan's financial and economic issues are very low, given spreads are virtually closed down to nothing on sovereign debt and risk premia are consequently low in every other asset class. This presents tremendous asymmetry in risk/reward (to the downside) that makes the near-term picture look okay, but dangerous in the long-term.
Relevant tickers: EWJ, EPP, HEWJ, EWV, EZJ, AXJL, AXJV, JPMV, HGJP, SCIJ
Tech – The market is overweight tech given risk premia become compressed over time as the market goes up. After years of quantitative easing and low rates, markets are not cheap. When investors become desperate for yield and with effectively no other alternative, they are likely to pile into companies that are perceived to be innovative, rapidly growing, and have high "betas."
As mentioned in a different article, this has divorced the valuations of the most popular tech companies in the world (AAPL, GOOG, MSFT, AMZN, FB, BABA, TCEHY) from their earnings.
A low volatility environment and large ramp up in their share prices from an up-cycle in tech demand has skewed investors' perceptions of the risks associated with these businesses. Usually as prices go up, they should become less compelling to own, as they're becoming more expensive.
When risk-taking is in vogue as it is now, economic storm clouds seem some ways off, and risk premia are compressed, this leads to more and more money piling into the riskiest corner of the markets.
For the time being, this is leading tech higher. However, some steam will come off the tech market in the coming months, as its 30%-50% year-over-year growth rate is not sustainable.
Relevant tickers: XLK, IXN, IGM, PSI, PXQ, PSJ, PNQI, SKYY, FONE, SOCL, ROBO
Healthcare – The world population is getting older, so the long-term trend is up. US generics makers are also under fire from government investigations, litigation, and increasing competition, which has in turn made them relatively cheap for those willing to bet on a reversal or at least a normalization in business prospects.
Healthcare carries with it a high level of political risk in general and biotech is one of the market's most volatile sectors. So this is one part of the market that is difficult to trade, though attractive for those with a long-term horizon.
Relevant tickers: XBI, BIB, IBB, PBE, PJP, IHF, IHI, MYL, TEVA, VRX, PRGO, AGN, NVS, ABT
Equities – Broadly speaking, I think the trajectory is still modestly up. I think in terms of forward annual nominal returns, we're likely looking at 6%-7% moving forward, or 4%-5% in real terms – or a little over 2% below historical returns.
For risk premia to converge back toward a level that would provide returns in line with historical averages, the market would have to fall by about 25%. Markets tend to decline by about 30%-35% on average in each bear market.
At the market's current level, it implies a little less than a 6% return over holding cash over a long-term time horizon. To get to 7%, we would need to see the S&P 500 back at around 1,820.
High-Yield Credit – Neutral to up for now; down long-term. Despite mediocre yields in sub-BBB-/Baa3 rated debt, inflation expectations have been running consistently lower which helps give a boost to real yield.
Spreads are currently below 4% in terms of where they sit in relation to US Treasuries of comparable duration. This is almost the lowest they've been this business cycle (after June 2014).
Nonetheless, despite high-yield spreads not properly accounting for long-term default expectations, this asset class appears somewhat cheap relative to equities. With the rise in stocks, high-yield is the cheapest it's been – again, relatively speaking – since before the financial crisis.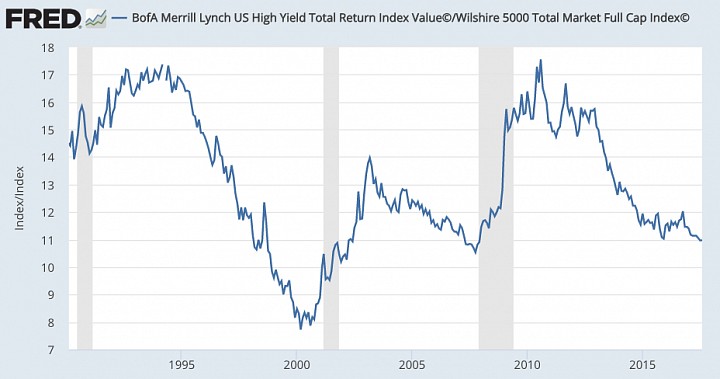 (Source: St. Louis Federal Reserve)

Relevant tickers: HYG, JNK
US Treasuries – Neutral; We're in a low-rate environment and will stay in a low-rate environment as the world economy faces a pile of debt and central banks are faced with limited ability to stimulate economies.
Treasuries are also an asset class that investors, sovereign wealth funds, and national governments buy as a liquid, safe haven asset and not necessarily to generate a high return. Emerging markets are also growing increasingly wealthy, the US dollar is the world's reserve currency, and Treasuries – despite their unappealing yields – still offer better value than those seen through most of developed Europe and Japan.
Even with yields as low as they've ever been, getting 2%-3% yield for an asset that hedges against market downturns is still plenty attractive as a parking spot for capital. Long-term Treasuries were virtually the only major cash-producing asset that provided positive returns during the financial crisis.
As such, even as the Fed raises rates and is in the process of running off its balance sheets, I would expect that demand for securities backed by the US government to have considerable demand. "Short Treasuries" is a trade that has a lot going against it and I don't believe we're going to see a material rise in intermediate- and back-end yields with inflation remaining soft. The rise in inflation expectations since mid-June won't last.
Relevant tickers: PLW, TLO, TIP, ITE, BIL, IEF, TLT, EDV
Industrials – Neutral; Industrials, as represented by the ETF XLI has returned 20% annualized since the market bottom in March 2009, outperforming the broader market. The idea of an infrastructure bill (comprised of roughly $1 trillion from public and private investment) would add some juice to the market if pushed through, but healthcare and tax reform remain the major legislative priorities in the US at the moment.
Industrials are largely a pure bet on the state of the economy moving forward. In prominent industrials-focused ETFs, common names include General Electric (GE), 3M (MMM), Boeing (BA), Caterpillar (CAT), United Parcel Service (UPS), and Fedex (FDX). The performance of these companies is highly contingent on broader economic performance rather than elements outside the business cycle typically associated with industries such as tech and energy.
A bullish bet on industrials is generally a bullish bet on the broader economy, particularly economic growth outperforming embedded expectations in the market.
Relevant tickers: IYT, PPA, GII, PIO, SEA
Oil – Neutral to down.
By early August, oil has crept up to around $50 per barrel, but I don't expect this to last. OPEC cuts are largely not working as the organization only accompanies the major players in the Mideast.
These countries have less influence on the global market as they once did being major oil fields have since been discovered and tapped into, whereas in OPEC's heyday they had virtually the only known massive oil field giving the organization an effective cartel over the world's energy supply. This is no longer the case.
Technological innovations such as fracking and exploration and production binges in the Permian Basin are keeping global supply up and siphoning more share of the world oil market to North American drillers. As drilling techniques improve, breakeven costs are reduced as well, fueling further incentive to drill. Increased rig count and capex among North American producers give insight that they believe money can be made drilling even with oil in the $40s per barrel.
The demand side of the equation remains healthy, but it will likely take a while for the extra supply to diminish. Whatever the case, OPEC is slowly realizing their influence in the market is less than they may have believed at the outset of the announced cuts on November 30, 2016 and the experiment is having limited impact. Will this slowly reduce the incentive for member nations to comply?
Also, if the thesis is correct that the Fed will have trouble raising rates, this will take some of the wind out of the dollar. This is slightly bullish for oil prices given a cheaper dollar makes the commodity more affordable to import. Oil and the dollar share a correlation coefficient of -0.30.
Based on six different regression models I use to price oil, if 100 bps of Federal Reserve tightening was priced out of the curve, this would expect to increase the price of oil by anywhere from 1.8%-3.3%.
Relevant tickers: USO, OIL, CL_F, DBO
Equity-specific: XOM, CVX, BP, CNPC, RDS.B, BP, E, TOT, SDRL, RIG, KMI, CHK, COP, STL
Natural gas – The supply-side argument for oil largely holds for natural gas as well. Natural gas is similar to many other weather-related commodities wherein harsher winters tend to drive up demand for the commodity, and vice versa. Yet new extraction techniques are keeping prices lower.
Long-term, one would think demand and supply would better equilibrate and cause prices to increase. But it's a trade that could cause a lot of fatigue and take many years to play out. For now, the outlook is more neutral.
And although the compression in both the oil and natural gas markets may make it seem like these two commodities trade together, they actually correlate only slightly and often not at all. Over the past 10+ years, oil and natural gas share a correlation coefficient of +0.23.
As such, with the markets in energy the way they are, anyone trading the commodities themselves or upstream producers that heavily rely on the price of the underlying, one must consider the fact that there is no clear catalyst for either oil or natural gas markets to rebound.
Relevant tickers: UNG, UGAZ, DGAZ, NG_F
Equity-specific: XOM, CVX, BP, RDS.A, STL, ENI, CHK, COP, APC, CNQ
Gold – Slightly up; I believe gold will remain above $1,200 per ounce.
I think gold can, and maybe should, play a role in most portfolios as a general diversifier. Its correlation to other asset classes is effectively zero and carries a long-run return equal to that of the rate of inflation (though it's obviously quite volatile and will run above or below that in the near- and intermediate-term).
This has the effect of lowering the covariance between assets. When positioned correctly in a small size of the overall asset allocation, it can have the effect of lowering a portfolio's expected volatility by more than the expected drop in returns. This in turn permits the use of more leverage in the portfolio.
As for gold itself, I think in an environment where global debt levels are very high and nobody's currency looks particularly attractive – almost no one wants a strong currency – gold is maybe something to remain very slightly bullish on. Gold is simply an alternative currency that can be useful when facing a monetary crisis, when there is low confidence in central banks, or in certain situations where growth comes in lower and inflation comes in higher relative to expectations.
Gold and the US dollar share an inverse relationship, with a correlation coefficient of -0.40. It has a positive correlation with all other major currencies.
Relevant tickers: GLD, IAU, UGL, GLL, DGL, GDX, GDXJ, XAUUSD, GC_F, DUST, JDST, NUGT
Silver – Silver trades very similarly to gold but with more volatility. (The correlation coefficient between gold and silver is +0.80.) Silver is also serves the market role as an alternative currency and a hedge against inflation. One could think of silver as a leveraged bet on gold when one has a strong conviction on precious metals. All of the following written above on gold applies quite similarly to silver.
Silver and the US dollar also share an inverse relationship, with a correlation coefficient of -0.42.
Relevant tickers: SLV, AGQ, ZSL, SILJ, DBS, ZKBSF, XAGUSD, SI_F
Industrial metals – Industrial metals have recently gotten a boost based on their role in industrial applications and have received a boost in price since the beginning of 2016, which roughly coincides with the bottom in the oil market. Oil and industrial metals have a correlation coefficient of +0.46.
Any infrastructure bill out of the US would be bullish for industrial metals. They rose on the expectation after the 2016 elections but have trended a bit lower in 2017. The increased urbanization in China and India is also positive for these metals, but the supply side must be watched as well.
Relevant tickers: JJN, JJU, LD, JJC, JJT, DBB
Materials – The materials sector is well correlated to the performance of industrial metals as mentioned above – +0.57 correlation coefficient – given the intertwining of such businesses in the commodity cycle. Therefore, if you don't have a particular position on industrial metals (e.g., nickel, copper, aluminum, tin), it's probably unlikely you'd have a general perspective on materials more broadly.
The most popular names in materials-related ETFs include Dow Chemical (DOW), Monsanto (MON), Nucor (NU), and US Steel (X).
Relevant tickers: XLB, VAW, UYM, IYM, MXI, SMN, CHIM, RTM, SBM, XM, JHMA
Utilities – Utilities are generally the safest asset class when it comes to equities, given the regulation they're subject to results in predictable cash flows and low volatility as it pertains to individual equity assets.
Utilities ETFs generally have less or around the same volatility as broader market ETFs – e.g., SPY, VOO – despite the fact that the latter diversify across so many different sectors. They can make for a great diversifier.
Being bullish or bearish on utilities has less to do about the sector itself – which is fairly static the regulatory subjection – but rather about one's opinion on risk-taking behavior. Utilities are virtually on par with long-duration mid-quality corporate bonds. The Vanguard Utilities ETF VPU has a +0.01 correlation with its long-duration corporate bond fund VCLT.
Utilities tend to do best in a scenario where investors are ambivalent about the market, neither too hot or too cold (or greedy/fearful, whatever adjectives you'd like to use). Accordingly, in such a situation, a middle-ground asset might be utilities or long-duration bonds of moderate quality.
Relevant tickers: VPU, IDU, RYU, JXI, UPW, SDP, UTES, BRAU, JHMU, XU
Emerging markets – The spreads between corporate emerging market bonds and those of comparable Treasury yields is down to just 250 bps, around the lows of this business cycle. These are still above the 140-bp spread observed in the mid-2000s, but illustrates that emerging markets taken collectively are not cheap and have been bid up to fairly high levels.
However, relative to US stocks, emerging markets are the cheapest they've been since May 2001.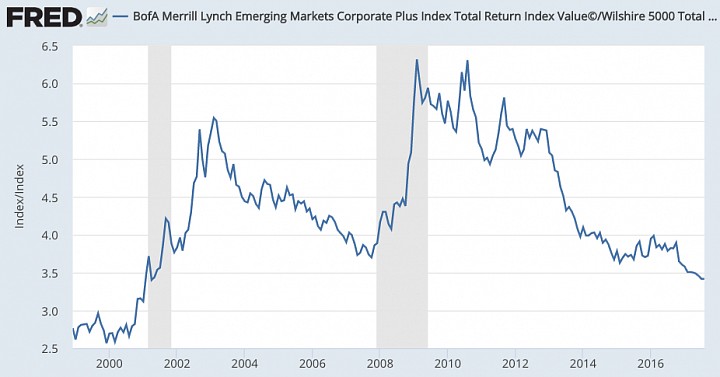 (Source: St. Louis Federal Reserve)

Yet going back to the argument on the Fed, if high amounts of debt prevent the central bank from raising to expectations this cycle, this would be a positive factor for emerging markets. Higher rates are positive for the dollar and positive for dollar-denominated assets. The Fed is the world's central bank in a de facto sense, both on account of the fact that the dollar is the world's reserve currency and the US takes up about 24% of all global economic activity, more than any other country.
If the Fed hikes rates less aggressively this will keep more capital situated in emerging markets and can increase capital flows to them if US safe yields end up lower than expected.
A 260-bp spread may not sufficiently compensate for the risk inherent in investing in these markets, but returns are low everywhere else as well. US stocks only present about 6%-7% forward nominal returns, or 4%-5% in real terms.
Relevant tickers: EEM, DEM, DGS, HILO, ADRE, GMF, GUR, GML, EWX, GAF, FM
Conclusion
No asset class out of this bunch is attractive and we're currently in a bull market that few are very fond of given risk premia/forward returns look decisively lower yet economically everything still looks clear for at least another 1-2 years. The longest business cycle ever in the US was about 10 years, from 1991-2001. Central bank policies could extend this one beyond that point, as we're already 8-1/2 years out of the previous recession.