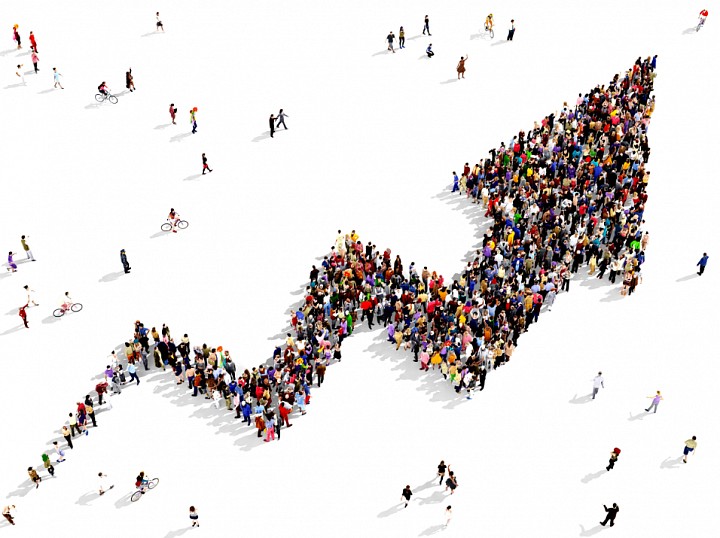 Insider trading data is nothing new – for years, professional investors and hedge funds have been basing investment decisions on the actions of Insiders. However, this might not be as simple as it sounds as there are many different types of insider transactions and many different types of Insiders. So, how can you profit from all this data? TipRanks recently tested these factors and the results were surprising.
What is a Corporate Insider?
Corporate Insiders are company executives, board members, or 10% shareholders of a publicly traded company. When Corporate Insiders buy or sell shares of their own companies, they are required to submit the transaction details to the Securities and Exchange Commission (SEC) within two working days.
Insiders are constantly buying and selling shares of their companies and the information pulled from these types of transactions hold great value to individual investors weighing whether to Buy, Sell, or Hold onto an asset.

There are many different types of transactions; the majority of them are uninformative transactions which indicate that an Insider is buying/selling shares for reasons that do not necessarily indicate confidence in the company, for example, an executive that exercises company options. Therefore, they do not hold much significance.
Informative Buy/Sell transactions are deliberately made by Insiders and can represent a vote of confidence in the company. Yet most published content does not differentiate between these two types of informative and uninformative transactions.
So how can you profit from insider trading?
Academic research has shown that Insider actions can provide the most accurate reflection of the prospects for the company, industry, economic sector, or even the stock market in general.
On the whole, Buy transactions are more significant: Wall Street legend Peter Lynch once said, "Insiders might sell their shares for any number of reasons, but they buy them for only one: they think the price will rise."
In fact, TipRanks found that on average, selling with Insiders generated a negative return of -1.34%, while buying resulted in a +3.66% gain in the 3 months following the transaction.
How to make the most out of insider activity
TipRanks analyzed the data from SEC forms to find which insider transactions generated the highest return and best overall success rate. Insider transactions were divided into two categories: market cap and the position of the insider within the company.
After analyzing and measuring 247,000 discretionary transactions of over 36,000 Corporate Insiders, TipRanks found that Mid Cap ($2B-$10B) generated the highest return with a 4.4% gain and a 66% success rate.
TipRanks further discovered that CFO's had the best return with a 4.03% profit and a 62% success rate. This was predictable since executives responsible for a corporation's financial affairs would have the best financial predictions.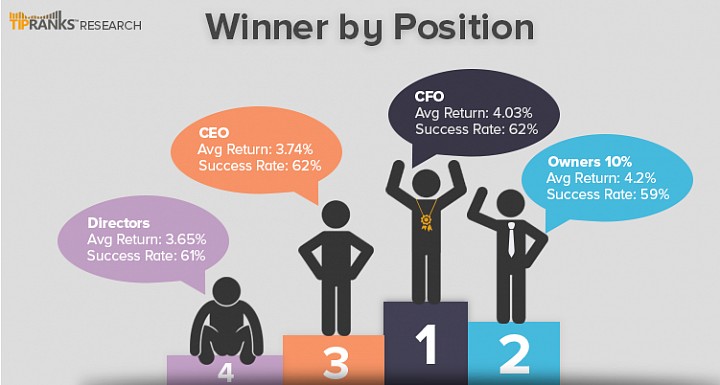 However, when TipRanks ran cross examinations to find the best combination, the results were surprising. Of all the possible factors, the winners were the 10% Owners on Mid Cap (with an average return of 8.17% and success rate of 65%), followed by CFOs on Mid and Small Cap (with an average return of 4.57% and a 66% success rate).
The most interesting insight that TipRanks found was that if investors would have followed the transactions of the best performing Insiders (those who historically performed best), they would have generated the highest returns of 5.65% in the 3 months following each transaction.

Access the Performance of 36,000+ Corporate Insiders
Insider trading data is available for anyone who wants to use it. Nevertheless, investors need to understand how to profit from this data.
As the world's first financial accountability engine, TipRanks helps investors make better decisions by providing them with an accurate performance, measurement, and average return rate of over 36,000 corporate insiders covering 5,000 stocks.
TipRanks' unique screeners show the hottest stocks which exhibit the strongest Buy indicators based on four different insider trading strategies, and lets investors filter transactions based on their investment criteria.

For example, using the Major Event Strategy, we can see that in the last 8 days 5-star insider Perceptive Advisors Llc has made a big informative buy of shares in biopharma Amicus (FOLD) worth over $18.3 million. The stock actually has a Strong Buy analyst consensus on TipRanks based on analyst recommendations made in the last three months. Shares of Amicus recently spiked 40% to a 22-month high, after the US Food and Drug Administration (FDA) gave FOLD the green light to submit a new drug application (NDA) for its Fabry disease treatment.

Looking for further investment inspiration from insiders? Check out the DailyInsider newsletter which sends subscribers 4 daily stock picks triggered by insider transactions and accompanied by a detailed explanation of what led to the recommendation.
The post How to Profit from Insider Trading appeared first on TipRanks Blog.