As fans of Samsung Electronics Co., Ltd. (LON:BC94) devices await the release of the Galaxy Note 5, some new renders provide a tantalizing glimpse of what the new phablet may look like.
This latest concept image was produced by the prolific Ivo Maric, who are recently produced a hybrid version of the iPhone 7 that attracted a large amount of attention. These latest renders from the Croatian designer are closely based around recent leaks relating to the Galaxy Note 5, and thus the physical construction of the device will be familiar to all of those who have been following the latest news closely.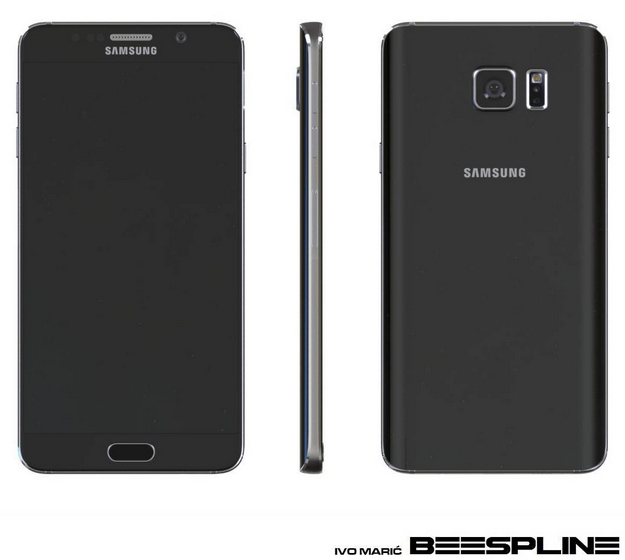 Maric imagines that Samsung will go for a primarily glass-based design when the Galaxy Note 5 releases, but that aluminum edges will also be prominent. The Maric design also features an imagined S Pen stylus that slots into the bottom of the handset.
One of the interesting aspects of this concept image is that it suggests that Galaxy Note 5 owners will not be able to purchase a replacement battery when the device is revealed. To what extent this can be considered accurate is debatable, but certainly this concept image has been based on the latest murmurings from close to the Samsung supply chain. However, there could still be the possibility for Galaxy Note 5 users to improve this handset via expandable storage.
The Galaxy Note 5 design envisioned by Maric is thus extremely close to the existing Galaxy S6. There have been numerous suggestions in the media in recent weeks that Samsung will indeed create a relatively uniform Galaxy Note 5 and Galaxy S6 range within the next 12 months. It has been particularly suggested that Samsung is intending to update the latest version of its phablets by altering its branding so that it becomes part of the S range family. With devices in the Galaxy Note and Galaxy S series apparently interchangeable, it is clear that the physical design of...
More